College of Arts & Media Students Take To The Stage In Spring Productions
April 21, 2021
SHSU Media Contact: Emily Binetti
Music and dance fill the stages of Sam Houston State University College of Arts and Media, featuring student artists in the musical production of "Once on This Island" and the annual choreography showcase, "Dance Spectrum in Concert."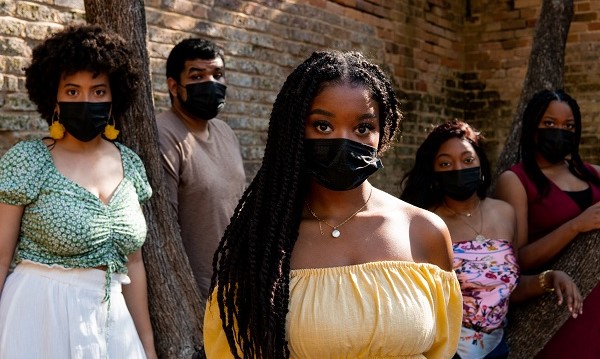 "Once on This Island"
Department of Theatre and Musical Theatre
April 28 – May 1
When a beautiful peasant girl saves a handsome, aristocratic young man in an accident, a story of love and death, complete with temperamental gods, unfolds. "Once on This Island" is a timeless musical tale of a girl and boy from two different worlds and the impossibility of their match. The show explores colorism and class prejudice alongside the devastation of a natural disaster and economic inequality.
Set on a small Caribbean island, the production celebrates the resilience of the people of Haiti, where dancing is deeply rooted in almost all important life events. Exuberant dance numbers created by guest choreographer, Lindsay Gary, fill the story with spirituality and joy.
According to director Aaron Brown, the production will leave audiences filled with the hope that out of darkness can come restoration and renewal.
"The audience is given the opportunity to join Ti Moune's journey of love against all odds, suffer in her pain, and cling to the hope she provides. It's a beautiful and inspiring story for all of us right now," Brown said.
Tickets
Live performances take place April 28 – May 1 in the University Theatre Center's Erica Starr Theatre at 7:30 p.m. each evening with a 2 p.m. Sat. matinee. Facemasks are required on campus and social distancing practices will be observed. Limited seating available. Tickets and streaming access are available on the Box Office website ($12 in advance, and $15 the day of the event).
Online streaming requires a high-speed internet connection and a modern web browser. Stream is a live feed only; ticket purchase does not provide on demand access. Contact the Box Office website for details and updated FAQ page. For ticketing questions, please email the box office at tickets@shsu.edu or call us at 936-294-2339. Streaming platform hosted by ShowTix4U.com.
Photo by Danny Moore
---
"Dance Spectrum in Concert"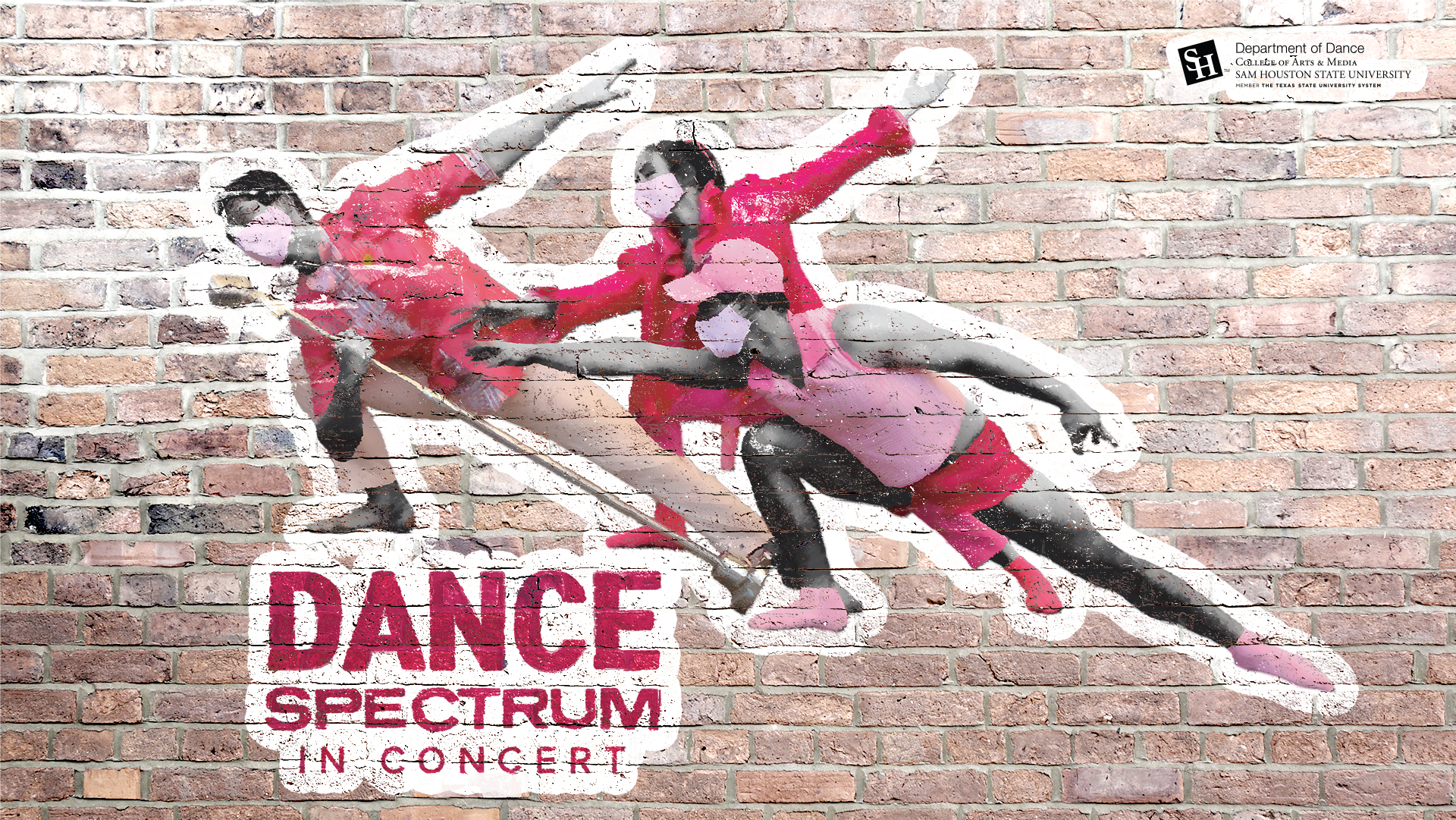 Department of Dance
April 29 – May 1
Delivered as a virtual performance, nine choreographers will present nine dance works, two as dance for cameras and the remaining as live streams, complete with multiple camera angles and all the fixings of a theatrical stage performance.
Full of twisting and twirling, a new dance work by adjunct professors Rasika Borse and Colette Kerwick, follows six dancers. "TWIDDLE" is comprised of vignettes exploring contemporary ballet movement through narratives of decompression, partnering without touch and sweeping floor patterns.
"Susan" is a solo by visiting professor Adele Nickel, for senior BFA major Kennedy Adams, using abstract movement and gesture to tell a story of transformation and coming-of-age. It is set to the sounds of Dolly Parton, Southern icon and unlikely feminist and LGBTQ ally.
In "A Game of Parely" by adjunct professor Evelyn Toh, dancers attempt to resolve their differences in the most civil way they know—a game of rock/paper/scissors. Each individual's inner dialogue drives their intriguing discourse forward.
In collaboration with resident costume designer Barry Doss, there is no shortage of personality in assistant professor Joshua Manculich's latest work. "Okay to Wear Pink" is dedicated to and inspired by any child ever taught to value societal expectation over individual self-expression.
Associate professor Dionne Sparkman Noble, and dancers, search for a breath of fresh air in "Dawn," inspired by the colors of the sky at dusk and the investigation of lightness in movement during times of uncertainty and strain.
Professor Andy Noble's high-energy dance, "The Conversation," sends dancers rip-roaring across the stage to Philip Glass' Violin Concerto No. 1, as they perform exaggerated gestural movements to impersonate intense exchanges of dialogue.
Department chair Jennifer Pontius presents a concise pointe ballet, "Fluidity," developed with the goal of making a pretty and pleasing experience for the dancers as antidote to the year of COVID stress and gloom. Despite the need for physical and social distancing, the dancers create a welcoming community for those sharing the stage space, sending warmth and hope to the audience watching from afar (on YouTube) as well as a fellow dancer who joins the cast from her home in Canada.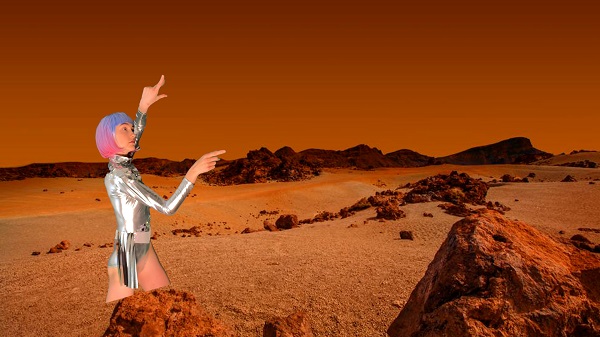 In "Dust of Enceladus," a dance for camera by assistant professor Donald C. Shorter, a student's wish becomes reality when she encounters a higher vibrational version of herself from the future. She learns about the power of astral projection and teleports herself to outer space where she can dance a dance of freedom. The film was shot entirely remote, with an iPhone X, and using green screen technology.
Many people have their own ritual or daily obsession with coffee. Whether you press, drip, pod, or pour it over ice, "Crave" hopes to unify everyone who loves it with this diverse, jazzy romp, and the ways we relate to our beloved morning brew. Theatre faculty member and choreographer Kyle Craig-Bogard, contributes this dance for camera work.
Tickets
"Dance Spectrum in Concert" is presented though online streaming via YouTube Live on April 29, 30, and May 1 at 8 p.m. A performance link can be purchased through the Box Office website or by calling 936-294-2339.
- END -
This page maintained by SHSU's Communications Office:
Associate Director, Communications: Emily Binetti
Telephone:936.294.4406
Communications Manager: Mikah Boyd
Telephone: 936.294.1837
Communications Writer: Campbell Atkins
Telephone: 936.294.2638
Thomason Building: Suite 102
Please send comments, corrections, news tips to Today@Sam.edu