SHSU Food Pantry And Wesley Foundation Join Efforts To Build Vegetable Garden
June 22, 2020
SHSU Media Contact: Wes Hamilton
Written by: Greg Oberg
Acts of kindness and support can always be found on campus at Sam Houston State University. While student food insecurity was an issue long before COVID-19, the need for donations, especially fresh and healthy produce, has never been greater and throughout the economic crisis, the SHSU Food Pantry has given out food to hundreds of people.
The Food Pantry and the Wesley Foundation are positioned side by side as good neighbors, with just a grass alleyway between them. Thanks to a missions grant from the West District of the Texas Annual Conference of the United Methodist Church, phase one of a vegetable garden on that grass alleyway has now become a reality.
"This was a project we have spent a couple years planning and designing," said Rev. Greg Oberg, director of the Wesley Foundation. "We have been a strong ally of the SHSU Food Pantry since its beginning. Now that it's next door, it makes lots of sense to build some vegetable plots along the green alleyway that didn't serve much of a purpose before now. Both our organizations plan to maintain these plots in partnership for years to come."
Georgia Oberg, business manager of the Wesley Foundation, also serves as the project designer for the vegetable gardens.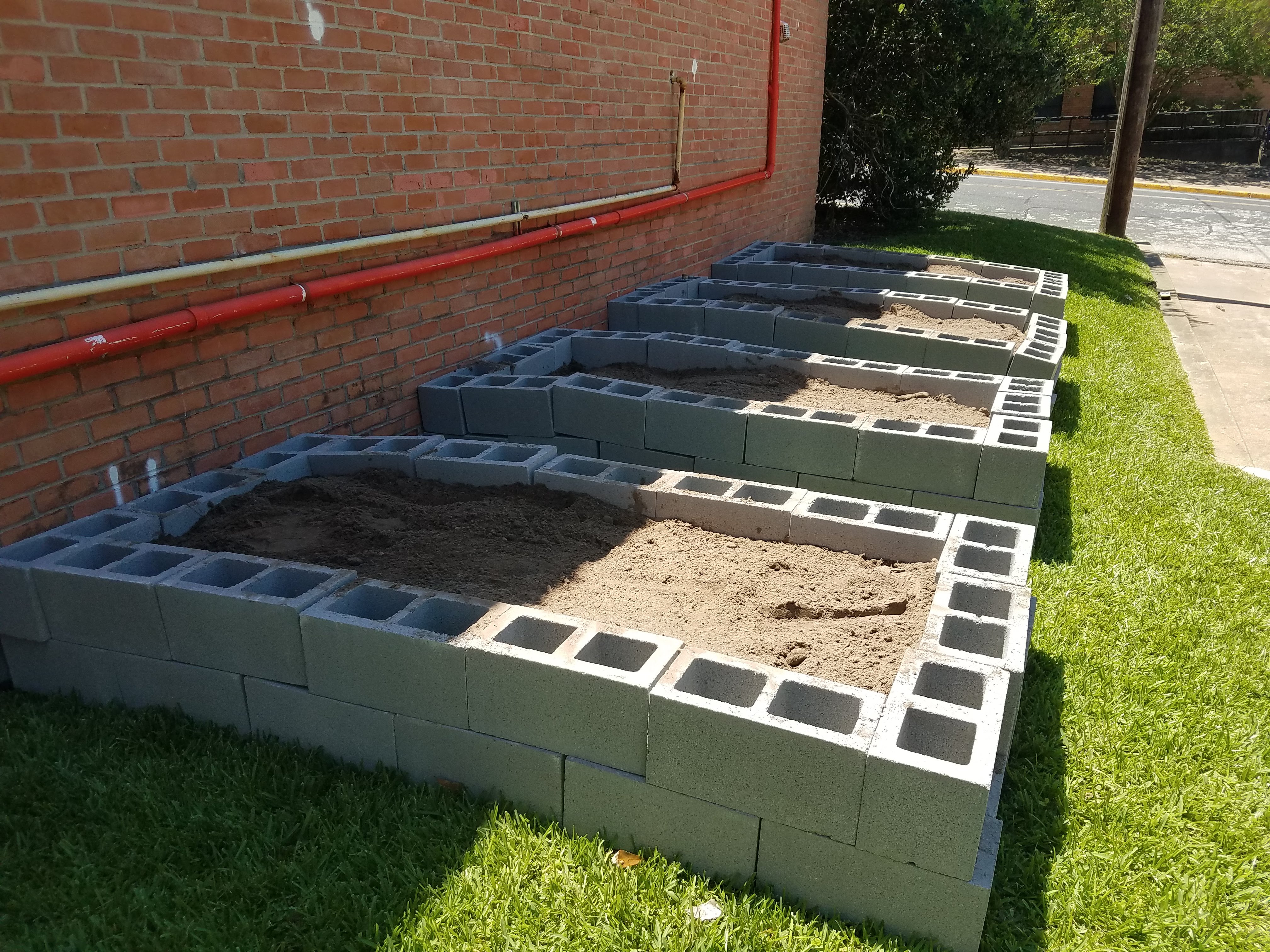 "I have long wanted to put my socio-horticulture degree to work creating a church-sponsored community garden," said Oberg. "We thoroughly measured and discovered we could build 12 plots in that alleyway. We plan to have a fall planting this year. When we have all 12 of those plots producing fresh vegetables, they will yield quite a bit."
Kathleen Gilbert, director of the SHSU Food Pantry, explained that fresh produce always goes quickly during times of distribution.
"While the produce we receive from local grocery stores is substantial, having even more locally grown vegetables will help us bring more nutrition to those who struggle to put food on the table," Gilbert said.
Over 40 percent of SHSU students struggle with food insecurity. In the 2018-2019 academic year, there were 1,661 visits to the SHSU Food Pantry.
If you would like to contribute to phase two of the garden of the Wesley Foundation (the purchase of materials for the remaining eight plots), simply go to https://shsuwesley.org/donate/ then click on "Donate online now" button. For the "Gift Designation" line, select "Veggie Garden phase two" as your option. Checks can also be mailed to 1632 University Ave, Huntsville, TX 77340. In the MEMO section, write "Veggie Garden phase two."
- END -
This page maintained by SHSU's Communications Office:
Director of Content Communications: Emily Binetti
Communications Manager: Mikah Boyd
Telephone: 936.294.1837
Communications Specialist: Campbell Atkins
Telephone: 936.294.2638
Please send comments, corrections, news tips to Today@Sam.edu