Sharing The Gift Of Art
June 2, 2020
SHSU Media Contact: Jackie Swan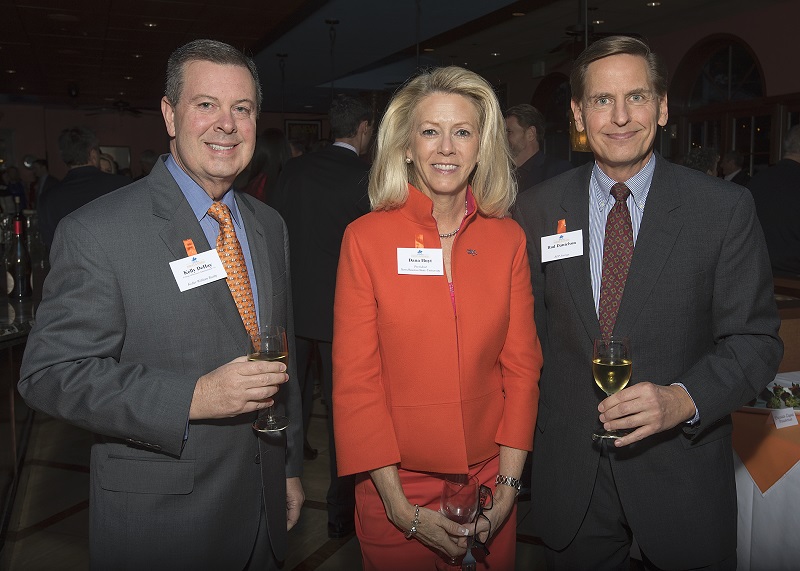 The College of Arts and Media celebrated a landmark in Fall 2019 as the new Art Complex building was finally opened to the public. In addition to new classrooms, studios and galleries, the Sam Houston State University landscape now includes a new, unique work of art, made possible from a generous gift by Life Endowed members of the Alumni Association, Kelly DeHay ('74) and Rod Danielson.
DeHay and Danielson are longtime advocates for higher education and humanitarian work throughout their community. For nearly a decade, they have been regular attendees of Bearkat football games and have shown support for Bearkats in Business and the Bearkat Championship Fund in addition to sponsoring the Alumni tent at pre-game tailgates. The devotion these two have for the Bearkat community pales in comparison to their passion for supporting an SHSU education.
"We were each the first ones in our families to have the opportunity to get to go to college, so we decided to give a yearly scholarship to a first-generation student in the College of Business," DeHay said. "We believe education is a great equalizer in our country. An education enables one to move up socially. We also believe an education enables an individual to become something that maybe one never dreamed they could become."
Few areas of campus culture go untouched by the kindness of DeHay and Danielson, and art is no exception.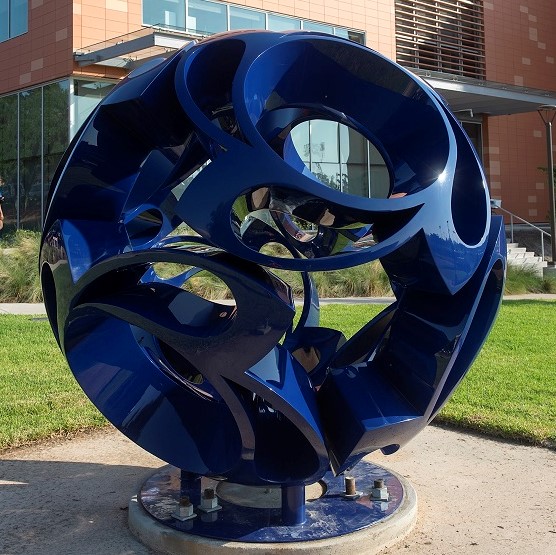 Crafted by Mexican artist Yvonne Domenge, an entwined, vibrant blue "Cicek" (Turkish word for 'flower') sits upon the lawn for students and other passersby to enjoy on their walk along Bowers Blvd. Yvonne has been widely recognized for her work- specifically sculptures- which can be seen at various museums, universities and even government facilities around the world.
"Several years ago, we had admired a Yvonne Domenge sculpture at an installation in Herman Park in Houston. The more we thought about a sculpture, the more we knew it had to be created by Yvonne," DeHay said. "We were so thrilled when the art committee loved our choice as much as we did. The gorgeous new Art Complex seemed like the perfect place for a modern contemporary sculpture by an artist whose work appears all over the globe."
It is their hope that this sculpture will become a part of SHSU culture, whether it means showing up in a graduation photo or providing a peaceful place for students to hang out on the lawn. Regardless of community response, this is certainly one way to leave a mark on campus.
"Art is beauty. It is also community. As one famous Bearkat (Dan Rather) said, 'Art is a vital point at what unites us.' May 'Cicek' be another thing that unites the Bearkat community,"DeHay said.
Sam Houston State owes much of its success to donors like Kelly DeHay and Rod Danielson who are the epitome of the university motto, "The measure of a Life is its Service." The College of Arts and Media is honored to receive their collaboration on this generous donation.
- END -
This page maintained by SHSU's Communications Office:
Associate Director, Communications: Emily Binetti
Telephone:936.294.4406
Communications Manager: Mikah Boyd
Telephone: 936.294.1837
Communications Writer: Campbell Atkins
Telephone: 936.294.2638
Thomason Building: Suite 102
Please send comments, corrections, news tips to Today@Sam.edu