Observing National Rural Health Day (Nov. 19)
Nov. 19, 2020
SHSU Media Contact: Emily Binetti

(Photos) 75 first year SHSU-COM medical students symbolically enter the healthcare profession in a White Coat ceremony.
Sam Houston State University is proud to recognize the dedication of health professionals in rural communities during National Rural Health Day 2020.
Recognizing the efforts of those serving the healthcare needs of an estimated 57 million people across the nation, National Rural Health Day aims to build awareness of rural health-related issues and promote the efforts in addressing those challenges.
Addressing the need
This semester, the SHSU College of Osteopathic Medicine (SHSU-COM) officially launched their first class, enlisting 75 students to address the physician workforce shortage in Texas. According to Dr. Charles Henley, dean of the College of Osteopathic Medicine, the state faces a significant shortage of physicians practicing primary care.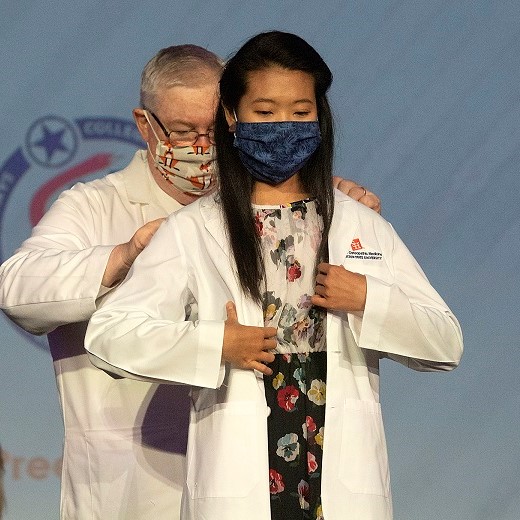 "Texas ranks 32nd in the nation for total medical student enrollment (per 100,000 population), yet the state is 2nd in population growth. Texas also ranks near the bottom (47th) for number of primary care physicians," Henley said.
SHSU-COM was established in response to this shortage and is focused on the Eastern region of Texas.
"Over 80 percent of the counties in this service area are designated by the federal government as Medically Underserved (MUA) or a Health Profession Shortage Area, (HPSP)," Henley said. "The need to change the medical workforce in Eastern Texas is even found in our mission statement."
Providing access to primary care in rural regions is one of the focal points of the SHSU-COM. By creating a pipeline program in recruiting students from focused service areas, the college will be able to train a cadre of students who return to those same regions for residency training and future practice.
The COVID-19 impact
Because of the disparities in access to care in rural communities, it is easier to understand how COVID-19 can present more serious consequences than what might be seen in urban regions.
A recent report from The Texas Tribune indicated rural hospitals are in a serious bind as Texas' new coronavirus surge is leaving critically sick patients stranded in rural areas without the care they need.
In the urban setting there are a wider variety of options for healthcare, yet in the rural setting there may be only one community hospital serving a vast region, and fewer physicians in practice.
"If there is a problem, like the pandemic, the community hospital can quickly become overwhelmed and may not be able to make suitable alternatives for patients," Henley said. "A community without health care is vulnerable. That's a good reason to support rural practice and also the education and training of our future physicians at SHSU."
- END -
This page maintained by SHSU's Communications Office:
Director of Content Communications: Emily Binetti
Communications Manager: Mikah Boyd
Telephone: 936.294.1837
Communications Specialist: Campbell Atkins
Telephone: 936.294.2638
Please send comments, corrections, news tips to Today@Sam.edu