Promoting Mental Health Awareness
Nov. 13, 2020
SHSU Media Contact: Emily Binetti
By Mikah Boyd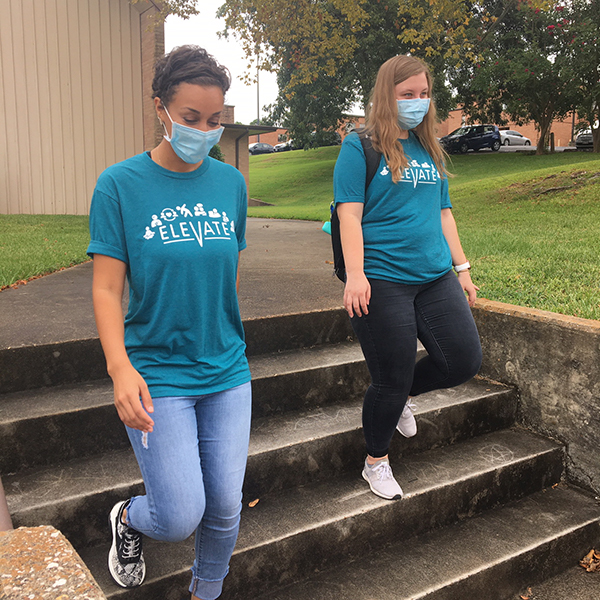 Elevate, the university's healthy campus initiative, is promoting wellness through their upcoming event "Mental Health in the Time of Coronavirus," on Nov. 18.
During the 1-hour Zoom webinar, assistant professor of Psychology, Chelsea Ratcliff, will present her research on the toll that stress takes on the mind and body, and guidance on how students can manage their stress.
Megan Richardson, the associate director of the Office of Health Promotion believes the webinar will provide some beneficial options for students.
"I want students to know that there is help out there and that they are not alone in the feelings that they are experiencing," Richardson said. "There are free and low-cost ways to help reduce stress levels and there are also a variety of campus resources available to students."
The idea for the webinar came about after student members of the Elevate Committee noticed how the new challenges presented this year have impacted everyone. Last year's National College Health Assessment revealed that stress was the main barrier for student success, and it has become an even larger issue due to the pandemic.
When experiencing difficulty or coping with highly stressful situations, students are encouraged to seek out professional help from resources such as the Counseling Center. Richardson also provided some tips for maintaining one's mental health during this time of uncertainty.
"One of the best ways to take care of your mental health during this pandemic is to connect with your support system. Whether that be friends, family, or others in your life, it's important to have people in your corner who you can lean on when things get rough," she said.
"Maintaining a healthy balance of physical activity, eating well and engaging in mindfulness practices also helps."
Richardson emphasized the importance of understanding how mental health can affects one's overall quality of life, making it vital to be aware of how you are feeling. She also noted how stressful events can impact a student's performance in areas like academics. In all, she wants students to know that taking care of their mental health will allow them to live a more fulfilled and productive life.
Students must pre-register for the live event. The webinar will also be available to view afterwards on the SHSU Student Health Services' YouTube page. Students who attend the webinar and complete a survey will be entered into a raffle for an Elevate prize pack, which includes an Elevate t-shirt and water bottle.
- END -
This page maintained by SHSU's Communications Office:
Director of Content Communications: Emily Binetti
Communications Manager: Mikah Boyd
Telephone: 936.294.1837
Communications Specialist: Campbell Atkins
Telephone: 936.294.2638
Please send comments, corrections, news tips to Today@Sam.edu