Modern Twist On Sonnets Set For Virtual Stage
Oct. 5, 2020
SHSU Media Contact: Wes Hamilton
Written by: Laura Avery; Photo credit: Danny Moore.
Aren't sonnets traditionally about love? Not in José Rivera's "Sonnets for an Old Century," presented via online streaming by Sam Houston State University's Department of Theatre and Musical Theatre in association with the Department of Mass Communication.
The show runs Oct. 7-10, with 7:30 p.m. viewings each evening as well as a 2 p.m. Saturday matinee option. "Sonnets for an Old Century" is directed by Patrick Pearson.
Through a series of twenty different monologues, Rivera's characters express what seems like their last words and thoughts as if they're delivering their own personal eulogies. Romantic and intriguing, this modern twist on sonnets breaks the mold of tradition. The characters examine what it means to be alive at this particular time and place as well as reflecting on what each of us will leave behind. In doing so, they draw an incredibly thin line between what is life and afterlife while discovering the often-overlooked treasures of everyday life.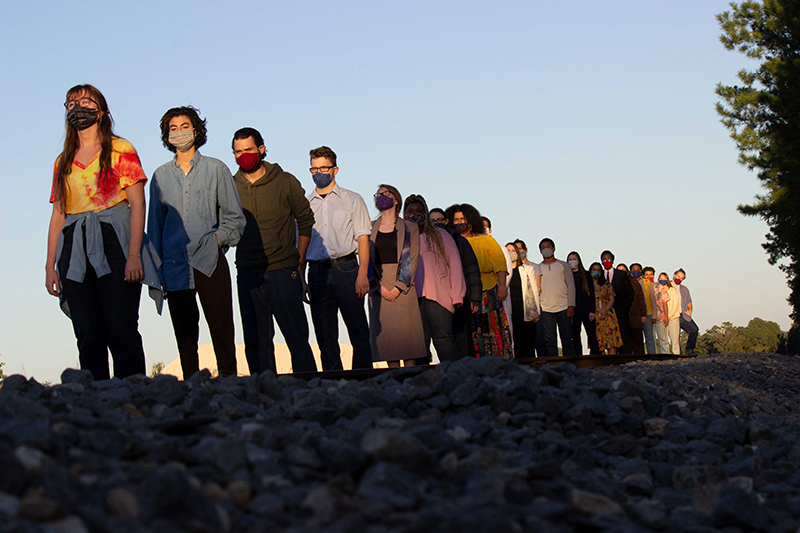 The playwright specifies that "The space (location) could be a tunnel, a cave, a warehouse, an airplane hangar, catacombs, or a seedy office building with ugly fluorescent lighting—but it's a large space." The message and storytelling are not dependent on location.
"It investigates the pivotal moments that define us, and the power of the legacies we leave behind," Pearson said. "The series of elegiac monologues captures the beauty, heartbreak and surprise located in the everyday, while celebrating the potency of dynamic storytelling."
According to Pearson, the play is a timely piece of theatre. Rivera's "Sonnets for an Old Century" brings together a spectrum of voices in a moment of great crisis with one last chance to leave a piece of themselves behind to build a better world. While they work to find the most important parts of their lives, they are forced to see their stories unfold and find what unites them all.
Tickets to view the online stream are $15. Online streaming requires a high-speed internet connection and a modern web browser. Stream is a live feed only; ticket purchase does not provide on demand access. Please visit http://www.shsutickets.com for details. For ticketing questions, please email the box office at tickets@shsu.edu or call 936-294-2339. Streaming platform hosted by ShowTix4U.com.
- END -
This page maintained by SHSU's Communications Office:
Director of Content Communications: Emily Binetti
Communications Manager: Mikah Boyd
Telephone: 936.294.1837
Communications Specialist: Campbell Atkins
Telephone: 936.294.2638
Please send comments, corrections, news tips to Today@Sam.edu