Linda Geffin, Noted Prosecutor, Visits LEAP
Jan. 17, 2020
SHSU Media Contact: Mike Yawn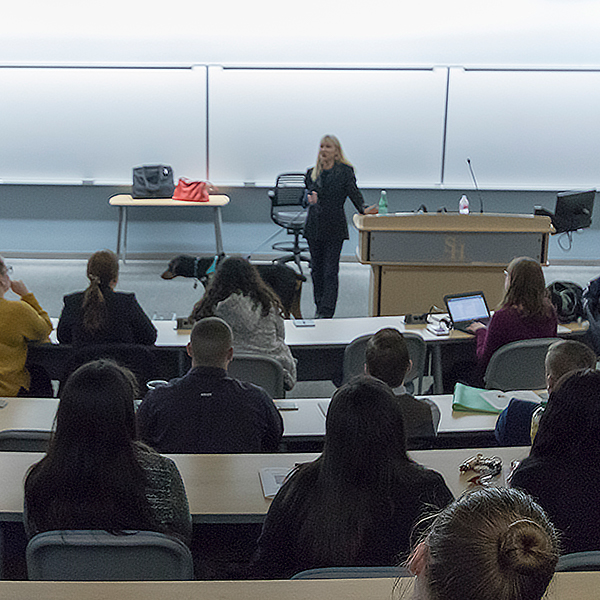 Story by: LEAP

Even under the best of circumstances, human memory is fraught with fallacies, deficiencies, and biases. But, for Linda Geffin recall is particularly problematic: she was brutally attacked in her own home in 2011, leaving her body bruised and bloody, her brain damaged, and her memory impaired.
Despite these aftereffects, she was able to spend a memorable day with more than 100 Sam Houston State University students in late January during events hosted by the University's Center for Law, Engagement, And Politics.
"We wanted a professional who would engage the students," noted LEAP Center director Mike Yawn. "With her personal and professional experiences, we thought she'd be a great early-semester speaker."
Fittingly, the discussions often broached law and politics. Geffin worked for 25 years as a Harris County Prosecutor, specializing in investigations of human trafficking—investigations that likely prompted the attack on her in 2011.
During the afternoon session, Geffin met with a small group of undergraduates and a handful of Psychology Ph.D. students. In this setting, she was able to go in-depth about her career, while also taking questions from students.
Geffen discussed shutting down human-trafficking operations using civil approaches to complement criminal prosecutions. In addition, she encouraged students to find balance in their lives, noting that "not only is law a demanding profession, but being exposed to crimes such as human trafficking takes an additional toll."
"It was great to hear her perspective," noted LEAP Ambassador Esmeralda Mata. "In discussing her career as a prosecutor, she discussed myriad careers in other sectors, all of which exist to help others."
The evening presentation, (sponsored by the LEAP Center and the Pre-Law Society) took place before more than 100 students, faculty/staff, and local residents, Geffin focused more tightly on the attack that changed her life. As if to punctuate the evening's theme, she brought her support dog, Zach.
"It was an inspirational presentation," observed Makayla Mason, president of the LEAP Ambassadors.
Heather Barodi, vice president of the Pre-Law Society, agreed: "It was an empowering message and a call to do good for others, and I found it very motivating."
- END -
This page maintained by SHSU's Communications Office:
Director of Content Communications: Emily Binetti
Communications Manager: Mikah Boyd
Telephone: 936.294.1837
Communications Specialist: Campbell Atkins
Telephone: 936.294.2638
Please send comments, corrections, news tips to Today@Sam.edu