White Coat Ceremony Welcomes SHSU-COM's Inaugural First Class
Aug. 10, 2020
SHSU Media Contact: Hannah Haney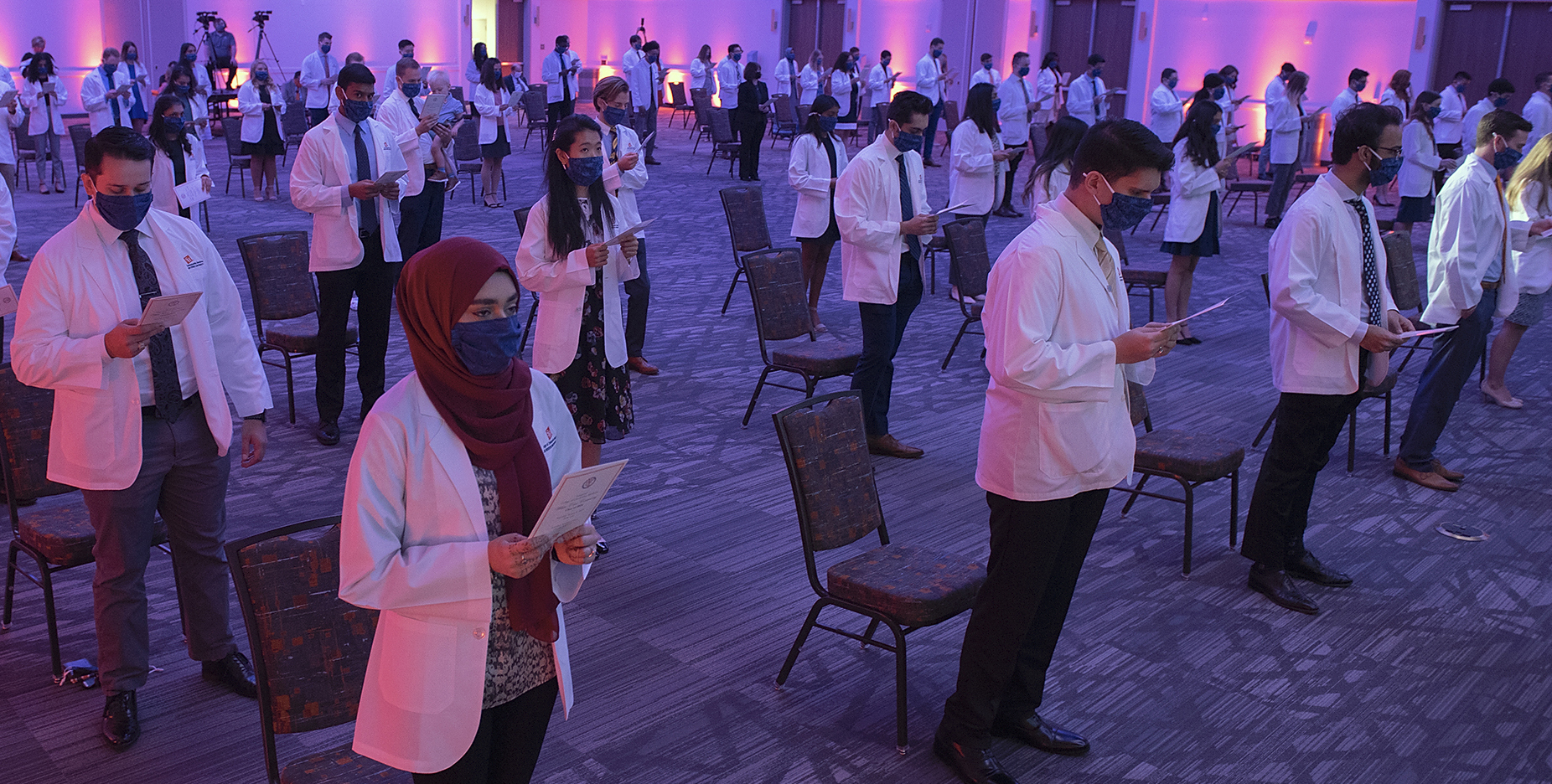 Sam Houston State University's College of Osteopathic Medicine (SHSU-COM) made history Saturday, Aug. 8 by holding the first White Coat ceremony in the region at 10 a.m. in the Lowman Student Center Orange Ballroom in Huntsville, Texas. The ceremony was the initial step for the inaugural class of 75 diverse, first-year medical students who symbolically entered the healthcare profession with the donning of their white coats.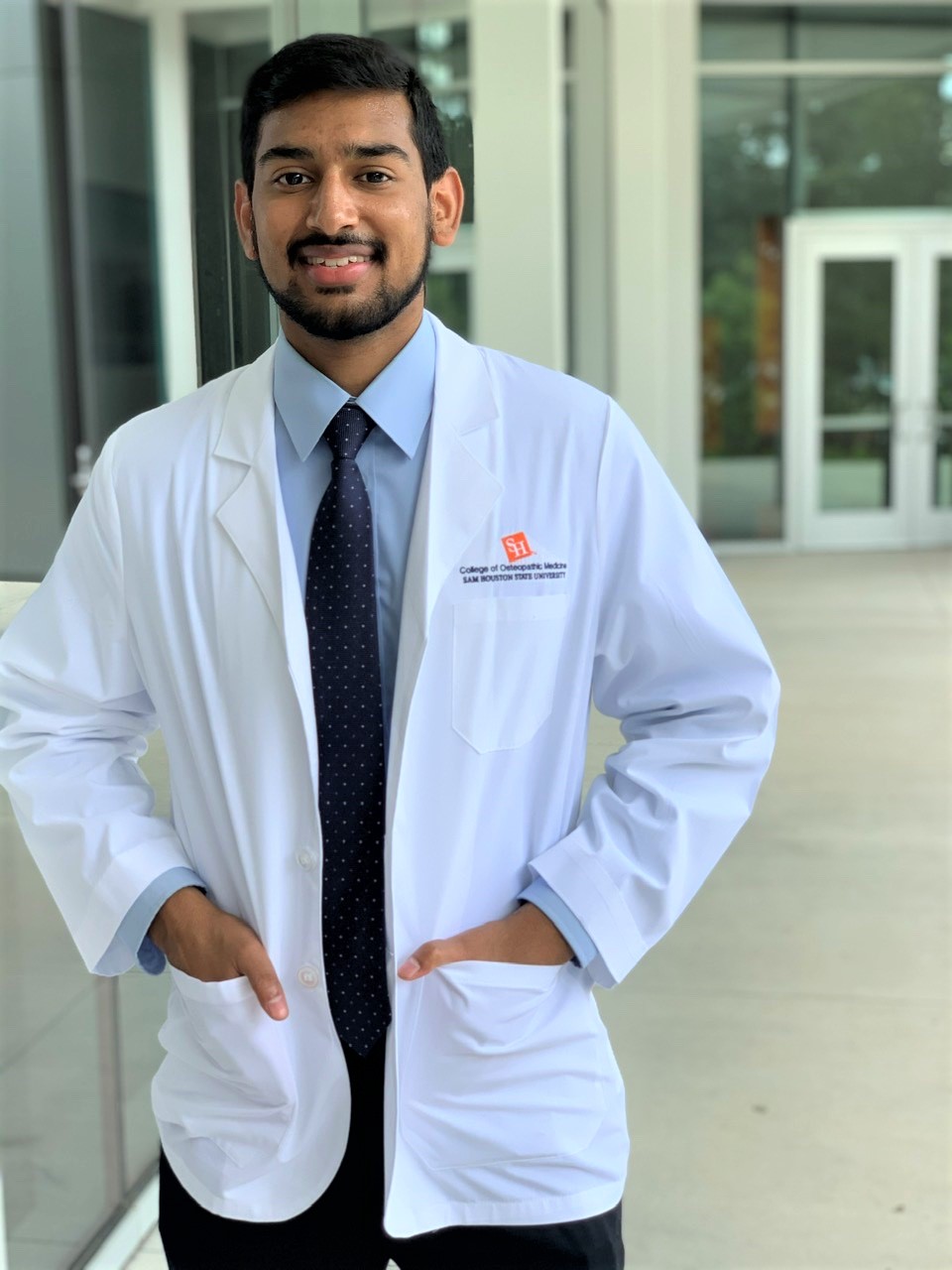 Established by the university to address the physician workforce shortage in the eastern region of Texas, SHSU-COM deliberately recruited the incoming class based on how well their goals aligned with the medical school's unique mission of developing culturally aware, diverse and compassionate physicians, who follow osteopathic principles, that are prepared for graduate medical education and will serve the people of Texas with professionalism and patient-centered care.
"I think the mission sets the school apart. You hear so much about our country's healthcare and all the stories of people not having access and you sit there and wonder how this is going to change. Texas is consistently at the bottom of the list when it comes to healthcare access, so being a part of a school that is actively trying to change this makes me proud," Jamila Raja of Houston, Texas said.
Sam Houston State's motto is, "The measure of a Life is its Service," and SHSU-COM's commitment to a similar culture of servanthood is what attracted many of the applicants.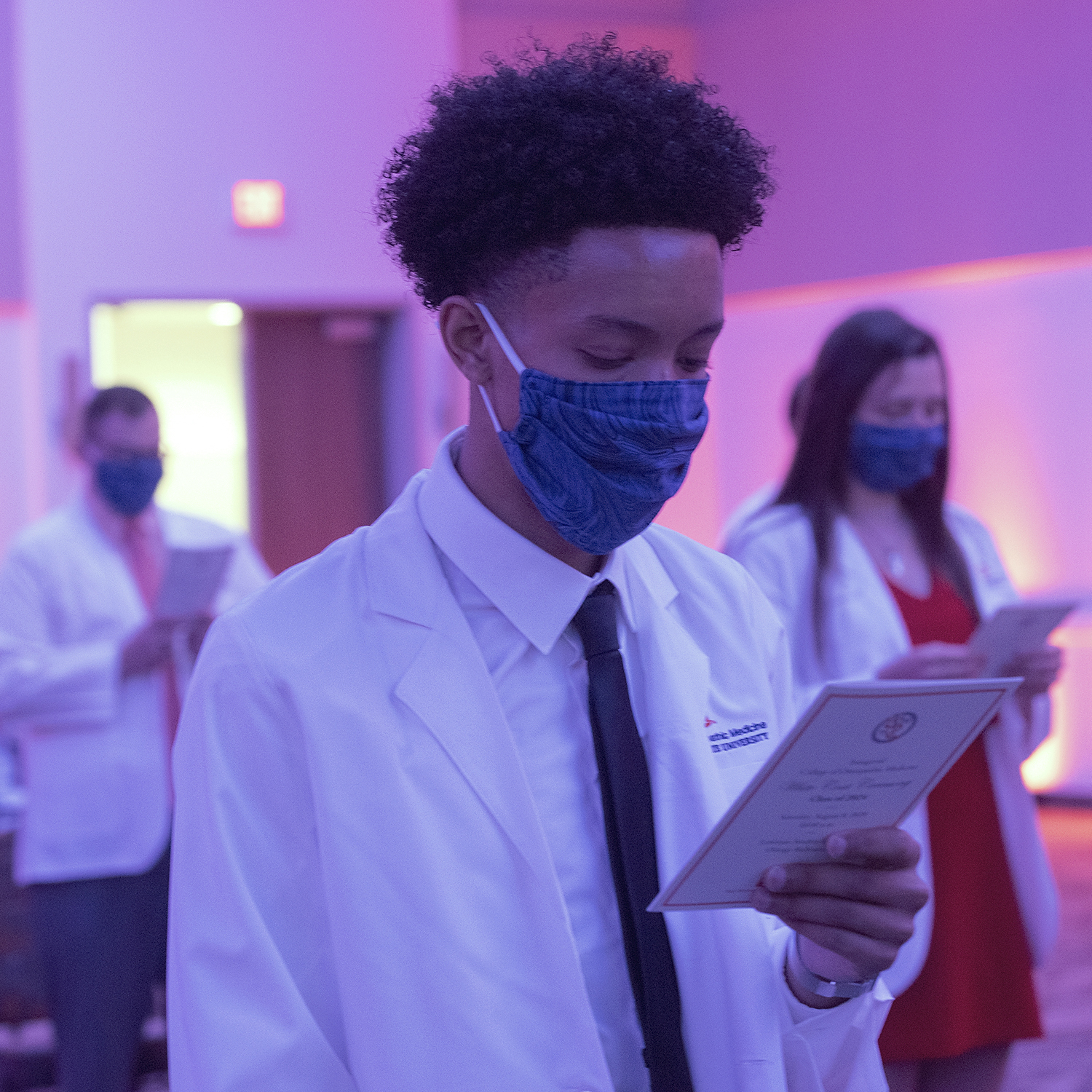 "Having grown up in Bahrain and India, I have seen firsthand the hardships many families face in accessing healthcare. I knew my choice of a medical school should have a strong focus on serving the underrepresented and vulnerable members of my community," Alwyn Mathew of Bahrain said. "The mission to address lack of primary care physicians in Texas will ensure that communities have access to sustainable and affordable healthcare, especially rural communities."
Now, amidst the current COVID-19 pandemic, this mission has become all the more relevant.
"Though this pandemic has put a kink in what school will look like this fall, I believe learning medicine in this environment will be highly beneficial. We will learn how to adapt, how to work under pressure, and how to navigate the waters of pressing diseases," SHSU alumna Whitney Woodward of Pflugerville, Texas said. "I think we will come out of school well equipped to face whatever challenges will come our way in the future as physicians."
However, out of an abundance of caution, the ceremony was private and limited only to the students, medical school faculty and SHSU leadership. SHSU Online filmed a live feed of the proceedings.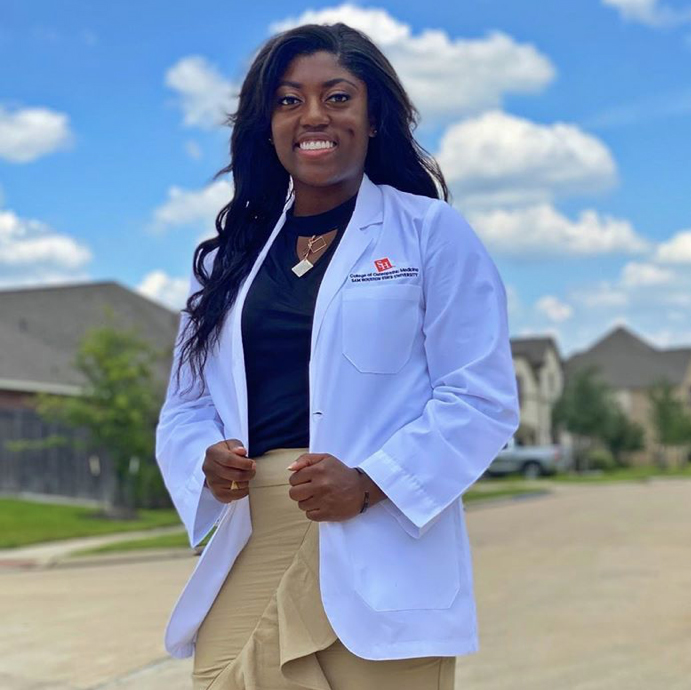 During the socially distant ritual, each student was fitted with a white medical coat and recited the Hippocratic Oath.
"The white coat is the commencement of this great journey," Darian Dozier of Overland Park, KS said. "These coats symbolize our place in society and how hard we have worked to get here."
While the ceremony holds a different meaning for each student, it signifies a monumental achievement for all participants.
"A white coat for me is a representation of the first-fruits in the journey to becoming a physician," Meridith Buzbee of Tyler, Texas said. "What we experienced at the white coat ceremony is only the beginning of what is going to be brought to fullness once we graduate. Whether that be our desire, knowledge, wisdom, strength, endurance. I am excited to see the way all these aspects of my life grow throughout the course of medical school."
Chief Academic Officer and Provost, Richard Eglsaer, concluded the ceremony with these parting words.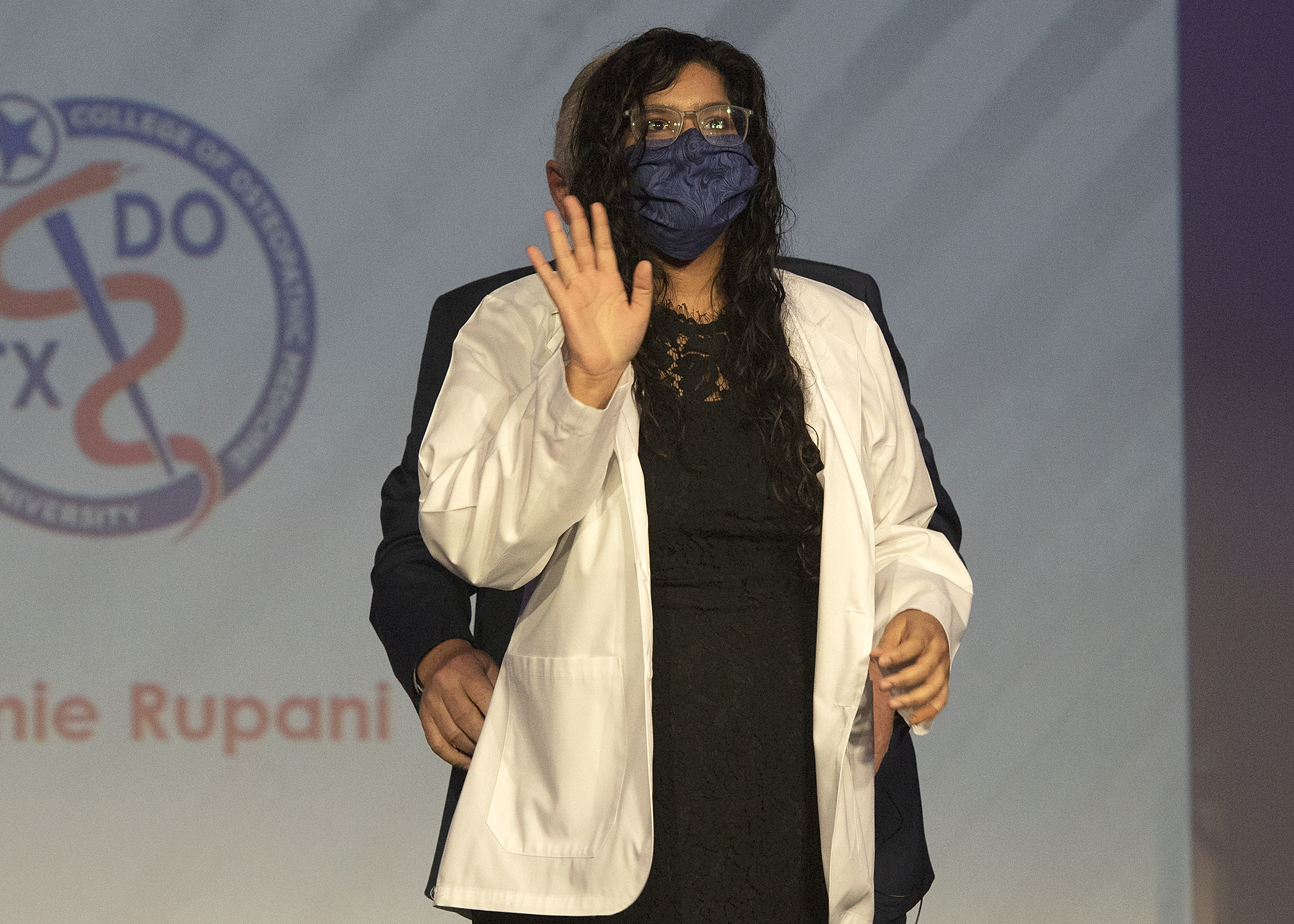 "As the inaugural class of Sam Houston State University, we expect and anticipate great things from you. Our mission is to enhance medical opportunities in the state, especially in our underserved counties," Eglsaer said. "Your future is bright and exciting. Hold on to your passion and give us your best, as we promise to give you our best. Congratulations on being accepted. We are all ready and excited to begin this adventure."
The inaugural class of 2024 will begin classes virtually on Monday, Aug. 10, while labs will be held in-person.
"Attending school is going to look differently for everyone in the upcoming school year, but I full heartedly believe that it will be a successful year of learning," SHSU alumna, Brittany Ham of Conroe, Texas said.
- END -
This page maintained by SHSU's Communications Office:
Director of Content Communications: Emily Binetti
Communications Manager: Mikah Boyd
Telephone: 936.294.1837
Communications Specialist: Campbell Atkins
Telephone: 936.294.2638
Please send comments, corrections, news tips to Today@Sam.edu