Alumnus Encourages Creativity In Quarantine
March 25, 2020
SHSU Media Contact: Hannah Haney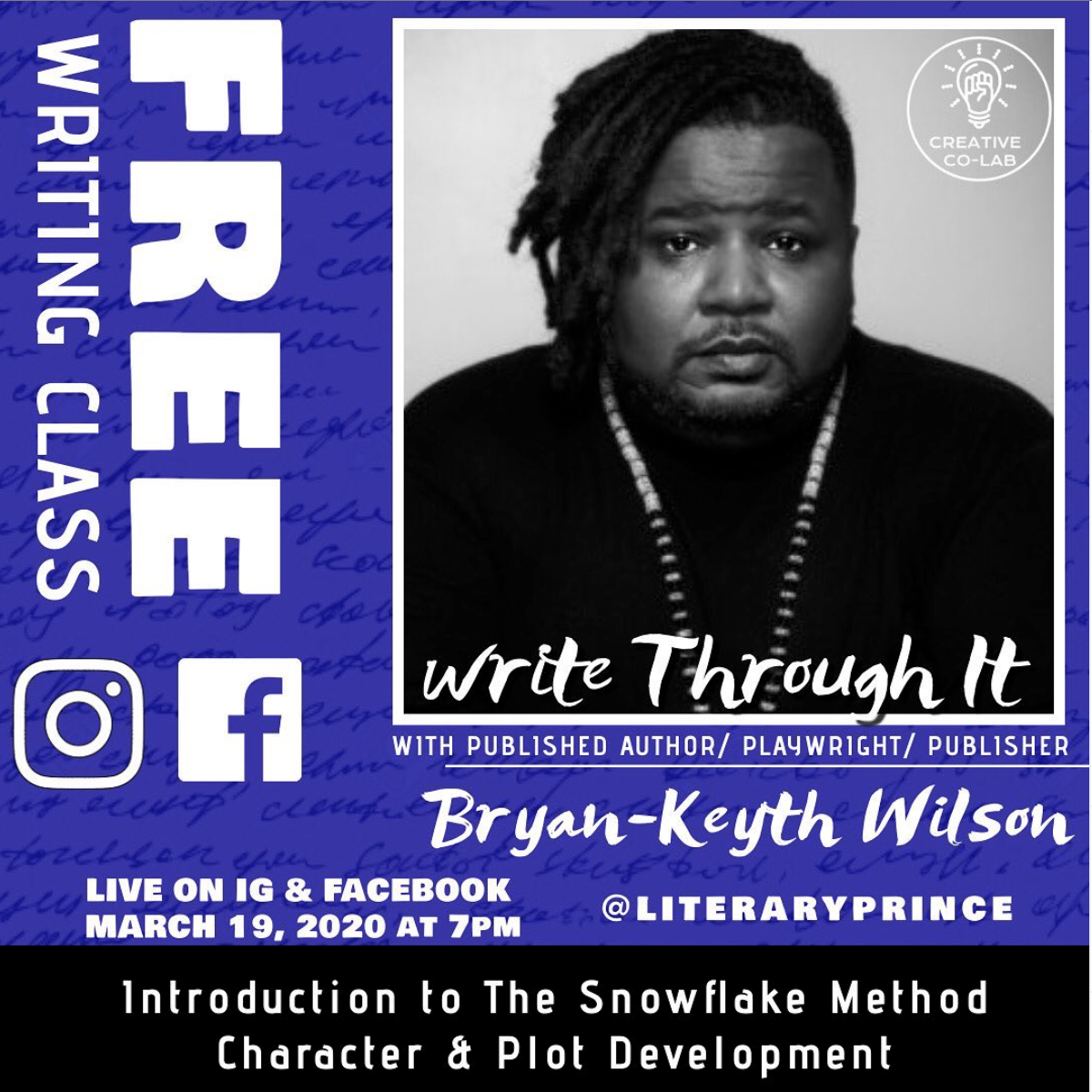 Millions of people around the world are in self-isolation during the novel coronavirus pandemic. Despite museums, sport venues and theatres closing their doors, lovers of art are still finding creative ways to inspire and entertain.
Sam Houston State University alumnus Bryan-Keyth Wilson is one of those artists getting creative from the comfort of his couch. Since March 19, this Houston-based author/playwright/publisher has been using social media to offer free online writing classes. Topics covered in his online courses range from The Snowflake Method to helping writers develop their characters and storyline.
"This class is for every level from novice to pro," Wilson said. "Oftentimes, we get in our heads and we think our ideas aren't good, and in this class, we take a thought and turn it into an endless possibility."
Wilson is currently the artistic director of the Creative Co-lab, an interdisciplinary creative arts company located in Houston, Texas, and also manages the daily operations of the Artists In Motion Performing & Visual Arts Academy. His artistic journey took off at Sam Houston State University where he received a scholarship from the Department of Dance and wrote his first play titled, "No Ways Tired."
"Sam Houston State gave me the confidence to conquer the world and made sure I was prepared. I received a multifaceted theatre and dance education where I learned to always show up ready and prepared for anything," Wilson said. "SHSU Theatre and Dance courses taught me every aspect of production, from stagecraft to performance to management. I learned it all at SHSU."
His advice to other Bearkats pursing their dreams is to "never let someone hold the key to your destiny" and "if there isn't a lane for you, create it."
Wilson is often inspired by the creative process, and enjoys collaborating with new artists. It is his hope that the online classes will encourage more entertainers to express themselves and that each attendee leaves with the tools to be successful on their own personal projects.
"These times we are living in have drained us emotionally, physically and creatively. Theatres have been closed, contracted playwrights have been asked to give their advances back and we are at a standstill when it comes to working, but our creativity has to continue to flow and, we, as an artistic community, have to make ourselves accessible to the people," Wilson said. "If you have a gift, share it and teach us. This is the perfect time to start on that book or play that you have been thinking about. Now is the time to get it done and I want to help. This time of social distancing does not mean that we have to distance ourselves creatively."
Wilson plans to offer more writing classes in the near future.
"We need a distraction from the noise that's causing anxiety and paranoia," Wilson said. "We need art to thrive and survive."
---
Bryan-Keyth Wilson (Playwright/ Director/ Producer/ Choreographer) Dubbed the Literary Prince by his colleagues, Bryan-Keyth Wilson is a trailblazer in theatre, screenwriting and directing. A native of La Marque, Texas, he studied Musical Theatre & Dance at Sam Houston State University in Huntsville, Texas under the tutelage of Penelope Hasekoester, Dana Nicolay, Dr. Cindy Gratz and the late Jonathan Charles and Dr. James R. Miller. In the fall of his first year as a Musical Theatre Major at Sam Houston State University, Wilson released his first play, No Ways Tired, during Experimental Theatre Night and received rave reviews from his peers and instructors. The success of "No Ways Tired" reinforced Wilson's belief that God called him to be a writer. He has studied dance at The Alvin Ailey American Dance Theatre and The Martha Graham School of Dance while living in New York.
Bryan-Keyth has choreographed a number of shows such as Mame, Once on This Island, Dreamgirls and Suessical the musical, off-Broadway and in Regional Theatres across the United States. He has written, produced and directed two plays Off-Broadway, Pamlet and The Subway Series Pt 1. Bryan-Keyth is a classically trained actor, singer, and dancer who has traveled abroad, perfecting his craft over the years. He has published two novels, Hood Boy Chronicles and Track Changes & White Lies under his pseudonym, Brendan Gotti and his thought provoking choreopoem FOR COLORED BOYZ on the verge of a nervous breakdown/ when freedom ain't enuff. Wilson served as a Teaching Artist in the La Marque Independent School District and served as director for the award-winning La Marque High School Cougarettes Dance Team. Currently, Wilson serves as a contributing editor for Broadway World and is the Founding Artistic Director of The Creative Co-Lab and Artists In Motion Performing and Visual Arts Academy located in Houston, Texas. Not only a Theatre and Television guru, Bryan-Keyth has developed and molded the careers of many young musical theatre and commercial music artists such as Nichole Cordova and Maddie Ballio.
- END -
This page maintained by SHSU's Communications Office:
Director of Content Communications: Emily Binetti
Communications Manager: Mikah Boyd
Telephone: 936.294.1837
Communications Specialist: Campbell Atkins
Telephone: 936.294.2638
Please send comments, corrections, news tips to Today@Sam.edu