With Precautions In Place, Bearkats Are Back
Aug. 13, 2020
SHSU Media Contact: Hannah Haney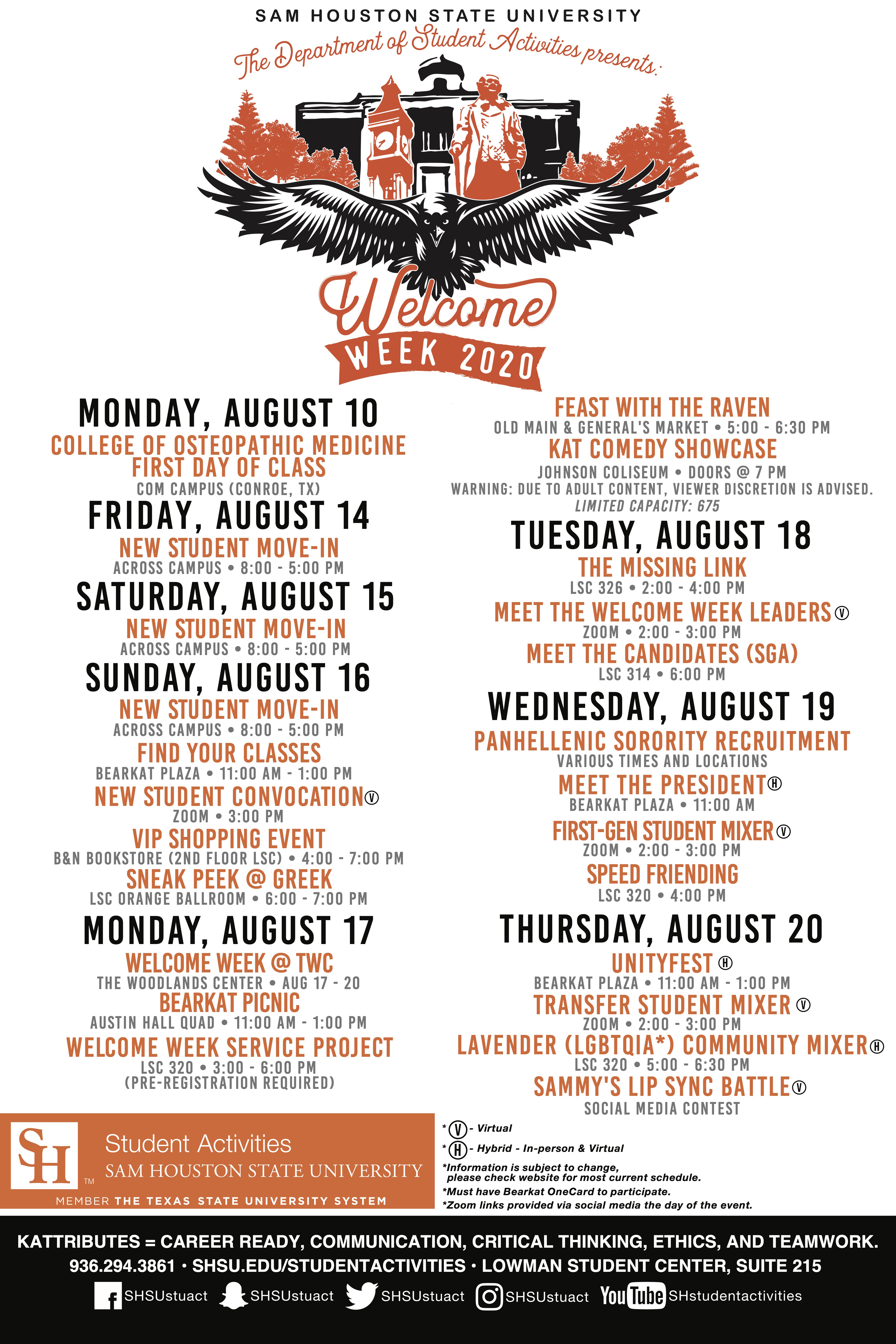 A lot has changed around the world, in Texas, and at Sam Houston State University since last spring when the COVID-19 outbreak began in the United States.
Subsequently, countless people have worked hard, and with great care to offer students, faculty, staff, and the university community, a safe, healthy and successful return to campus – starting with Welcome Week 2020.
Welcome Week, hosted by the Department of Student Activities, offers a nonstop schedule of free events and experiences for new and returning students, with the ultimate goal being to foster inclusion and belonging for all. This year, each event will promote social distancing, have hand sanitizer stations, masks and frequent sanitizing of areas. In addition, Sammy's Hydration Stations will be set up across campus to help guide new students and parents, while also providing cool refreshments in the Texas heat.
"The safety of our students is our number one concern right now. We are trying to keep the experience fun and safe at the same time," Breanna Provost, program coordinator for the Department of Student Activities said. "We want to engage and connect with our students, safely, and we are planning all of our events to be able to do just that."
---
Welcome Week 2020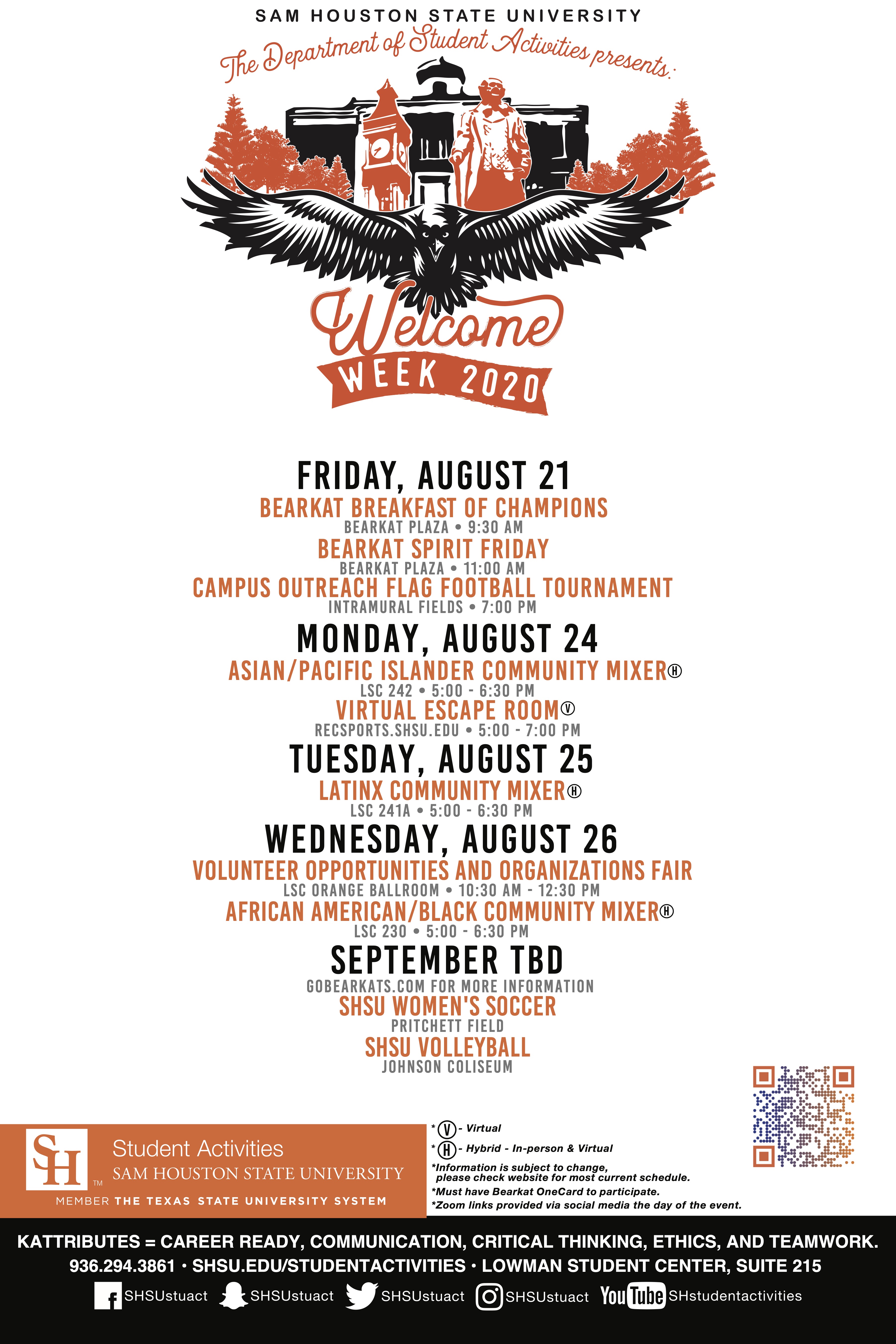 In Huntsville, the move-in process has already begun with precautions in place to keep students safe. For example, Residence Life has staggered move-in times over a three-day period. All residents have been assigned a designated time for move-in to ensure individuals are spread out among floors and wings for reduced density.
For 75 future physicians in Conroe, the fall semester is officially underway at SHSU's College of Osteopathic Medicine. The inaugural class of 2024 began their first day of medical school on Aug. 10.
Sunday, Aug. 16, is a great day for students to prepare for the upcoming semester. Bearkats will have the opportunity to learn about SHSU Greek Life, the layout of the campus, locate their classes, and tune in to the virtual New Student Convocation via Zoom at 3 p.m.
Aug. 17, is all about the first day, with free food, fellowship and fun. Students have two big events to look forward to this year. First, the Welcome Week Service Project will benefit Project Linus, a non-profit organization that provides homemade blankets to children in need. Leadership Initiatives host this project and all students are welcome to participate. The event will be held in the Lowman Student Center, room 320 from 3-6 p.m.
---
Kat Comedy Showcase
Following the service project, students can attend an exclusive, laugh-filled evening, with actress and comedian, Tiffany Haddish and show opener, Aida Rodriguez.
The Division of Student Affairs invited Haddish and Rodriguez to SHSU as part of The Kat Comedy Showcase. The event serves as the premiere comedy show for the university.
This year, the showcase will be ticketless and limited to 675 attendees. Contactless entry into the event will require an active BearkatOne card. The Johnson Coliseum doors will open at 7 p.m. and gates 5, 9, and 27 will be used for entry. The show will begin at 8 p.m.
"The Kat Comedy Showcase is a great way for students to get back on campus and share a few laughs with other Bearkats before the semester really begins," Provost said.
---
About the Headliner: Tiffany Haddish
With multiple high-profile projects and buzzworthy appearances to her name, Tiffany Haddish has quickly established herself as one of the most sought-after comedic actresses and performers. She can currently be seen opposite Tracy Morgan on the TBS comedy series The Last O.G. and as host of Kids Say The Darndest Things on ABC.
Haddish is perhaps best known for her breakout role in the smash comedy Girls Trip. Her additional film and television work includes Like A Boss, The Kitchen, Between Two Ferns: The Movie, Tuca & Bertie, The Secret Life of Pets 2, The Lego Movie 2: The Second Part, The Angry Birds Movie 2, Night School, Nobody's Fool, The Oath, Uncle Drew, The Carmichael Show, Keanu, Real Husbands of Hollywood, and New Girl. Haddish was also an early stand out during her appearances on Def Comedy Jam, Who's Got Jokes, and Reality Bites.
In addition to her acting work, Haddish continues to tour the country and perform to sold-out crowds. Her newest one-hour comedy special, Tiffany Haddish: Black Mitzvah, debuted on Netflix in December 2019 to critical acclaim. She also served as host and executive producer of the Netflix stand-up comedy collection Tiffany Haddish Presents: They Ready, a series of half-hour comedy specials that featured her friends and long-time comedic collaborators. Haddish made history by becoming the first black female stand-up comedian to host Saturday Night Live, a role that earned her the 2018 Emmy Award for "Outstanding Guest Actress in a Comedy Series."
Haddish's first book, a memoir called The Last Black Unicorn, was released the following month. The book made the New York Times Best Sellers List and the subsequent audiobook, narrated by Haddish, was nominated for a 2019 Grammy Award for "Spoken Word Album."
---
Networking Events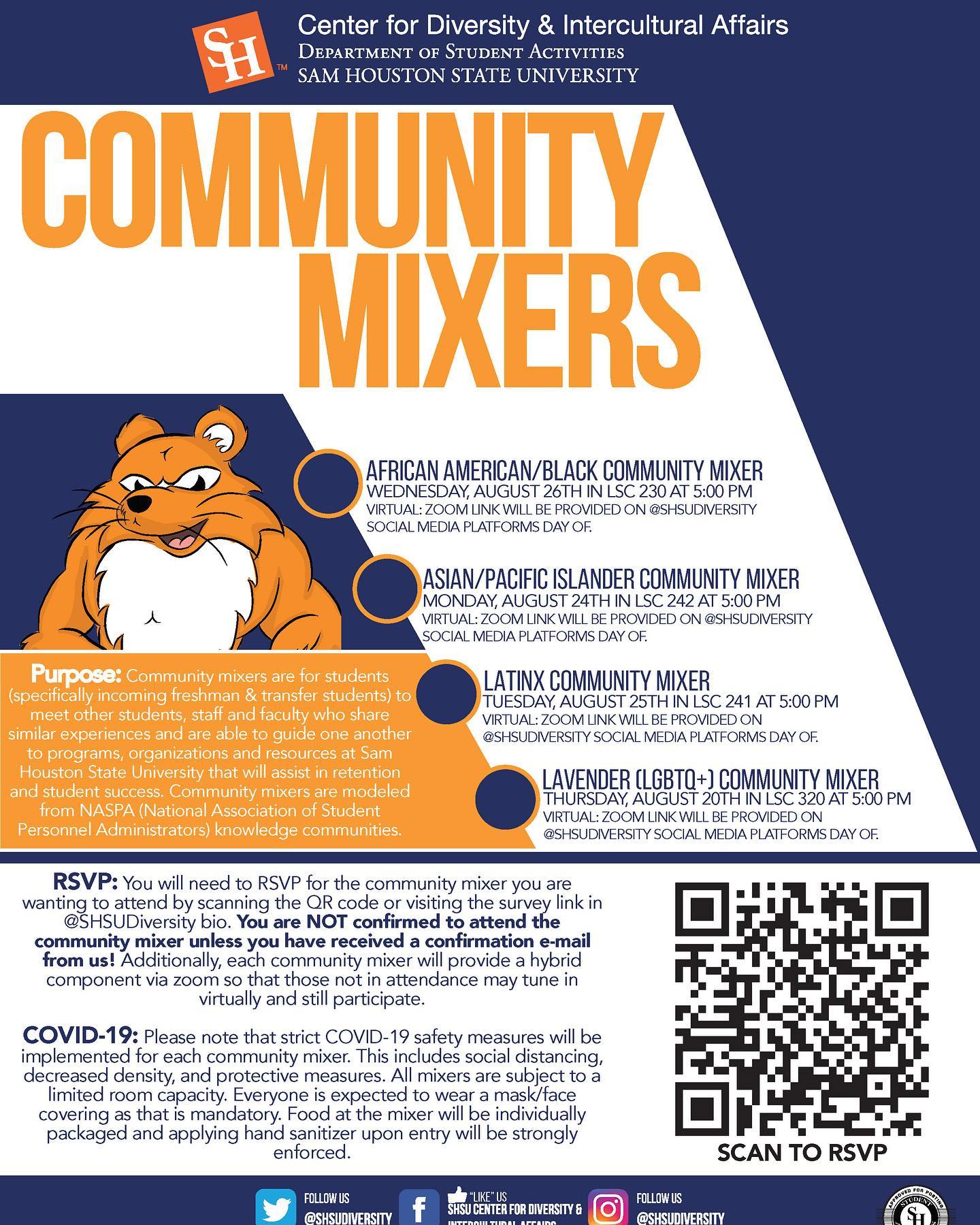 On Aug. 19 at 11 a.m. in Bearkat Plaza, students, faculty, and staff will have the opportunity to meet the university's 14th president, Alisa White. President White comes to SHSU after serving as president of Austin Peay State University in Clarksville, Tennessee, since 2014. She previously served as vice president for academic affairs at the University of Texas at Tyler and Midwestern State University. This meeting will also be offered in the hybrid format, for those that cannot attend in-person.
Additional events where students can feel safe to socialize are various Panhellenic sorority recruitment opportunities, meeting the SGA candidates or the Welcome Week leaders, and other occasions to make a new friend.
One way is by attending the Speed Friending event hosted by Peer Health Ambassadors and the Office of Health Promotion, Aug. 19 at 4 p.m. Speed friending is like speed dating, but without the romance aspect. There will be snacks, games, music and questions to help you get to know your fellow Bearkats.
Many of the festivities emphasize student inclusion and networking such as Unityfest which starts at 11 a.m. on Aug. 20, and multiple community mixers taking place throughout the week. These events celebrate diversity while also providing students a chance to mingle with other peers, staff and faculty who share similar experiences and are able to guide one another to programs, organizations and resources.
---
Virtual Events
For those who prefer to socialize virtually, there are options.
Join the Department of Student Activities in Sammy's Lip Sync Battle. Bearkats are invited to submit a 60-second video lip-syncing a favorite song. Interested participants should email their full name, SAM ID number and their video to bnp010@shsu.edu. Submissions will be accepted Aug.15-20 and the top three videos will be awarded prizes. The winners will be announced via Student Activities' social media platforms (@SHSUStuAct) on Aug. 20.
Carrying over into the following week, another noteworthy activity for students to add to their calendars is the Virtual Escape Room where participants join together to find hidden clues and solve puzzles before time runs out. This event is hosted by The Department of Recreational Sports and Activities on Aug. 24 from 5-7 p.m.
"Since we understand that a lot of our students still may be unsure about attending on campus events, we are providing hybrid and virtual events, as well," Provost said. "A lot of our events will have an online component and all students have to do to participate is follow on social media @SHSUStuAct and join in on the fun."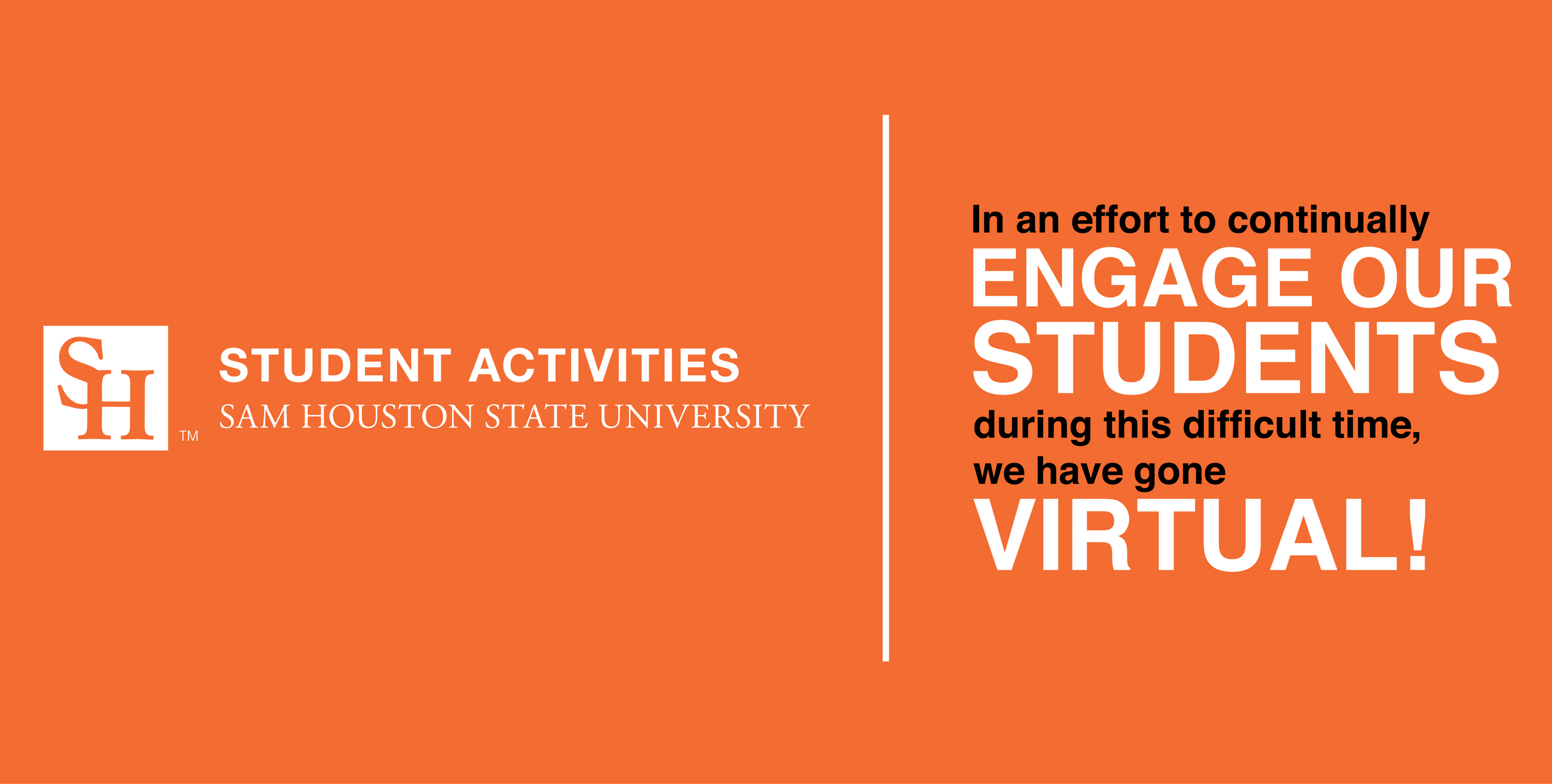 ---
Learn More
For more information on any of the Welcome Week events, call the Department of Student Activities at 936.294.3861 or email studentactivities@shsu.edu.
For a list of virtual engagement activities visit here.
- END -
This page maintained by SHSU's Communications Office:
Director of Content Communications: Emily Binetti
Communications Manager: Mikah Boyd
Telephone: 936.294.1837
Communications Specialist: Campbell Atkins
Telephone: 936.294.2638
Please send comments, corrections, news tips to Today@Sam.edu