Committing To Communal Health: SHSU Announces New Campus Pledge
July 29, 2020
SHSU Media Contact: Emily Binetti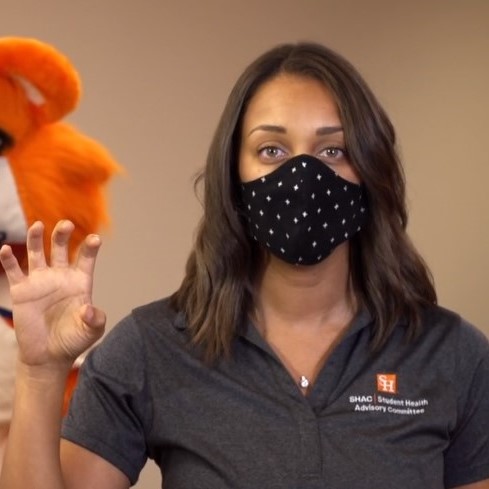 Sam Houston State University has implemented many new measures for a safe and successful return of the campus community this fall semester. Responsibilities include wearing masks, social distancing, frequent hand washing, cleaning and disinfecting classrooms/workspaces, and limiting events and activities where those guidelines cannot be achieved.
One of the new initiatives asks students, faculty and staff to formally agree to take steps to mitigate the coronavirus. The Bearkat Pledge (outlined in the video below) encourages everyone to commit to protecting themselves and the community from the virus.
"As SHSU Bearkats, we recognize that our actions impact others and we all have a shared responsibility in keeping our SHSU community safe and healthy against the spread of COVID-19. To reinforce safety-enhanced routines in daily campus life, we've developed this pledge," John Yarabeck, dean of students said.
By taking the pledge to keep SHSU healthy, individuals accept responsibility for their actions and agree do their part to keep the campus community safe with the following practices:
Wearing a face covering indoors and outdoors on campus
Maintaining appropriate social distancing
Keeping hands clean and sanitized
Following recommended health practices
Seeking medical care if experiencing symptoms of COVID-19 or had close contact with someone with COVID-19
Staying home when sick
Following directional signage throughout campus
Self-reporting if testing positive for COVID-19
Modifying actions as guidelines and recommendations evolve over time
The Student Health Center and Residence Life departments continue to work together in supporting student health and wellness. With many students moving into campus residence halls starting Aug. 14, a number of new move-in procedures have also been instituted. For example, Residence Life has staggered move-in times over a three day period. All residents have been assigned a designated time for move-in to ensure individuals are spread out among floors and wings for reduced density. Additionally, residents will only be allowed two family members or friends to assist with move-in.
As an added safety measure, SHSU's new Housing Policy and Agreement Regarding COVID-19 requires students at the time of move in and within the last 14 days to:
Not been confirmed to have COVID-19
Not exhibited symptoms of COVID-19
Not been exposed to anyone confirmed to have COVID 19
No close contacts (e.g., members of a household in which student has been living for the last two weeks, or intimate partner) have exhibited symptoms of COVID-19
The new pledge and student housing agreement are part of a comprehensive, university-wide education campaign to encourage everyone on campus to comply with vital public health guidelines.
For those concerned about illness, the Student Health Center is fully equipped and staffed to assess students with COVID symptoms and provide testing. (Student should call 936-294-1805 to discuss appointment needs.)
"Student Health Services has been working diligently over the summer to implement comprehensive telehealth services. The SHC will be able to evaluate symptomatic students, test for COVID-19 when indicated and follow a student's health status to provide immediate care and education on COVID-19," Erica Bumpurs, Student Health Center director said.
Those with questions should visit the university's website, Restart 2020. The site was developed to provide up-to-date information on how the university is returning to full operations and welcoming students, faculty and staff back to campus while keeping health and safety at the forefront.
- END -
This page maintained by SHSU's Communications Office:
Director of Content Communications: Emily Binetti
Communications Manager: Mikah Boyd
Telephone: 936.294.1837
Communications Specialist: Campbell Atkins
Telephone: 936.294.2638
Please send comments, corrections, news tips to Today@Sam.edu