The Intersection Of Art And Medicine
Feb. 19, 2020
SHSU Media Contact: Hannah Haney
Just south of South Loop 336 in Conroe, a dirt pathway leads from the I-45 feeder road to the site of Sam Houston State University's College of Osteopathic Medicine. This highly anticipated, state-of-the-art medical school, is nearing completion. By fall 2020, this building will be fully occupied, with a road leading students and faculty to their new academic home.
The 108,000 square foot, five-story facility, is nestled into the area's heavily wooded landscape. The building houses technologically advanced instructional spaces, a teaching theater, a large active learning classroom, case-based learning team rooms, a gross anatomy lab, skills lab, and standardized patient and simulation suites. The intended design is to promote collaboration and inspire innovation with its large open spaces and natural lighting.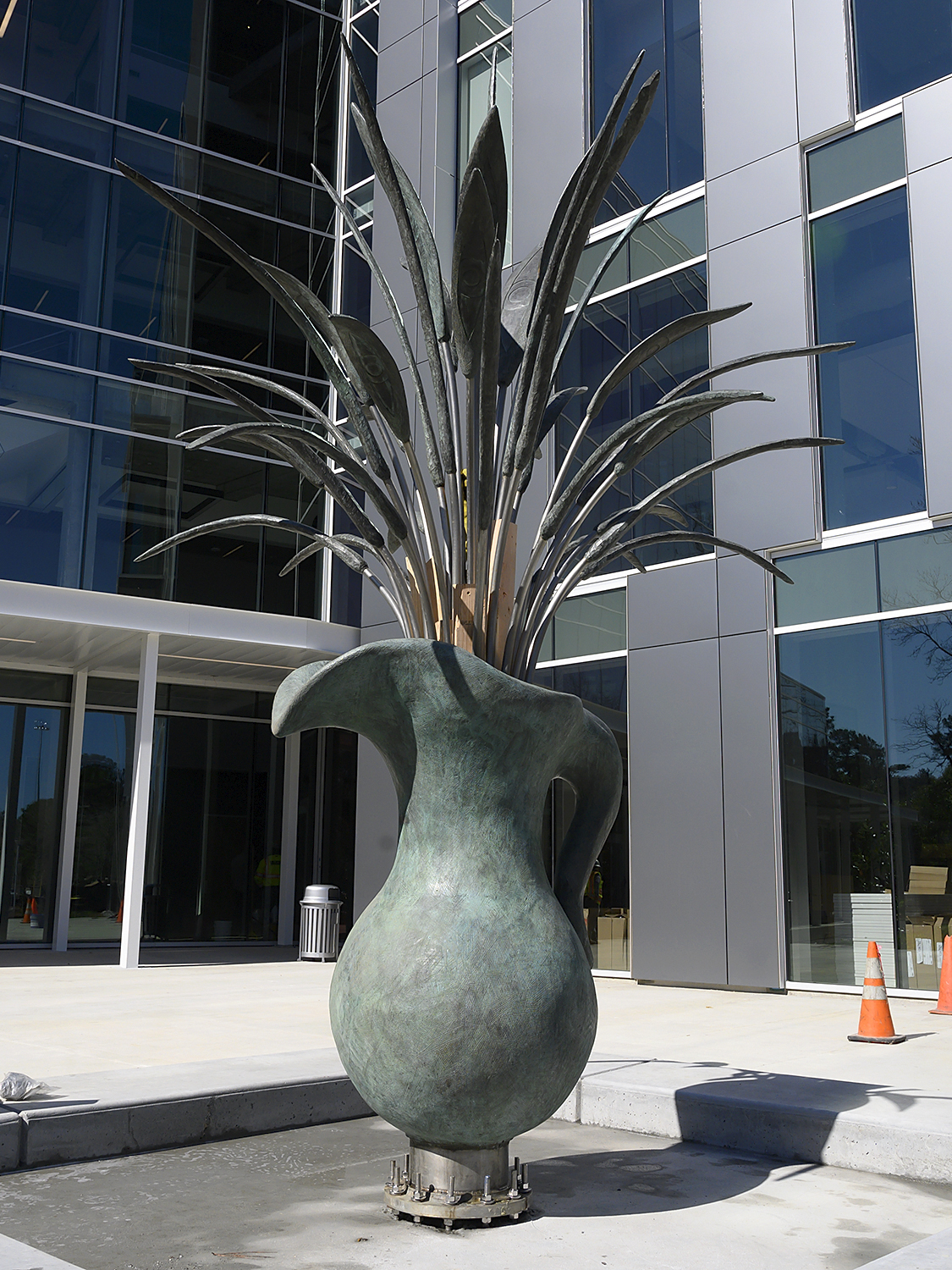 Complimenting the facility's cutting-edge architecture design, is a new work of outdoor art to welcome students, medical professionals and employees. The sculpture, titled "Pitcher with Flowers (2014)," by internationally known sculptor James Surls, a university alumnus ('66) and former art professor, was installed on Friday, Feb. 14, after traveling from Surls' art studio in Carbondale, CO.
This is not the first piece the university has purchased from Surls. For those familiar with his work, they may recognize the prominent 16-foot wood and steel installation titled, "Around the Flower Wall" hanging in the Gaertner Performing Arts Center lobby.
Artwork selected for the university is chosen by the SHSU Public Art Committee, in collaboration with representatives from the academic unit, in this particular case, the College of Osteopathic Medicine. After the committee process is completed, a recommendation is forwarded to President Hoyt for her final review and approval.
"During his interview with the committee, James Surls described this work as appropriate for the College of Osteopathic Medicine given the subject matter and the site," Dean and chair of the university art committee, Ronald E. Shields said. "The external placement of the bronze statue was intentional and connects the work and the building to the surrounding landscape. To do so underscores the cycle of life and nature to the College's mission of health, wellness, and healing. It is a beautifully conceived and crafted work of art. It is a significant addition to the SHSU collection of public art works."
According to Surls, he wants spectators to observe a nurturing image.
"The vase represents a cream pitcher which gives life to new growth. It is healthy, positive and serves a purpose," Surls said. "The sculpture is perfect for the site and appropriate for what the building is, what it does, and what it's supposed to do. I am really happy it is there."
---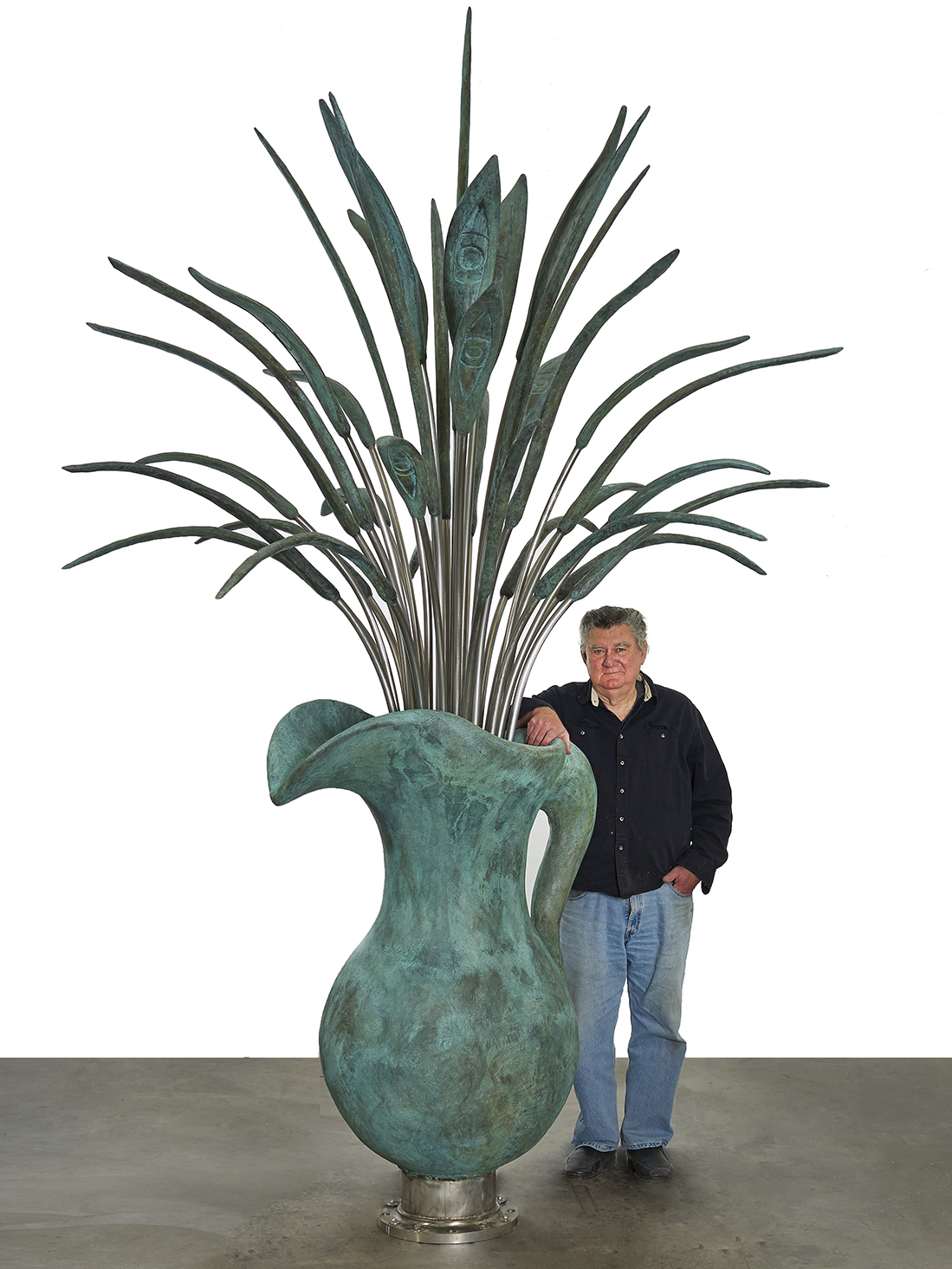 About James Surls
Internationally recognized artist and educator James Surls is one of the most widely celebrated sculptors in the country. A native Texan who grew up in the Piney Woods of East Texas, James is best known for his monumental sculptures, influenced by human and other natural forms, and reflective of his connection with the outdoors.
​He graduated from Sam Houston State Teachers College with a bachelor's degree in 1966 and from Cranbrook Academy of Art in Michigan with a Master of Fine Arts degree two years later. Surls has been named a Texas Artist of the Year and received the Living Legend Award from the Dallas Contemporary Art Center. His wood, steel and bronze sculptures, drawings and prints, are in major art museums and public and private collections throughout the world, including: Arizona State University; Houston Museum of Fine Arts; Solomon R. Guggenheim Museum of New York City; Smithsonian American Art Museum in Washington, D.C., among others. He has exhibited and is collected internationally in Australia, France, Mexico, The Netherlands, Norway and Peru, among other countries. His artwork has been in over 350 solo, group, museum and gallery exhibits across the world, and he has been featured in more than 425 publications.
- END -
This page maintained by SHSU's Communications Office:
Director of Content Communications: Emily Binetti
Communications Manager: Mikah Boyd
Telephone: 936.294.1837
Communications Specialist: Campbell Atkins
Telephone: 936.294.2638
Please send comments, corrections, news tips to Today@Sam.edu