Mass Communications Drone Film Concept Wins Big
April 16, 2019
SHSU Media Contact: Wes Hamilton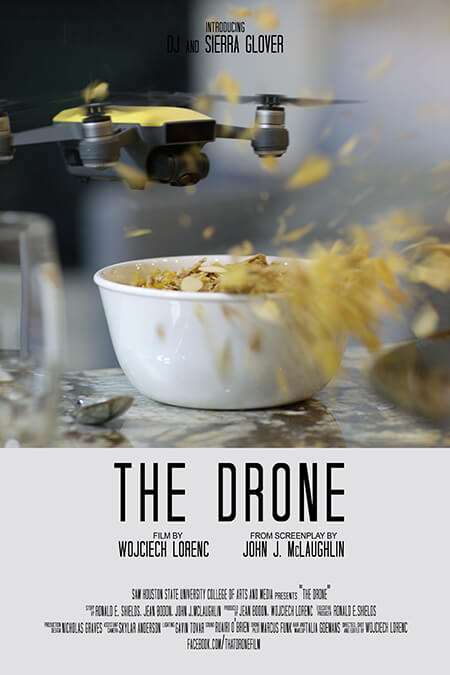 Written By: Brianna Smith
The Department of Mass Communication at Sam Houston State University is making great strides in their film program. With the recent release of their short film "The Drone", the department has received several awards and nominations in the United States and internationally.
Written by screenwriter John McLaughlin who was nominated for a BAFTA Award for his work on the film "Black Swan", "The Drone" follows a student DJ – a small quadcopter who is simply trying to fit in.
"By using a drone as the main character, Sam Houston State was able to incorporate stunning aerial shots of its campus and student projects. The video's quirky subject is lighthearted but certainly memorable," said in a review by Association of Marketing & Communication Professionals Blog.
The Department of Mass Communication purchased a pair of drones in 2018 in conjunction with the short film. With this type of technology, faculty members Marcus Funk and Wojciech Lorenc received formal training and licensing in flying the drones.
"I was the primary drone pilot, which was a lot of fun," said assistant professor of Mass Communication, Funk. "We were flying with cutting-edge technology, which is not a perk common to many universities."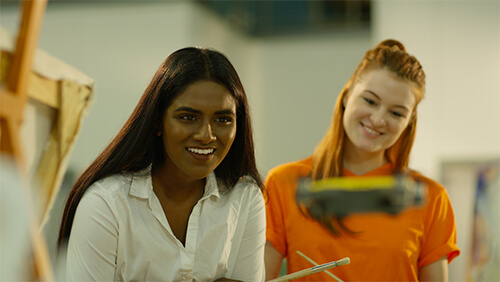 With appropriate training and practice, drone captured footage has the potential to give audiences a different view that could enhance student film maker's projects.
"As a journalist, I see tremendous potential in drone technology," Funk said. "It allows an innovative bird's eye view of breaking news that really resonates with people. There's also a great deal of potential for film makers."
The film has been created with hopes that this type of technology can further the film teachings here at SHSU.
"We hope to use it for recruitment," said director and associate professor of Mass Communication, Lorenc. "Everybody who worked on the crew of the drone was either a student, faculty or staff member of SHSU. We want to show potential students that we are capable of making award winning films in our film program."
Students had the opportunity to work alongside Mclaughlin, which gave them first-hand experience with an award nominated screenwriter.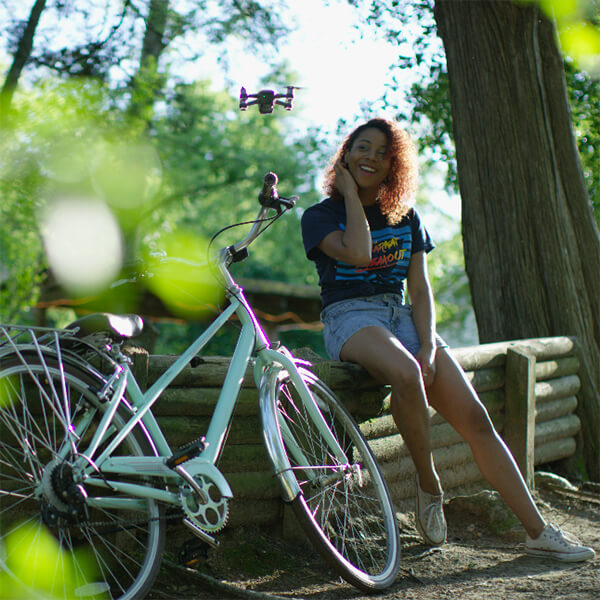 "These kinds of projects are a great learning opportunity for our students," Lorenc said. "All key crew positions on the film were filled by current students from our film program. students were able to benefit by working side by side with professionals shooting a script written by a BAFTA nominated screenwriter."
The department of mass communication's goal with the film was to create outstanding resumes for students right out of the gate in their careers.
"'The Drone' and other projects like it look good on the resumes of our graduating film students," Lorenc said. "This is especially true if our students can mention that the film they worked on was accepted to multiple film festivals and won awards. This is exactly what we strive for."
With short films such as "The Drone", SHSU is creating a strong name for itself at film festivals all over the globe.
"We want Sam Houston State University to have a presence at the best film festivals in the U.S. and internationally," Lorenc said. "Every time our film plays at a festival, somebody out there makes a mental note that SHSU filmmakers make good films. The best way to build a successful film program is to develop a reputation for making great films."
---
Awards and Nominations received by "The Drone"
---
WINNER, Best Drone Sequences, Miami International Science Fiction Film Festival, 2019

WINNER, Sci-Fi Comedy Short, Miami International Science Fiction Film Festival, 2019

WINNER, Silver Remi Award, Sci-Fi Short Film Category, Worldfest Houston International Independent Film Festival, 2019
WINNER, Best Sci-Fi Short, Changing Face International Film Fest, Australia, 2019
Semi-Finalist, Chennai International Short Film Festival, India, 2019
Official Selection, Arizona International Film Festival, 2019
Official Selection, The Philip K. Dick Science Fiction and Supernatural Festival, 2019
Official Selection, LIIFE - The Long Island International Film Expo, 2019
Official Selection, Julien Dubuque International Film Festival April 24-28, 2019
Official Selection, Philadelphia Independent Film Festival, 2019
Official Selection, KinoDUEL International Film Festival, Russia, 2019
Official Selection, The Society for Photographic Education (SPE) Media Festival, 2019
- END -
This page maintained by SHSU's Communications Office:
Associate Director, Communications: Emily Binetti
Telephone:936.294.4406
Communications Manager: Mikah Boyd
Telephone: 936.294.1837
Communications Writer: Campbell Atkins
Telephone: 936.294.2638
Thomason Building: Suite 102
Please send comments, corrections, news tips to Today@Sam.edu