Expo Explores Esports Careers
April 1, 2019
SHSU Media Contact: Wes Hamilton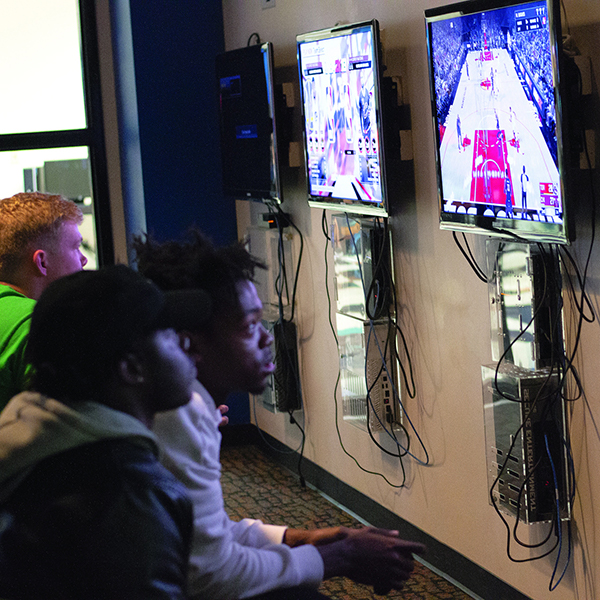 Many Bearkats grew up playing video games of some kind during their childhood, but with the trend of eSports (competitive online gaming) continually growing in popularity, gaming isn't just for kids anymore, it has become a viable option as a profession.
April 5-6 the Sam Houston State University eSports Club will host an expo complete with panel discussions and its own channel on the gaming communication app Discord, allowing attendees to connect and learn more about the billion-dollar gaming industry. The event is free and open to all.
"Every student has a place in eSports, every degree can relate to eSports, and everyone can find something they love about it," said SHSU student and eSports club president Gabe Heiman. "The industry is so vast that no matter what you do or want in a career, eSports has options."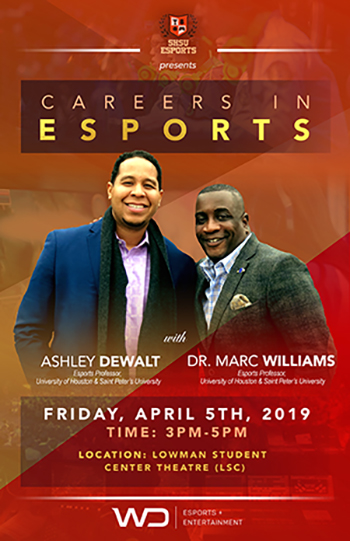 Joining the group from Sam Houston State is the first class of eSports students from the University of Houston.
"The 'History, Culture and Business of eSports' inaugural class is excited to partner with the eSports Club at Sam Houston State University," said Marc Williams, University of Houston eSports professor and expo panelist. "We wanted to share our insights with the SHSU students about careers in the gaming industry and for our UH students to share their insights and experiences from the knowledge they gained from the class."
It is hard to believe there are stadiums and venues being built and used today specifically for gaming, but the numbers are very real according to Ashley Dewalt, University of Houston eSports professor and expo panelist.
"Global eSports revenues are predicted to reach $2 billion by 2021," Dewalt said. "Due to industry growth, aspiring eSports business professionals can seek career opportunities in: Management, Marketing, Advertising, Event Management and Sales."
According to Brian Weaver, assistant director of Intramural and Club Sports at SHSU, eSports represents a growing trend in friendly student competition.
"Interacting with one another and connecting is constantly evolving and eSports takes advantage of that," Weaver said. "I think it is something that is not going to be a fad, it will stand the test of time."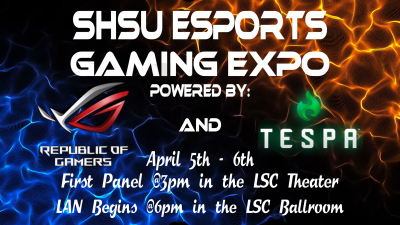 SHSU eSports Expo Schedule
-Friday Panel-LSC Theatre-3 p.m.
-Marc Williams (University of Houston eSports Professor)
-Ashley Dewalt (University of Houston eSports Professor)
-University of Houston student panelists: Tiffany Tran, Nick Johnson, Gregg Giordano, William Trask and Ryan Bui
-Saturday Panel-LSC Orange Ballroom-6 p.m.
-John Spiher (Houston Outlaws Director of Partnership)
-Andrew Barton (Clutch Gaming eSports Analyst)
-Johnathon Angers (Arlington eSports Stadium Marketing & Partnerships)
- END -
This page maintained by SHSU's Communications Office:
Associate Director, Communications: Emily Binetti
Telephone:936.294.4406
Communications Manager: Vacant
Telephone: 936.294.1837
Communications Writer: Campbell Atkins
Telephone: 936.294.2638
Thomason Building: Suite 102
Please send comments, corrections, news tips to Today@Sam.edu