Project Starfish Fundraiser For Future Teachers
Feb. 8, 2019
SHSU Media Contact: Wes Hamilton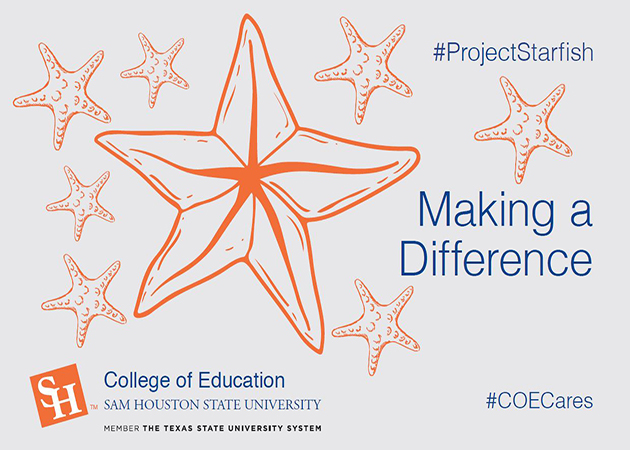 "The Legend of the Starfish" tells the story of a child tossing beached starfish back into the ocean. In the tale, a man approaches the child and asks why they're doing it when there are too many starfish in need of saving, what difference could he possibly make?
The boy replies to him by saying, "It makes a difference to that one," after tossing another starfish into the ocean.
The College of Education at Sam Houston State University first brought this story to life through Project Starfish, an effort that helped students during recovery from Hurricane Harvey. Students were able to pay for things like groceries, home goods and even rent during a time when many personal funds were limited.
While the effort was successful, the need is still very real for many students. As a result, Associate Dean for Planning and Assessment Jannah Nerren aims to revive Project Starfish for a new cause.
"We have had several students complete their degree and then never take the required Texas Certification Tests due to the costs associated," Nerren said. "Or there is also a fee for registering for your certification with the state, even after you have passed the test. There are even people who have passed the test and never paid for the certification. We have a plan to reach out to these students and help them financially with these fees and exams."
On Feb. 14, from 1 p.m. to 3 p.m. in TEC room 279, the College of Education is hosting a Project Starfish Valentine's Day fundraiser and the campus community is invited to come enjoy Valentine's cookies and coffee while providing a donation to this important cause.
"Some of our students are facing buying groceries, or paying a bill versus using that money for a fee or exam related to their certification," Nerren said. "Sometimes it is just a change of plans after graduating, but we want to follow up and find out if it is purely financial, and they didn't have money for the test, then we want to help those students."
To donate, or if your campus group would like Project Starfish representatives at an event, contact Nerren at jannahnerren@shsu.edu or visit the COE Welcome Center in the Eleanor and Charles Garrett Teacher Education Center for drop-offs.
- END -
This page maintained by SHSU's Communications Office:
Director of Content Communications: Emily Binetti
Communications Manager: Mikah Boyd
Telephone: 936.294.1837
Communications Specialist: Campbell Atkins
Telephone: 936.294.2638
Please send comments, corrections, news tips to Today@Sam.edu