Doors Open For New Student Center Expansion
Jan. 15, 2019
SHSU Media Contact: Emily Binetti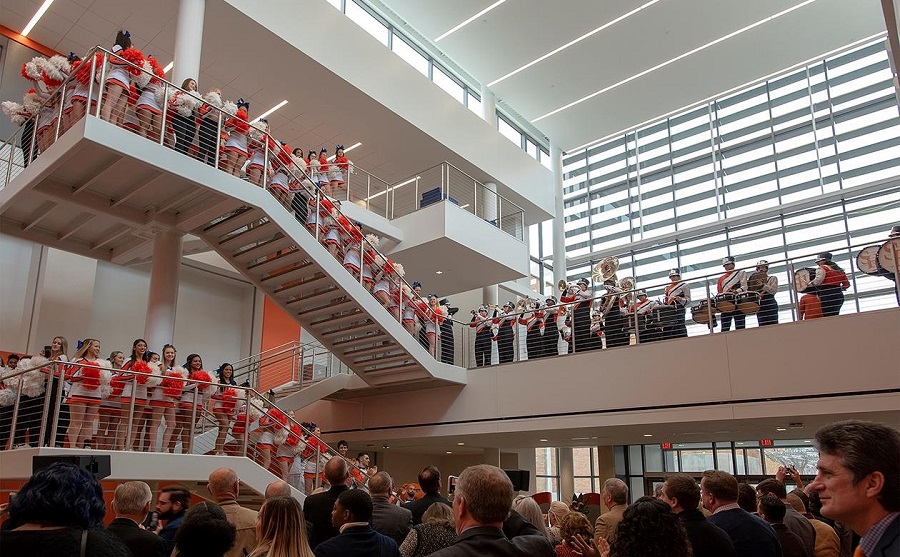 On Tuesday, Jan. 15, the doors opened to the highly anticipated, $40 million expansion of the Lowman Student Center on the Sam Houston State University campus.
With tours, performances and activities, hundreds of Bearkats, along with members of the Huntsville community, had a first glance of the new 80,000 square feet, state-of-art facility during the grand opening festivities.
Student Body President, David Eller was pleased to see a big turn-out of students already taking part in center activities.
"It is a great day for all Bearkats honestly. It signifies a new chapter of growth here at Sam Houston State University," Eller said. "It has only been open a few hours, but you can already see a lot of students everywhere, interacting and having a good time with other Bearkats. This is the living room of campus. So it is about finding new friends and making memories here at Sam Houston State."
Met with great enthusiasm, students quickly made themselves at home in their new campus living room featuring the new and improved Kat Klub. Relocated from the original LSC space, the student lounge is complete with an eight-lane bowling alley, plenty of couches and TVs, arcade games, tournament sized pool tables, a small performance space and Three Horse Tavern pub.
For many students the new venue exceeded expectations.
"I wasn't expecting all of this. It is really nice and they put a lot of effort into it obviously. Bowling is definitely my favorite addition," sophomore Deanty Maxey said.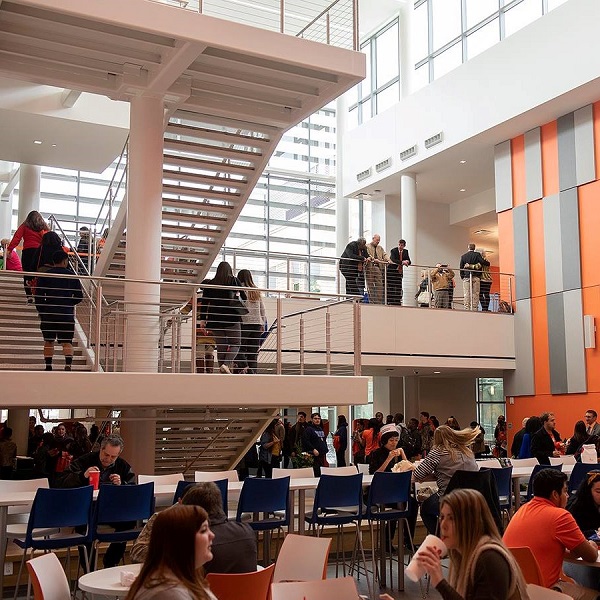 The indoor atrium, with stunning views of the campus' iconic Peabody Library, Austin Hall and new outdoor courtyard, serves as the epicenter of the facility. The open, modern space connects all three floors and offers new food options, Oath Pizza and Steak 'n Shake.
On level two, a new 10,000 square-foot ballroom can divide into four separate spaces and features a moveable stage, integrated theatrical lighting and advanced sound capabilities.
According to student worker, Xavier who serves as tech manager for the ballroom, the new space offers a variety of event hosting options.
"We have built-in sound tech that can be played from this room throughout the building. We have great new speakers, lighting and LED lights that we can change the color of. We also now have a portable stage. Since we have all the different sections of the room, we can move it where we want it to be. If an event doesn't need the stage we can remove it completely," Xavier said.
Outside, the courtyard dining area offers a dual purpose art/shade structure featuring the work of local artist, Dan Phillips.
Named after former SHSU president, Harmon Lowman in 1963, the original wing of the LSC was last renovated in 2000 when the campus had a student population of approximately 12,000.
In 2012, the staff of the LSC proposed to the Student Government Association and student groups an increase in the student center fee (from $60 per semester to $100) towards the development of an expansion to the current facility.
Despite an investment in something that students at the time would only know as alumni, they supported the increase. Later that fall, the referendum passed and during the next few years, planning, preparations, and TSUS Board approval solidified the project.
There is still more excitement to come to the LSC in the near future. The LSC expansion project calls for two phases: phase one is the newly opened expansion. Phase two includes renovations to the original facility and begins in March. With a cost of $15.65 million, phase two will add 1,900 additional square feet and will include a new main entrance from LSC mall area, new lounge and dining spaces, multiple connections into the LSC expansion, a relocated Barns & Noble bookstore and a Starbucks. The projected completion date of the second phase is June of 2020.
LSC Grand Opening from Sam Houston State University on Vimeo.
- END -
This page maintained by SHSU's Communications Office:
Associate Director, Communications: Emily Binetti
Telephone:936.294.4406
Communications Manager: Vacant
Telephone: 936.294.1837
Communications Writer: Campbell Atkins
Telephone: 936.294.2638
Thomason Building: Suite 102
Please send comments, corrections, news tips to Today@Sam.edu