After 30 Years, Family And Consumer Science Professor Janis White Retires
May 20, 2019
SHSU Media Contact: Wes Hamilton
Written By: Carla Clark
Janis White, associate professor and program director for the Department of Family & Consumer Science (FACS) Fashion Merchandising is retiring after more than 30 years at Sam Houston State University.
White has had many roles at SHSU including professor, department chair and graduate teaching assistant since beginning her journey at Sam Houston State in the 1980's. She says the university was vastly different than today, but that she has enjoyed seeing the transformation over time.
"There have been so many changes in higher education and SHSU has grown so much," White said. "I believe I'm leaving a stronger, more vibrant department than the one I joined in 1989."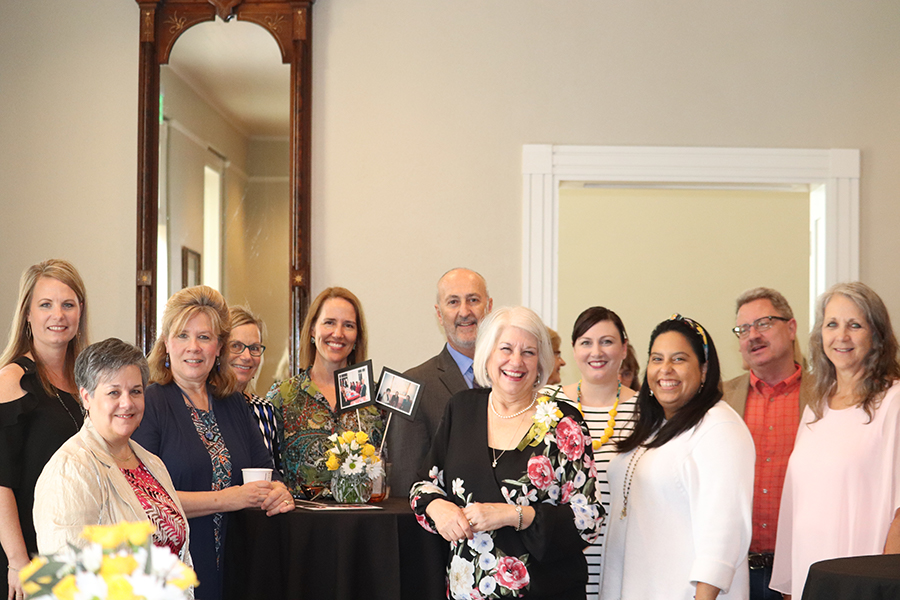 Members of the SHSU faculty, staff and her family honored White at a recent retirement party hosted by the College of Health Sciences and the Department of Family and Consumer Sciences in Austin Hall.
"There have been many times when I taught my students what Dr. White taught me," said Valencia Browning-Keen, associate professor at SHSU, who White originally hired to teach Dietetics. "One of her favorite quotes is 'If you don't like something, change it and if you can't change it, change your attitude' and that inspired me."
"Dr. White has a stellar mind, her memory would make an elephant proud," said Harriett Greggs, adjunct faculty member. "She also has the ability to solve problems while being passionate about her students."
Some of White's former students were also in attendance, including Paige Loft, now an SHSU fashion merchandising adjunct professor who credits White with seeing her abilities like no one else had before and bringing the best out by showing her tough criticism at times.
"She told me 'I am going to grade you harder than everyone else because I know you can do it,'" Loft said. "Dr. White lives by the motto 'You can't be what you don't see' and I try to assimilate that into my own teaching now."
While White is retiring, she plans to keep her hand in the department a couple of days a week.
"It has been my honor and privilege to work with dear colleagues and fine students in the Department of Family and Consumer Sciences over such a long and varied career," White said. "I am humbled by the out-pouring of kind words as I scale back my involvement. I will miss the daily interactions with colleagues and students, but I know that more joy awaits."
- END -
This page maintained by SHSU's Communications Office:
Associate Director, Communications: Emily Binetti
Telephone:936.294.4406
Communications Manager: Vacant
Telephone: 936.294.1837
Communications Writer: Campbell Atkins
Telephone: 936.294.2638
Thomason Building: Suite 102
Please send comments, corrections, news tips to Today@Sam.edu