SHSU Earns Energy Saving Bonus
Feb. 28, 2019
SHSU Media Contact: Sandra Gray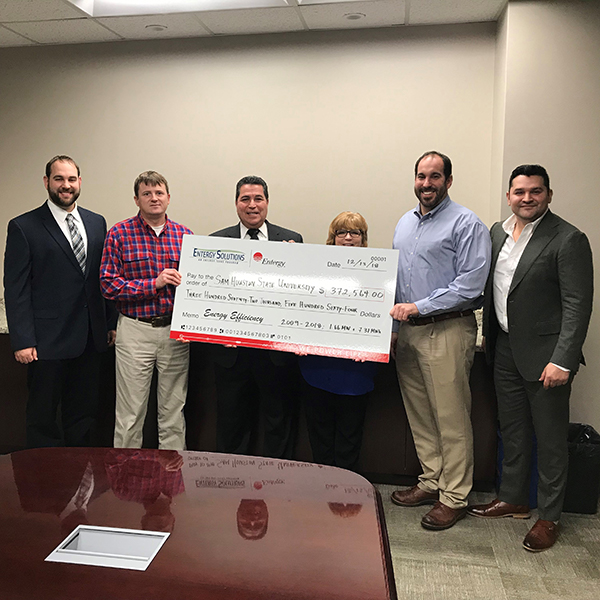 Sam Houston State University is continually pursuing smart energy management, and reaping the rewards. SHSU has participated in the Entergy Solutions Program since 2009, completing a wide variety of energy efficiency projects that in total have saved over 7.3 million kWh, and recently SHSU received an incentive check from the program for $27,409.
The program provides technical and financial support to help commercial Entergy customers identify and implement projects that reduce energy usage. With the addition of the latest check, SHSU has earned $372,564 in incentives over the past ten years and is projected to save over $658,000 in electricity costs annually.
"We are pleased to continue working with the Entergy Solutions Program to achieve our energy efficiency goals," said Campus Energy Manager Sandra Gray. "Participating in the program has helped us save on energy operating costs and educate our students and staff about the benefits of energy conservation."
The most recent incentive check was earned for energy efficient projects the university completed through the Entergy Solutions program in 2018. LED lighting and controls were installed in the Life Sciences Building, the Avenue J Data Center, and the Thomason Re-purpose building. While the East Central Plant received water cooled chiller upgrades. These projects are saving 153 kW in energy demand and 508,831 kWh per year.
Since 2009, SHSU saved a total of 1,661 kw and 7,312,497 kWh, which is equivalent to reducing the greenhouse gas emissions from 1,098 passenger vehicles, according to Environmental Protection Agency calculations.
Sam Houston is also participating in the Entergy Solutions Resource Management Services measure, which helps organizations save energy and money by providing operational and behavioral improvement recommendations, such as facility shutdown procedures, scheduling consolidation strategies, and device management recommendations for classroom and office equipment.
"We are very proud to support Sam Houston in their commitment to energy efficiency," said Entergy Solutions Program Manager Mark Delavan. "They are proactively creating better learning conditions for students and engaging the campus community in responsible energy use and resource management. We're looking forward to continuing our partnership with Sam Houston and helping them find more ways to save energy and money."
- END -
This page maintained by SHSU's Communications Office:
Director of Content Communications: Emily Binetti
Communications Manager: Mikah Boyd
Telephone: 936.294.1837
Communications Specialist: Campbell Atkins
Telephone: 936.294.2638
Please send comments, corrections, news tips to Today@Sam.edu