ELITE Honored At Texas Student Leadership Summit
Sept. 16, 2019
SHSU Media Contact: Wes Hamilton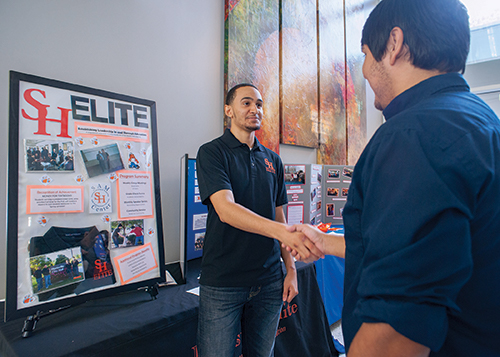 Story By: Mikah Boyd
Established in 2010, ELITE is a minority male initiative that supports the achievement of African American and Hispanic men by facilitating personal and professional development through leadership, academic support, and civic engagement.
ELITE (Establishing Leadership In & Through Education) was created to actively recruit minority male students in an effort to increase retention and graduation rates among the population. For their efforts, the group was recently recognized with the 2018-19 Outstanding Male Student Program Award from the Texas Education Consortium for Male Students of Color.
Headquartered at the University of Texas in Austin, the Consortium is a collaboration between institutions throughout the state of Texas. Consortium partners across educational sectors work to implement and sustain effective policies, programs, and practices focused on increasing individual success and post-secondary completion for male students of color.
José Herrera coordinates the program, organizing workshops and networking opportunities for Hispanic and African American men to connect with other driven students around campus.
Herrera explained that receiving the Outstanding Male Student Program Award gives ELITE proper recognition for the hard work and attention that the staff, campus faculty, and university administrators have put into the program.
"It validates all of the blood, sweat, and tears of our participants who are dedicated to being successful at SHSU and in their careers and lives after graduation," Herrera said.
He also explained that receiving the award proves that ELITE is a high-caliber program that makes a positive impact on a critically important population at Sam Houston State.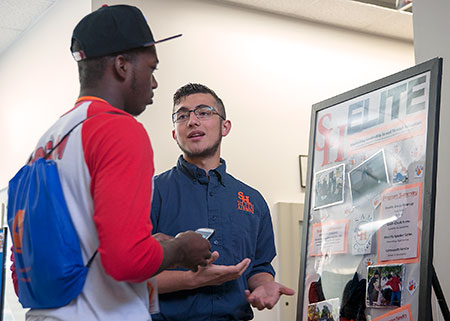 "We want our program and participants to serve as role-models for not only other students at SHSU, but for other institutions across the state and nation that want to promote diversity and student access," Herrera said.
Looking forward, the program plans to continue expanding so that a greater number of students will benefit. Another goal is to create bridge programs with SHSU's transfer partners to help Hispanic and African American men as they transition from their two-year institutions to SHSU.
ELITE also works to build up brotherhood and camaraderie among SHSU students while fostering success and leadership.
"Participating in ELITE provides an automatic support network," Herrera said. "It is a great way to meet success-oriented individuals and to surround oneself with others who are focused on being leaders and professional in and outside of the classroom."
For more information on ELITE click here or email them at shelite@shus.edu.
- END -
This page maintained by SHSU's Communications Office:
Director of Content Communications: Emily Binetti
Communications Manager: Mikah Boyd
Telephone: 936.294.1837
Communications Specialist: Campbell Atkins
Telephone: 936.294.2638
Please send comments, corrections, news tips to Today@Sam.edu