The Value Of A Sam Houston State Degree Supports Growth
Nov. 7, 2019
SHSU Media Contact: Emily Binetti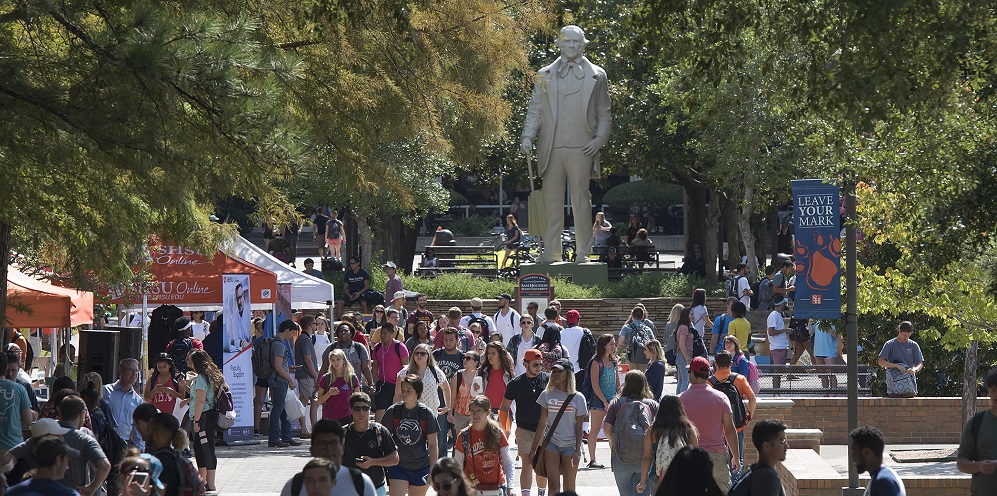 Sam Houston State University's student population is rising with 21,560 new and returning students this fall semester, despite a national decline in higher education enrollment.
Data released by the National Student Clearinghouse Research Center in May stated that college enrollment in the United States has decreased for the eighth consecutive year. Yet, Sam Houston State has experienced over 15 straight years of enrollment growth.
"Providing value, a quality education at an affordable cost, has made SHSU attractive to many students," said SHSU President Dana Hoyt. "Our expanding degree options, including additional online courses, are making it possible for more individuals to complete their degrees."
A number of factors have contributed to this long-standing growth trend. The university's focus on student success has led to strong retention and graduation rates, particularly with minority students. These efforts have reduced the time to graduate.
"In just four years we've effectively eliminated an entire semester of time required of our students who earn a degree here," said Brian Loft, associate vice president of faculty and student success. "That decrease in time to graduate can amount to significant financial savings to students."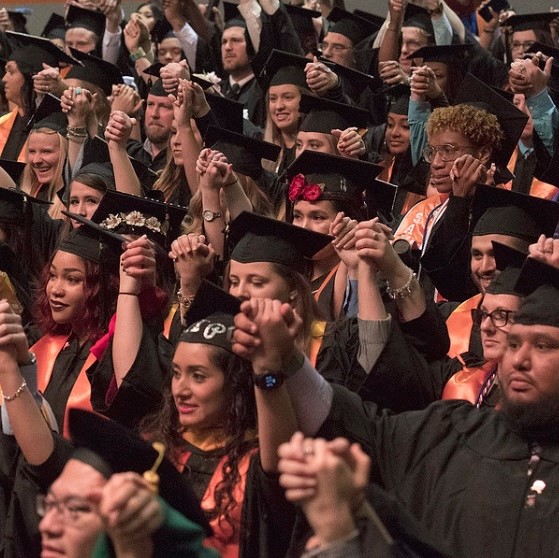 In fact, approximately 1,500 degrees were awarded to non-transfer students in 2016-17, collectively saving them up to $7.5 million.
Since SHSU's inception, the university has been responsive to the workforce needs of the state. Initiatives integrating education, employment demand and career opportunities continue to strengthen successful outcomes for students.
Anticipating needs is also a component of the university's strategic framework. Closely monitoring demographic changes and lifestyle needs has bolstered the university's commitment to online education. With over 75 percent of current SHSU students working while enrolled in school, a growing number of Bearkats are pursuing degrees online. The number of students in online classes increased this fall as SHSU continues to expand more undergraduate, graduate and certification courses to meet lifestyle and workforce demands.
This semester, 53 percent of SHSU students are taking at least one class online. SHSU has also experienced steady growth in the number of degrees available online. At present, the university offers 58 degree programs completely online. Moreover, the number of students taking all of their classes online has increased 5.6 percent compared to fall 2018.
"Online learning is a very popular option. Adult learners in particular need education to fit into their lifestyle. Degree and certification options available online give them that flexibility," said Bill Angrove, associate vice president for distance education at SHSU.
National research suggests that most adult learners will return to college as an online student. In 2018 alone, enrollment in the United States grew 3 percent among exclusively online learners.
The virtual classroom has allowed SHSU to extend its footprint nationwide. This fall, students from 58 countries and 48 states are attending SHSU. 193 counties in Texas are represented in the enrollment figure.
The value of a Sam Houston State degree has not gone unnoticed. SHSU is ranked No. 1 among the best online colleges in Texas for 2019-20 by OnlineColleges.com. This is the second year in a row SHSU and its programs lead in the report, this time rising to the top of the list from No. 2 in 2018.
- END -
This page maintained by SHSU's Communications Office:
Associate Director, Communications: Emily Binetti
Telephone:936.294.4406
Communications Manager: Vacant
Telephone: 936.294.1837
Communications Writer: Campbell Atkins
Telephone: 936.294.2638
Thomason Building: Suite 102
Please send comments, corrections, news tips to Today@Sam.edu