Cut Loose, Footloose, April 24-27
April 17, 2019
SHSU Media Contact: Wes Hamilton
The high energy, 1980's dance show "Footloose" is kickin' its way to Sam Houston State University's Department of Theatre and Musical Theatre April 24-27.
Playing at the Erica Starr Theatre with evening performances at 7:30 p.m. and a Saturday matinee performance at 2:00 p.m, the show is directed by Kevin Crouch and Kyle Craig-Bogard with music direction by Laura Avery and Eric Gundersen.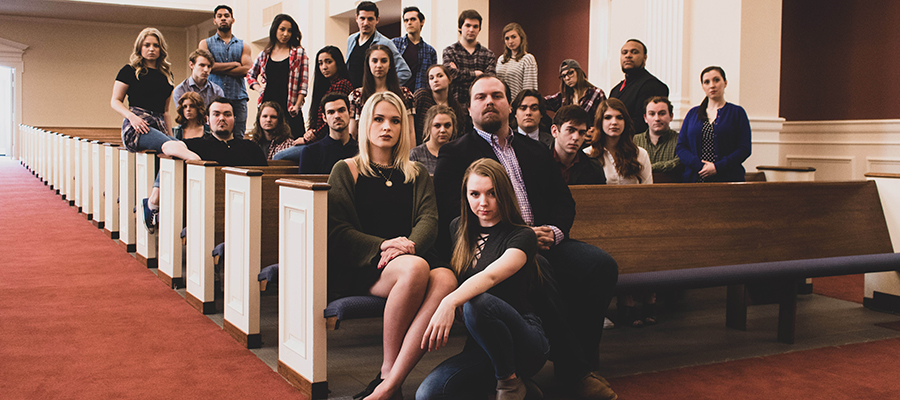 The musical follows the story of Ren McCormack, a teenage boy from Chicago. He and his mother move to the small town of Bomont. Upon arriving, Ren finds himself at odds with most of the town, including the Reverend Shaw Moore. The Reverend has convinced the town to outlaw dancing, which Ren finds unbelievable. With the help of Ariel (the Reverend's daughter) and Willard (a country boy who becomes Ren's best friend), Ren convinces the Reverend to let the teenagers dance, and in the process helps the town to heal from a tragedy that affected them all. Ultimately, the story is one of rebellion, redemption and closure.
This show is pure fun with familiar 1980's pop-rock hits like "Almost Paradise," "Let's Hear It for the Boy," "Holding out for a Hero" and "Footloose." The spirited young cast struts their stuff while they dance, sing, kick, jump and two-step their way through the beats and rhythms of these great pop tunes.
"It has been exciting to collaborate on Footloose. The show is a blast, but also has a message that our students are finding very relevant about having their voices heard and standing up for what they believe is right," Crouch said. "It is a fun finish to our season and I think you will leave the theatre with a big smile on your face and humming a tune you know."
Come let loose and join the fun. For ticket information, contact the Performing Arts Center Box Office at 936.294.2339 or visit www.shsutickets.com to purchase your tickets online. General admission tickets are $15. Discounted tickets priced at $12 are available for senior citizens and students with a Bearkat One Card.
The Erica Starr Theatre is located in the University Theatre Center at 1740 Bobby K. Marks Drive and 17th street between the Newton Gresham Library and the James and Nancy Gaertner Performing Arts Center.
For interviews, please contact Kevin Crouch at kevincrouch@shsu.edu.
- END -
This page maintained by SHSU's Communications Office:
Associate Director, Communications: Emily Binetti
Telephone:936.294.4406
Communications Manager: Vacant
Telephone: 936.294.1837
Communications Writer: Campbell Atkins
Telephone: 936.294.2638
Thomason Building: Suite 102
Please send comments, corrections, news tips to Today@Sam.edu