SHSU Moves Forward In Recruiting Medical Students
Sept. 3, 2019
SHSU Media Contact: Emily Binetti
Sam Houston State University's College of Osteopathic Medicine (COM) received pre-accreditation status from the Commission on Osteopathic College Accreditation (COCA) at its August Executive Board meeting in Washington D.C. With the confirmation from the COCA, Sam Houston State can begin recruitment for its first cohort of osteopathic medical students. Those interested can now submit their application online.
"This is a momentous day for Sam Houston State University and for those living in rural communities," said SHSU president Dana Hoyt.
As the university's eighth college, it is the first medical school located in Montgomery County and the state's third osteopathic medical school. Construction is currently underway on a 108,000 sq. ft. facility situated on 7.3 acres off I-45 south in Conroe, Texas. The building is expected to be substantially completed by the end of this year, well before the first class of 75 students arrive in August 2020.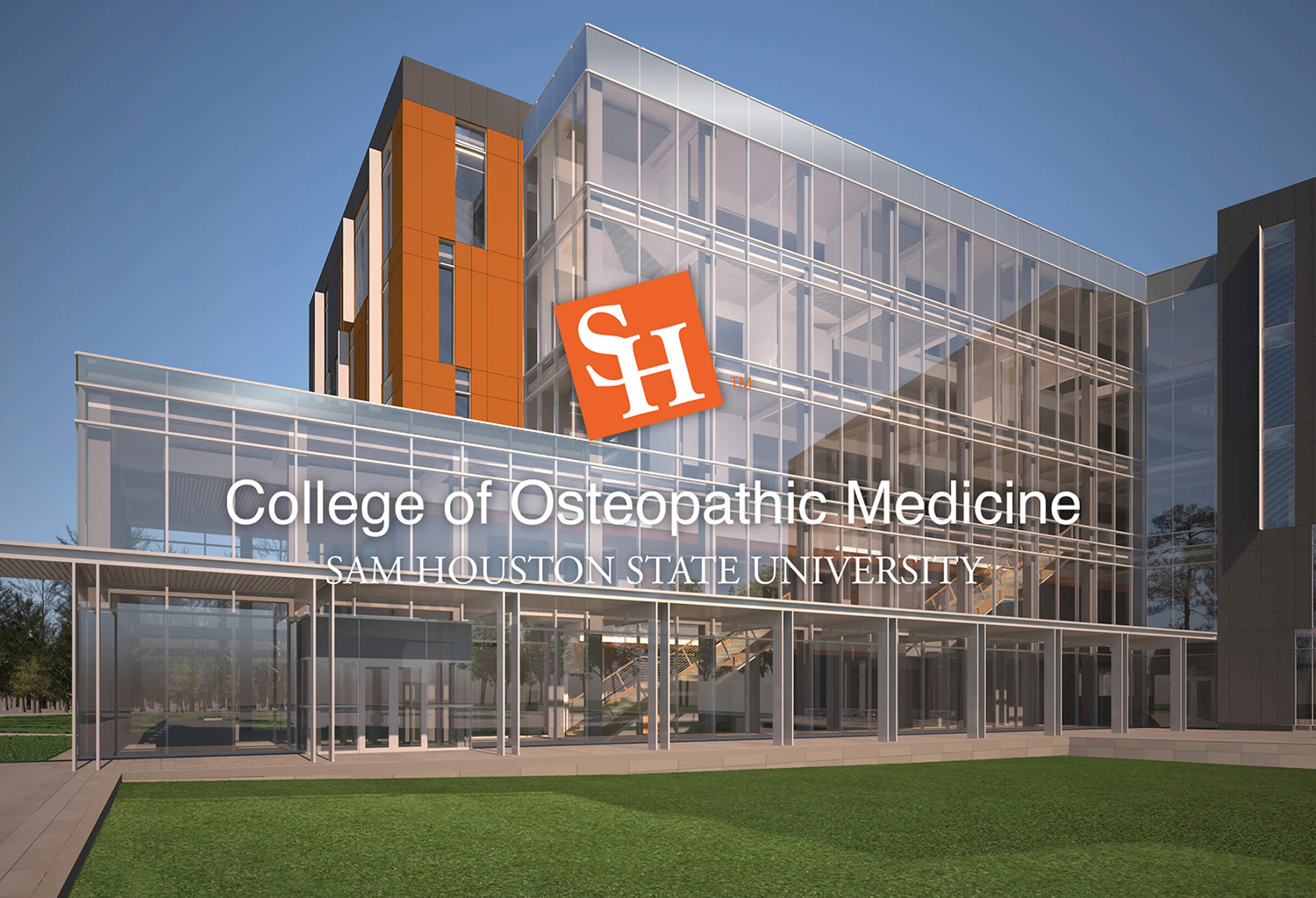 "This decision allows Sam Houston State University to begin recruiting its first cohort of medical students who, upon graduating, will dramatically improve access to high-quality health care in rural Texas. Congratulations to Dr. Dana Hoyt and her team for successfully launching the first medical school in our System," said Brian McCall, chancellor of the Texas State University System.
The university has hired four deans and over 26 faculty and staff, including chairs and general faculty. Chosen for their exceptional professional credentials and ability to enrich the lives of medical students, the college's diverse and talented team will bring a wide variety of specializations to Sam Houston State including biochemistry, physiology, pathology and anatomy as well as physicians with a variety of specialty training and clinical experience.
---
"Our faculty's professionalism and first-hand healthcare experience make them ideal mentors for fostering and teaching compassionate patient care to future generations.

"
— Dr. Charles Henley, founding dean of the SHSU-College of Osteopathic Medicine.
---
Additionally, the College of Osteopathic Medicine has collaborated with hospitals in rural East Texas in establishing residency training programs to benefit the people living in those areas. To date, the college has confirmed 22 affiliation agreements with hospitals and clinics across the eastern region of Texas for students to complete their third and fourth-year clinical rotations. SHSU osteopathic medical students will spend the first two years of their training at the medical school before completing those rotations.
"Our medical education model is built to serve rural Texans. The process has been challenging, as it should be, and today's affirmation from the COCA shows that Sam Houston State not only has the passion, but has an exceptional plan backed by exceptional people," said SHSU president Dana Hoyt. "As we have continually shown, Sam Houston is one of the best-suited universities to address our state's rural healthcare crisis."
Unlike other medical schools in the state, the SHSU-College of Osteopathic Medicine requires no new state funding and is projected to generate approximately $68 to $93 million annually in new federal funds to Texas.
Final accreditation for the college can only be granted after the first graduating class, which is expected in 2024.
For more information about how to apply prospective students should contact comadmissions@shsu.edu or call 936-202-2502.
- END -
This page maintained by SHSU's Communications Office:
Associate Director, Communications: Emily Binetti
Telephone:936.294.4406
Communications Manager: Mikah Boyd
Telephone: 936.294.1837
Communications Writer: Campbell Atkins
Telephone: 936.294.2638
Thomason Building: Suite 102
Please send comments, corrections, news tips to Today@Sam.edu