Fallen Criminal Justice Alumnus Honored with HWY 99 Dedication
Oct. 31, 2019
SHSU Media Contact: Veronica Gonzalez Hoff
Story By: Veronica Gonzalez Hoff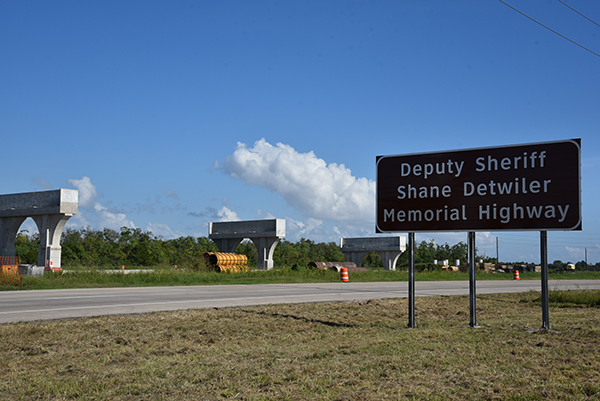 Local elected officials along with law enforcement members gathered for a dedication ceremony to rename a section of Highway 99 in Chambers County after fallen deputy and Sam Houston State University Criminal Justice alumnus Shane Detwiler.
Deputy Sheriff Shane Detwiler was an Army veteran and graduated from SHSU in 2002. He became a Texas Parks & Wildlife game warden in 2003, and then became a deputy with the Chambers County Sherriff's Department in 2009. Shortly after joining the department, Shane was fatally shot responding to a disturbance call at a Baytown area mobile home park.
Texas House District 23 Representative Mayes Middleton and Chambers County Sheriff Brian Hawthorne were among other local law enforcement, family, and friends present at the dedication ceremony for the newly designated Deputy Sheriff Shane Detwiler Memorial Highway.
"As soon as I got elected I had it on my heart to get it done. I had to name the highway after Shane, not just for his country but for his county," Middleton said. "He was a real servant leader. We can't have life and liberty without our law enforcement community."
Middleton, who has been in office 10 months, filed the bill in March and it was signed by Governor Greg Abbott in June. The bill amends current law relating to the designation of Highway 99 to former Houston Mayor Bob Lanier in Chambers County.
"I cried. It warmed my heart that they thought enough of Shane," said Detwiler's mother, Cheryl Railsback.
Railsback started the Shane Detwiler Foundation in 2010 and awarded their first scholarship to a SHSU Criminal Justice Student in 2011. In addition, the foundation purchases much needed equipment to improve the capabilities of the law enforcement agencies in and around Chambers County
"That was the only thing I knew to carry his memory and keep it alive," Railsback said about starting the foundation. "Shane had a tremendous driving passion to keep people safe and loved what he did. Shane's entire adult life was spent serving his country, state, county and community."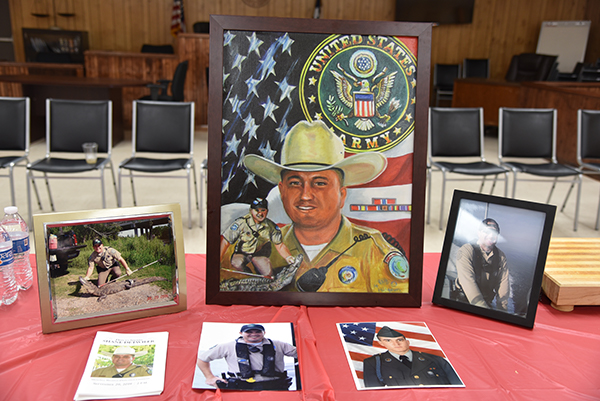 REMINISING

Family, friends, and law enforcement gathered at a reception after the dedication and continued honoring Detwiler's memory by sharing stories. Chambers County Deputy Sheriff John Feist was a game warden with Detwiler and proudly showed off one of his favorite photos from 2006 Gator Fest.
"That's the same smile he always had," Feist said as he smiled widely. "He was always smiling. He had a great personality."
Feist shared that one of his favorite moments was on duty searching for oyster violations just after Detwiler had returned from a year-long tour in Iraq. They found a man with several warrants in his name and were escorting him to the dock when he decided to jump off the boat and run.
"Shane was right behind him. I go around the corner and Shane already had him handcuffed," Feist laughed as he recalled. "The whole time he kept asking, 'are you tired yet?' I was about to die, and Shane wasn't breathing hard. After that we called him Catch Dog because he could catch anybody."
Others echoed Feist's sentiments, recalling Detwiler's lighthearted personality.
"His laugh and his smile are what I miss most. He was always laughing. He was just a great guy," said Tony Rosetta, retired Chambers County Deputy Sheriff.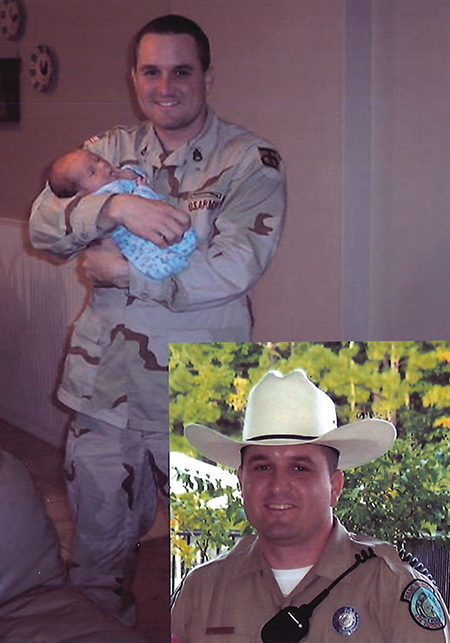 LAST MOMENTS

Rosetta was one of the officers at the call Detwiler responded to, along with Kevin Kelly, former state trooper and Navy veteran, who recalled the last moments with Detwiler on scene. For Kelly, sharing Detwiler's story means telling others about who he was.
"I remember looking over at him as he was putting his gear on and he winked at me," Kelly said. "He was the kind of guy you wanted to go in with these situations. He knew when to get serious."
______________________________________________________________________
Every year the Shane Detwiler Foundation awards an SHSU Criminal Justice student with a scholarship as a way to continue his legacy and passion to serve.
"It is our desire to help someone with the same passion for law enforcement that Shane had," Railsback said.
For more information on the Shane Detwiler Foundation, go to http://shanedetwilerfoundation.org or email shanedetwilerfoundation@yahoo.com. For more information on donating to the Shane Detwiler Criminal Justice Scholarship, contact Cutty Gilbert at cutty@shsu.edu.
- END -
This page maintained by SHSU's Communications Office:
Associate Director, Communications: Emily Binetti
Telephone:936.294.4406
Communications Manager: Vacant
Telephone: 936.294.1837
Communications Writer: Campbell Atkins
Telephone: 936.294.2638
Thomason Building: Suite 102
Please send comments, corrections, news tips to Today@Sam.edu