2019 Staff Excellence Award Recipients Announced
May 17, 2019
SHSU Media Contact: Hannah Haney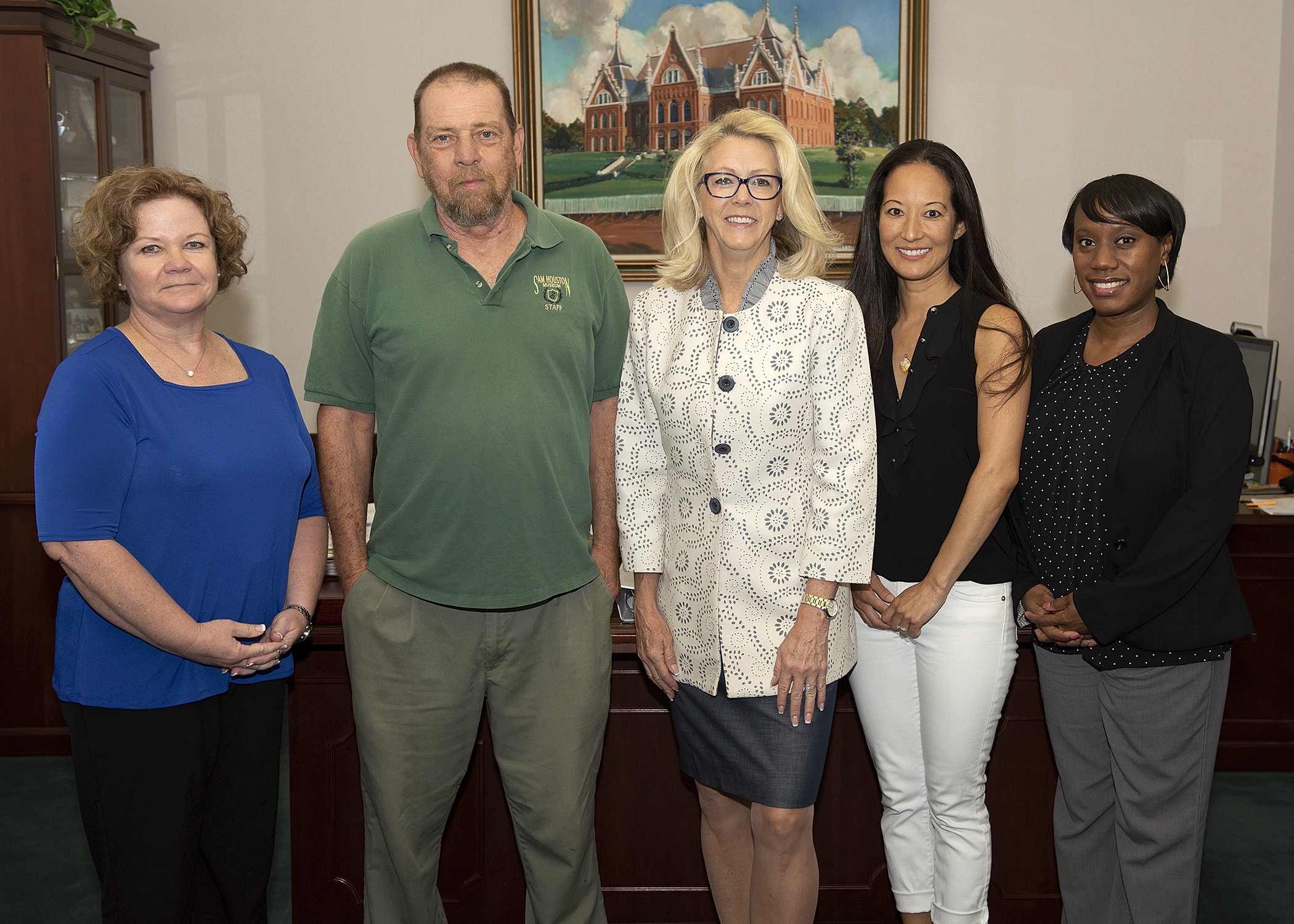 President Hoyt (center) recently recognized the 2019 Staff Excellence Award recipients.
They are (from left) Michelle Plitt, Peter Grivich, Ava Fujimoto-Strait and Chelsea Smith.
---
Four Sam Houston State University employees who have demonstrated excellence in service, proven commitment, commendable performance and a high level of motivation have been selected as recipients of the 2019 Staff Excellence Award.
They are Peter Grivich, of the Sam Houston Memorial Museum; Michelle Plitt, of the Communication Studies department; Ava Fujimoto-Strait, of the Geography and Geology department; and Chelsea Smith, from the Office of Dean of Students.
Staff members are selected based on nominations by their peers, supervisors and members of the SHSU faculty. In addition to a plaque of recognition, each recipient will be honored during the general university meeting at the beginning of the fall semester and awarded a $2,000 bonus.
Peter Grivich
Serving as groundskeeper for the Sam Houston Memorial Museum, Peter Grivich manages 15 acres of beautiful property and wildlife.
Peter is always spearheading new additions to the park. His most notable contributions include creating a wildflower area between the Walker Education Center and the historic homes, designing and constructing an artificial river through the middle of the museum grounds, and forming a maple tree grove on the south side of the duck pond.
He also frequently coordinates prison workers, community service helpers, and trains many student employees on the importance of ground maintenance and preserving the environment.
Comments supporting his nomination included:
"Peter is extremely efficient managing 15 acres of land. This is no easy feat. This includes grooming yards, the wildflower areas, manicuring flower beds, a lake, a river, managing all of the sprinkler systems, and so much more. It is a difficult schedule especially trying to anticipate mother nature. Peter excels in keeping the museum beautiful."
"His work motivates him. He has a passion for the grounds and it shows in his daily operations."
"He has worked as grounds keeper for many years and has created an incredibly beautiful, natural haven for students and the public to enjoy. He truly gives honor to the greatest Texas hero that ever lived."
Michelle Plitt
As assistant to the chair in the Department of Communication Studies, Michelle Plitt's service to the department goes well beyond her administrative role as she is always willing to go the extra mile.
Michelle takes a proactive approach to all of her tasks. She is always ready when called upon and takes the time to develop relationships with both students and faculty. Her colleagues say her most redeeming qualities are her reliability, integrity and kindness.
Comments supporting her nomination included:
"From her unceasing optimism, to her skill in working with other staff members, faculty, and students, to her accuracy and productivity in navigating the many systems within the university, Michelle is truly a jewel."
"Michelle is deserving of this award because there is often the kind word that calms and encourages, the extra effort to help us solve seemingly insurmountable problems, always the smile that makes you feel so welcomed, and the willingness to listen expertly that helps you know she cares and understands."
"Michelle is a warm, energetic, and optimistic person that changed the atmosphere of the Department. She is part of our family. She is a close friend. We are blessed to have her."
Ava Fujimoto-Strait
As an instructor and lab coordinator for the Geography and Geology department, Ava Fujimoto-Strait strives to make Sam Houston State a better place to teach and learn.
Ava is an innovative professional and is always introducing new methods into her labs. She stays current in the field by engaging in research and participating in conferences. Her most notable contributions have been co-leading field courses to Hawaii and internationally, maintaining the departmental website as well as developing a core curriculum guide for assisting in student recruitment, and serving as an enthusiastic mentor to all.
Comments supporting her nomination included:
"Professionally, Ava is of the highest quality. What I look up to the most about Ava is her willingness to lead field courses and her poise as she does so. Her organizational skills, adventurous soul and mother's heart make her a flawless leader."
"She is a proud Bearkat, an excellent professor, and keeps labs running like a well-oiled machine. I can think of no other staff member more deserving of this honor."
"All you need to do is meet her one time and, with the briefest of conversations, you know this is a forward-thinking individual with a first-class positive attitude."
Chelsea Smith
Serving in the Dean of Students' Office for over eight years, Chelsea Smith rose from a program coordinator to her current role as senior associate dean of students. Outside of her main responsibilities, she sits on several university wide committees, as well as holds the positions of Title IX deputy coordinator and university advisor for Delta Sigma Theta, Orange Keys, Student Government Association and Khaos Step Team.
Chelsea's colleagues assert that she is a professional multitasker and always provides the highest level of service to the university community despite her large and diverse workload. She is pursuing her doctorate in Educational Leadership and is currently in the dissertation phase, which she has chosen to focus on student activism.
Comments supporting her nomination included:
"Chelsea is one of those invaluable assets every organization seeks to hire and retain. She is the ultimate definition of a leader."
"I have rarely met someone with her passion, drive, efficiency, diplomacy, leadership, innovative thinking, positivity, management skills, sense of responsibility and level of overall impact."
"Sam Houston State is a better place because Chelsea has developed programs and services within the university. No one asked her to grow each program so drastically or dynamically, but that is just the type of person and professional she is."
---
To see the complete list of previous winners visit https://www.shsu.edu/dept/hr/past.html.
- END -
This page maintained by SHSU's Communications Office:
Associate Director, Communications: Emily Binetti
Telephone:936.294.4406
Communications Manager: Vacant
Telephone: 936.294.1837
Communications Writer: Campbell Atkins
Telephone: 936.294.2638
Thomason Building: Suite 102
Please send comments, corrections, news tips to Today@Sam.edu