Faculty Honored As 'Top 20 Outstanding Nurse'
Nov. 8, 2018
SHSU Media Contact: Carla Clark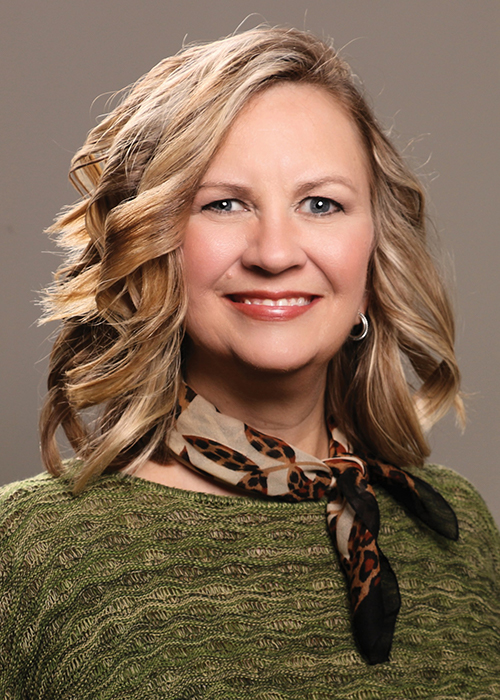 The Sam Houston State University School of Nursing faculty believes nurses promote safe, caring and healing environments that influence the health and wellness of individuals, families and communities.
Mona Cockerham, clinical assistant professor for School of Nursing in the College of Health Sciences at SHSU, is being honored as one of the 'Top 20 Outstanding Nurses' at the 28th Annual Nursing Celebration. The event is hosted by the Texas Nurses Association, District 9 and benefits the Texas Nurses District 9 Foundation.
Cockerham, PhD, RN, CQQH, has been a nurse for 28 years and completed her master's degree in Hospital Leadership and Administration and Ph.D. in Research from Cizik UT Health Science Center, School of Nursing, where she graduated with honors. She was also named 'Ph.D. Student of the Year' and 'Vivian Smith Scholar.' Her nursing specialties include oncology, nursing leadership and healthcare quality.
Since joining SHSU's School of Nursing, Cockerham has published two research articles and presented at numerous national conferences on the effects of stress and fatigue in nurses working consecutive shifts.
"This is an amazing honor and I owe this award to Deborah Duncan and Denise Neill who have been very supportive and have made my transition to SHSU School of Nursing a success," Cockerham said.
The SHSU School of Nursing, which is a part of the SHSU College of Health Sciences, has recently been featured on the www.graduatenursingedu.org website as one of the '100 Most Social Media Friendly Nursing Schools.' Neill, PhD, RN, CNE, associate professor and director for SHSU School of Nursing was also a recipient of the 'Top 20' honor in 2013.
"It is a tremendous, once in a lifetime honor to be named in the Top 20," said Neill. "I'm so happy for Doctor Cockerham. Her ability to connect with her students to inspire them to become outstanding nurses speaks for her long lasting career. She truly deserves this honor."
The 28th Annual Nursing Celebration is Thursday, Nov. 8 at the Westin Galleria Houston. More details are available at www.tnadistrict9.com.
Additionally, the Texas Nurses Association awarded Tania Celia, clinical assistant professor at SHSU's School of Nursing, with $1,500 in research grant funds and two students at the School of Nursing will be given a $1,000 scholarship thanks to the District 9 Foundation Awards.
The profession of nursing builds on a foundation of studies in the arts, sciences and humanities. The baccalaureate degree program in nursing at SHSU is accredited by the Commission on Collegiate Nursing Education. For more information, visit www.shsu.edu/academics/health-sciences/nursing.
- END -
This page maintained by SHSU's Communications Office:
Director of Content Communications: Emily Binetti
Communications Manager: Mikah Boyd
Telephone: 936.294.1837
Communications Specialist: Campbell Atkins
Telephone: 936.294.2638
Please send comments, corrections, news tips to Today@Sam.edu