SHSU Opera Orchestrates International Collaboration
March 21, 2018
SHSU Media Contact: Hannah Haney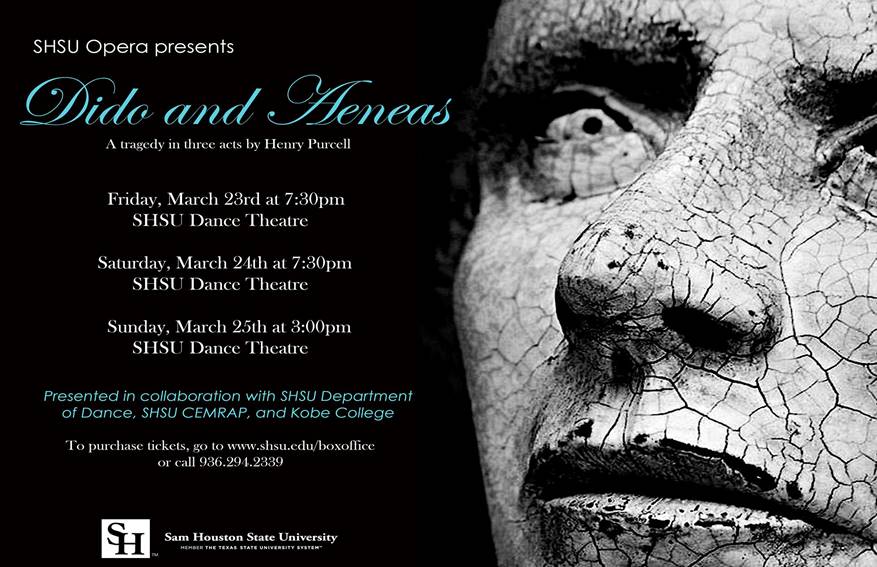 Sam Houston State University Opera will present Henry Purcell's three-act tragedy, "Dido and Aeneas," on March 23 and 24 at 7:30 p.m. and March 25 at 3:00 p.m. in the James and Nancy Gaertner Performing Arts Center.
Considered one of the earliest English operas written, "Dido and Aeneas" is based on Virgil's "Aeneid," a Latin epic love poem. The story recounts the love of Dido, Queen of Carthage, for the Trojan hero Aeneas, and her despair when he abandons her in his quest for the founding of Rome.
This production, combining performers from SHSU Opera, the department of Dance, the Center for Early Music Research and Performance, and Japanese students of Kobe College, is one of the largest collaborations the College of Fine Arts and Mass Communication has ever engineered.
After preparing for over a year, the efforts of this great partnership will be revealed on opening night. The project started when President Saito of Kobe College in Japan contacted Daniel Saenz, assistant professor of Cello, asking if SHSU would like to enter into an agreement as a sister school in 2015. The partnership evolved when Saenz had the idea that the schools could unite even further.
"Early on, the idea came to me that our schools should collaborate at an artistic level since both schools have strong voice and dance departments," Saenz said. "Additionally, I thought there could be a way to involve our instrumental department. After consulting with Rebecca Grimes, associate professor and director of Opera Workshop, we came up with 'Dido and Aeneas,' a short opera in which all three areas could participate."
"Dido and Aeneas" is directed by Grimes, with choreography by Dana Nicolay and musical direction by Mario Aschauer and Zachary Carrettin. The opera is composed of 40 singers, along with eight string players in the orchestra and eight dancers.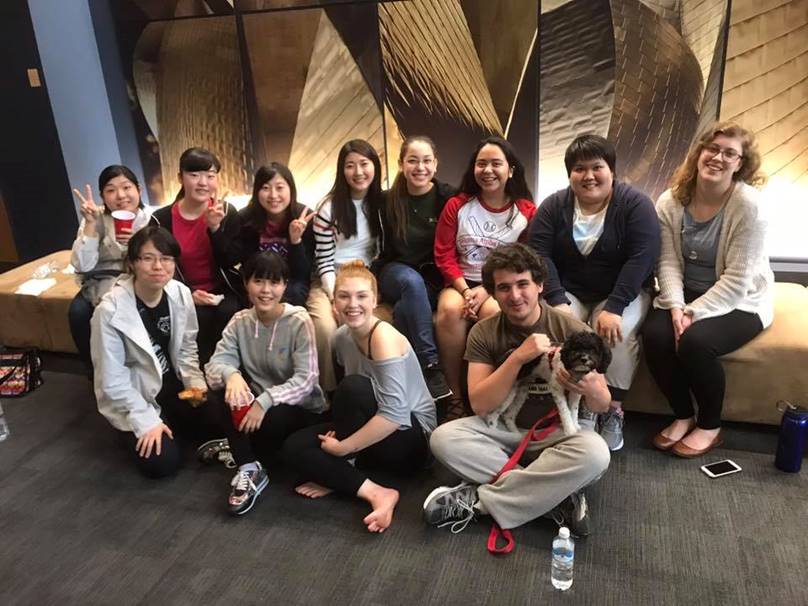 The students and faculty from Japan arrived in Huntsville on March 17 and have spent the days leading up to the performance exploring the local community and rehearsing with the SHSU students.
"The Japanese students are excellent. They are all very talented and driven, so it's a pleasure to work with them," Nicolay, professor of Dance said. "They brought singers to cover all of the principal roles and two dancers who will be covering two of the dancing roles in the show."
In turn, SHSU students and faculty will travel to Kobe, Japan May 27 to June 9 to present the same production.
"Going abroad is such a life-changing experience for students, and I think that as performers they can really benefit from working with their Japanese counterparts and participating in a production overseas," Dana Van De Walker, international student recruiter and special programs coordinator for the Office of International Programs said.
This will be the first time in Kobe College's history to present a fully staged opera and the first time for KC to host over 40 students and faculty for repeat performances on their campus.
"Opera represents the synthesis of many art forms in the service of storytelling," Grimes said. "Our work together has represented a journey of discovery, camaraderie and a collective joy in the creative process. At a time when our world seems so fractured, it is inspiring to be able to join together with new colleagues with the common goal of creating something beautiful."
Tickets are $15 for general admission and $5 for students and can be purchased by calling the GPAC Box Office at 936.294.2339.
- END -
This page maintained by SHSU's Communications Office:
Director of Content Communications: Emily Binetti
Communications Manager: Mikah Boyd
Telephone: 936.294.1837
Communications Specialist: Campbell Atkins
Telephone: 936.294.2638
Please send comments, corrections, news tips to Today@Sam.edu