SHSU Celebrates the Contributions of Women
Feb. 28, 2018
SHSU Media Contact: Emily Binetti

Story by Amanda Horn
Sam Houston State University will celebrate Women's History Month with multiple events hosted by committees from the College of Humanities and Social Sciences and the College of Education throughout March.
"Women's History Month came out of an effort to shine a spot light on the contributions of women throughout history, and to recover some of the history that was neglected for so long," said Wesley Phelps, assistant professor of history.
The Diversity Council Event will be the first event to kick-off Women's History Month. This event will take place on March 1 at 11 a.m. in the LSC Mall area.
Jodi Thomas, a Texas author, will be reading and hosting a book signing on March 5 at 3 p.m. in the Olson Auditorium. Thomas is both a New York Times and USA Today bestselling author of over 45 novels and 14 short story collections. Her stories travel through the past and present days of Texas and draw readers from around the worl
Later that evening at 6 p.m. in Evans Complex Room 212, there will be a women's poetry slam hosted by Let's Get Loud, a student organization dedicated to spoken word and poetry.
On March 7 at 4 p.m. in CHSS Room 110, a screening of the film "Frida" will be featured, followed by a Q&A orchestrated by Charles Heath, associate professor of Latin American history. This explores the life of acclaimed artist Frida Kahlo.
One of the biggest events, "A Conversation with SHSU President Dana Hoyt: Career Path to the Presidency," will be held on March 21 at 3 p.m. in the Olson Auditorium. Jannah Nerren, associate dean in the College of Education, will conduct an informal discussion with President Hoyt about her experiences as a woman in the business world and as president of the university.
"We worked hard to get programming that involves career women who have long and successful careers as well as young women leaders on campus," Nerren said.
Additionally, numerous lectures, roundtable discussions and diversity council events will also take place during the month of March as apart of Women's History Month.
In order to be connected with these events, a social media hashtag campaign has been created for students, faculty and staff. Each week in March there will be a fun challenge to complete using the hashtag #shsugirlpower. Some of these challenges include posting a picture of a female hero in your life, sharing a book by a famous author and quote by an influential woman.
"Our two committees, CHSS and College of Education, are both really focused on diversity and equity. Therefore, we are hoping that these events highlight the contributions of women and the possibilities for women," Nerren said.
All of the Women's History Month events are free and open to students, faculty and staff.
For more information regarding the events of Women's History Month, contact Jannah Nerren at jwn012@shsu.edu or Wesley Phelps at wgp003@shsu.edu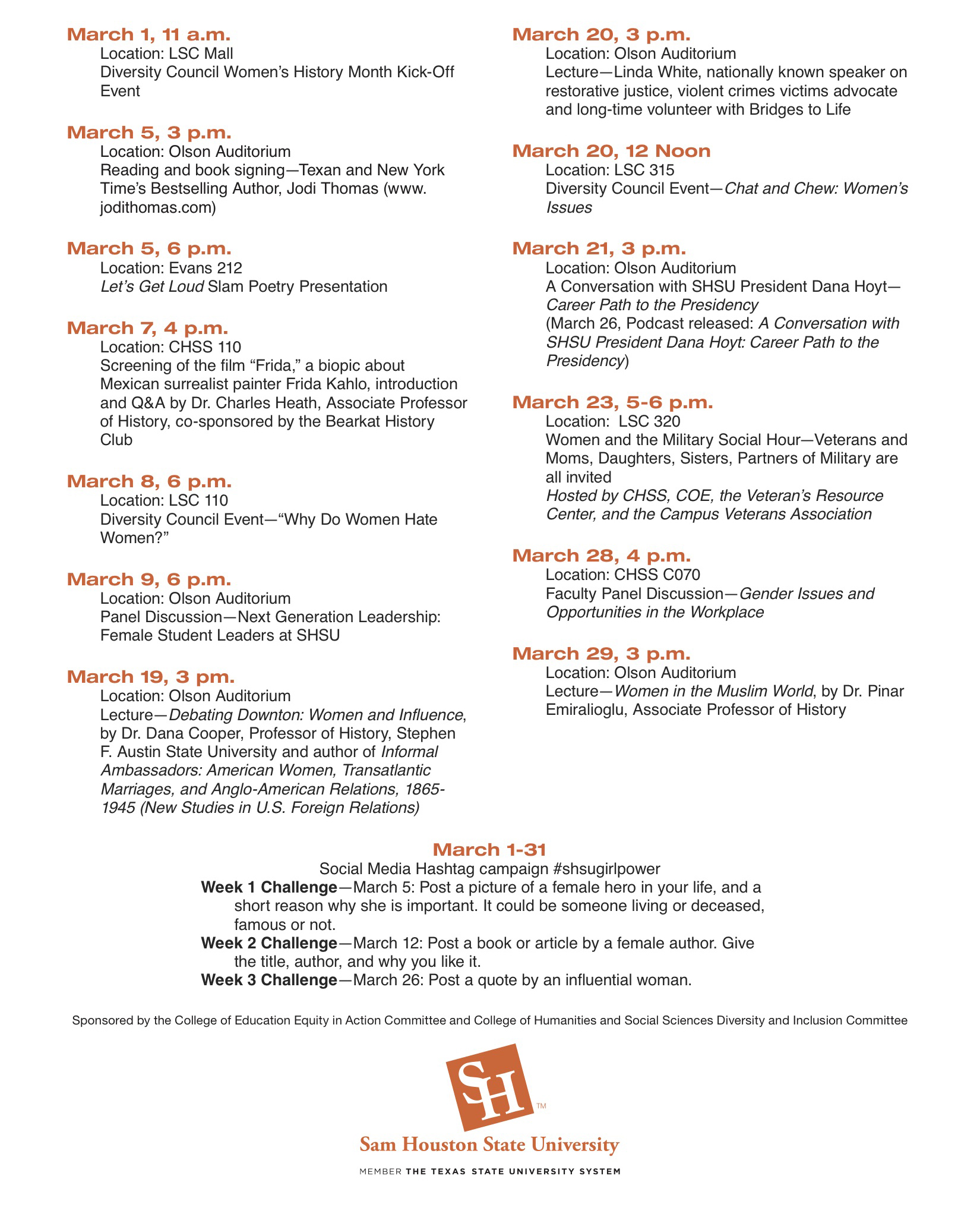 - END -
This page maintained by SHSU's Communications Office:
Director of Content Communications: Emily Binetti
Communications Manager: Mikah Boyd
Telephone: 936.294.1837
Communications Specialist: Campbell Atkins
Telephone: 936.294.2638
Please send comments, corrections, news tips to Today@Sam.edu