Music Theatre Major Cast At The Alley Theatre
Dec. 5, 2018
SHSU Media Contact: Brianna Smith
Performing in a real theatre setting as a student can open many doors, while also providing the necessary tools towards discovering who a student is as an actor. For senior Musical Theatre major, Cameron Khalil Stokes, this was the case when he auditioned and was cast as Valentine in the Alley Theatre Shakespeare production of "Twelfth Night."
Stokes worked alongside Sam Houston State University Musical Theatre alumni Dylan Godwin, Mark Ivy, Melissa Molano and Melissa Pritchett.
"It was a really great experience," Stokes said. "When I went into the audition it was three of the creative team for the Alley Theatre. One of the artistic directors said, 'Oh I remember you from the big audition we had last year, you were my favorite auditionee.' So that made me feel good to be remembered."

The Alley Theater is known for being home to a resident company of actors, making it a tremendous accomplishment as a student to perform with the company.
"When I started rehearsals in September I had to rearrange my whole school schedule and set up different ways so I could still get credit for the semester, because this is the fall semester of my senior year," Stokes said. "My teachers figured a way out for me to still do the show and graduate at the same time."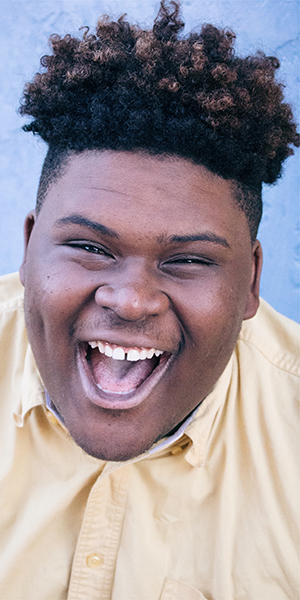 The Alley is one of America's top non-profit theatres and is a nationally recognized performing arts company. The Alley has taken their productions to Broadway and is a recipient of the Special Tony Award for Outstanding Regional Theatre, making this a once in a life time experience for an aspiring actor.
"Being at the Alley was an amazing experience, I think it was something I needed as an actor in my journey," Stokes said. "It was amazing to immerse myself in acting and telling the story. I didn't have music or dance to help me, I had to live in the moment and convey that message. I think that was one of the most honest experiences I've had in the rehearsal process and on stage in a long time."
Stokes will also be performing in the upcoming production of "Elf" at the Queensbury Theatre in Houston, Texas, from Dec. 3 through Dec. 23. He will be performing alongside SHSU alumni: Shanae'a Moore, Stephen Pavalock, Holland Vavra, Brittany Halen, Amanda Marie Parker, Nathan Wilson, Preston Andrews and Chris King.
"Having performed in the Alley Theater says a lot about a person, because the Alley is very highly regarded and highly respected," said Stokes. "It kind of turned my amateur status to a more professional status, so that has helped me in many ways."
- END -
This page maintained by SHSU's Communications Office:
Associate Director, Communications: Emily Binetti
Telephone:936.294.4406
Communications Manager: Mikah Boyd
Telephone: 936.294.1837
Communications Writer: Campbell Atkins
Telephone: 936.294.2638
Thomason Building: Suite 102
Please send comments, corrections, news tips to Today@Sam.edu