Remembering Rolando del Carmen
Nov. 1, 2018
SHSU Media Contact: Veronica Gonzalez Hoff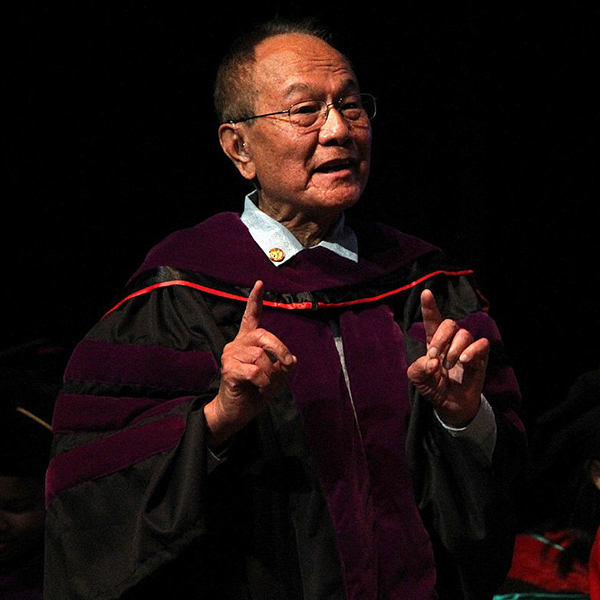 Rolando V. del Carmen, Distinguished Professor Emeritus, Regents' Professor Emeritus, and long-time benefactor of the College of Criminal Justice, has died after a lengthy battle with cancer.
A service celebrating del Carmen's life will be held at First United Methodist Church in Huntsville on Nov. 19 at 11 a.m. Another memorial service will be held at a later time in the Philippines. He will be laid to rest in the Texas State Cemetery in Austin.
Many college faculty, staff, and students have expressed their condolences and memories of their colleague.
"Although Professor del Carmen will be greatly missed within the university community, he leaves behind a lasting and significant legacy in the students and colleagues whose lives he touched so profoundly and positively," Phillip Lyons, dean and director of the Criminal Justice Center said. "We would not be who we are today, but for his presence over the decades; and we will not be the same without him. On behalf of the faculty, staff, and students I extend our most heartfelt condolences and sympathy to the del Carmen family."
Del Carmen, a beloved member of the Sam Houston State University faculty, has generously supported the college throughout his tenure and given hundreds of thousands of dollars for scholarships. He has two scholarships in his name and recently contributed a gift annuity in honor of Dean Phillip Lyons.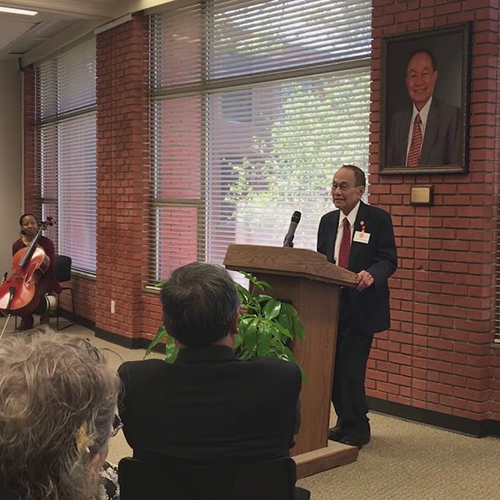 "He devoted his whole life to the college. Any conversation with him concerned the future of the college," Solomon Zhao, a professor in the Department of Criminal Justice and Criminology said.
In 2003, he created the Rolando, Josefa and Jocelyn del Carmen Criminal Justice Endowment Scholarship, which provides a $1,000 scholarship to a Ph.D. student annually. In 2005, family and friends launched the Rolando del Carmen Criminal Justice Endowed Scholarship which also provides a $1,000 scholarship annually for a graduate student at the College of Criminal Justice.
In addition to these scholarship funds, del Carmen has provided intermittent scholarships for students in need. He contributed a $1,000 scholarship for a student coming from Singapore, a member of the SHSU award-winning bowling team.
"To me, it is an investment in the person and in the future of the College of Criminal Justice," del Carmen said.
Del Carmen became an assistant professor in 1974, was named Distinguished Professor in 1995, and named Regents' Professor in 2007. He continued to be one of the leading experts in criminal law in the country, even after his retirement in 2012, and is revered by students, alumni, and fellow faculty members. His expertise is recognized worldwide, and he has written prominent books and articles in the field, which have been translated into other languages and distributed across the globe. He served as a mentor to many graduate students, helping them publish academic articles and advance legal scholarship in the field of criminal justice.
"He was a pillar in the Center and the College and a model colleague," William King, associate dean for Research and Program Development said.
Del Carmen's generosity is not limited to SHSU. He also supported his alma mater, Silliman University in The Philippines, with student scholarships, faculty fellowships and grants to broaden and sustain quality education. His contributions are currently funding an honors dormitory at the university, providing free housing for the university's 28 top students in need, and working to develop programming to help expand their views of life. The only thing he has asked in return is that these graduates give back to the university once they succeed in life.
"I never met a kinder or more gentlemanly soul," Jim Dozier, clinical professor and internship coordinator said.
Among his other contributions at Silliman are the Dr. Jovito R. Salonga Center for Law and Development, the Angelo Kind Center for Research and Environmental Management, the College of Business Administration, the senior high school programs, and scholarships for high performing students.
Del Carmen also earned accolades in the field, and was one of only three scholars to be recognized with all three top awards from the Academy of Criminal Justice Sciences, the national organization of criminal justice professors: the Founder's Award (2005), the Bruce Smith Sr. Award (1997), and the Academy Fellow Award (1990). In addition to being designated a Distinguished Professor at SHSU in 1995 and a Regents' Professor by the Texas State University System in 2007, del Carmen was also named a Piper Professor in 1998, which recognizes the state's top college and university faculty instructors.
"I'm really just giving back the blessings I have received throughout all these years at Sam Houston," del Carmen said. "Like many others, I want to leave this place an even better place for generations of students to come."
Del Carmen came to the United States a few months after his marriage to his first wife, Josefa (Josie), through funding provided by a fellowship from the United Board for Christian Higher Education in Asia to pursue graduate studies in law at the University of California-Berkeley. Their only child, Jocelyn, was born there. From Berkeley, the family went to the University of Illinois, Urbana, where they stayed for two years while Rolando finished another graduate degree in law. Josie and her family then moved to the University of Wisconsin-Oshkosh in 1969, where Rolando taught and Josie worked as secretary in the Department of Sociology and Anthropology. In 1974, they moved to Huntsville, Texas.
He is survived by his second wife, Erlyn ; their daughter, Jocelyn del Carmen Tanabe; and son-in-law, Chris Tanabe, both of Menlo Park, California; siblings Bathsheba Bocanegra, Jesusita Ngan and Cromwell Flores; and by many relatives and friends in the Philippines and the United States.
- END -
This page maintained by SHSU's Communications Office:
Director of Content Communications: Emily Binetti
Communications Manager: Mikah Boyd
Telephone: 936.294.1837
Communications Specialist: Campbell Atkins
Telephone: 936.294.2638
Please send comments, corrections, news tips to Today@Sam.edu