LEAP Center's Mock LSAT Prepares SHSU Students for Law School Admission
Oct. 31, 2017
SHSU Media Contact: Emily Binetti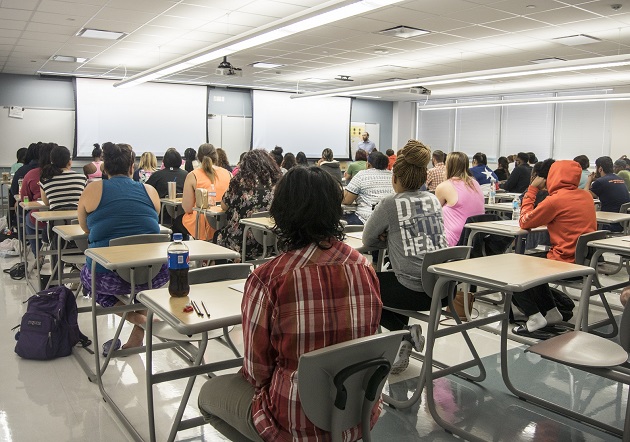 More than 70 pre-law students devoted half a Saturday to preparing for law school. Their preparation involved taking a Mock LSAT under test-day conditions, giving them the opportunity to assess their preparedness on one of the key components to law-school admissions.
For students interested in law school, the LSAT score and GPA are the two most important factors for law-school admission. For many students, a poor LSAT score is a deal-breaker.
"No single factor is, by itself, exclusionary," noted Sam Houston State University Pre-Law advisor Mike Yawn, "but if a student's LSAT score isn't competitive for a specific school, it's very difficult to get in."
Accordingly, the Center for Law, Engagement and Politics offers the Mock LSAT every semester, giving students the opportunity to track their progress, assess their readiness for the exam, or help them in knowing which law schools might be realistic options.
This semester, a record number of students registered for the Mock LSAT, reflecting the university's growth in pre-law students. The Law School Admissions Council tracks the number of pre-law students from universities in North America, ranking the top 240 "law-school feeders" each year.
SHSU first made this list in 2009, and the most recent ranking places SHSU 106th among the 2,774 four-year universities in the United States, its highest ranking ever.
The Mock LSAT is one of several law-related programs the LEAP Center offers each year. Such programs include: the Texas 10th Court of Appeals' annual visit to SHSU; sponsorship of the Pre-Law Society; a Mock Law class provided in partnership with South Texas College of Law; law-school visits; a competitive Moot Court team; visits from law-school admissions officers; and pre-law advising.
For more information about LEAP's programs, interested students should contact Professor Mike Yawn at mike.yawn@shsu.edu.
- END -
This page maintained by SHSU's Communications Office:
Associate Director, Communications: Emily Binetti
Telephone:936.294.4406
Communications Manager: Vacant
Telephone: 936.294.1837
Communications Writer: Campbell Atkins
Telephone: 936.294.2638
Thomason Building: Suite 102
Please send comments, corrections, news tips to Today@Sam.edu