Senior Helps Peers Dress For Success
Oct. 9, 2018
SHSU Media Contact: Amanda Horn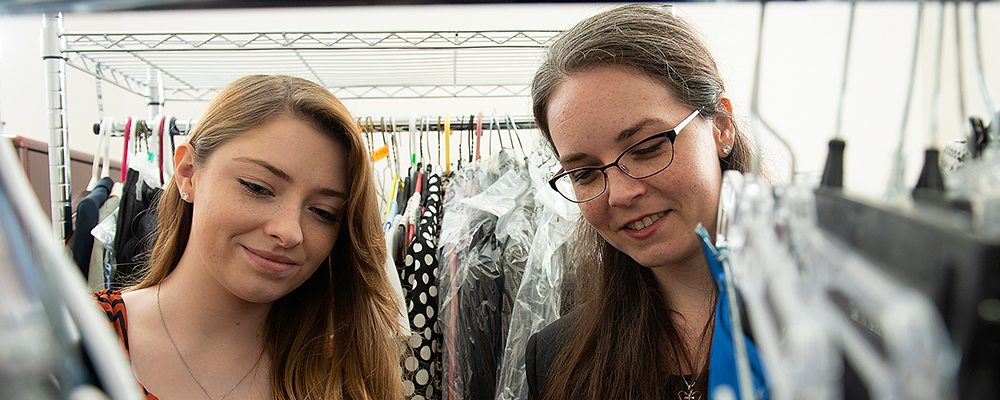 Senior, Jensen Stallworth (left), with Assistant Professor and Career Closet faculty sponsor Ashly Smith (right)
The challenge of entering into the professional world can be a bit overwhelming for college graduates. There are a lot of factors that arise when finding the right job. Adjustments must be made to the new lifestyle and one factor in searching for and landing the perfect opportunity is looking the part. Most people fresh out of college do not have the money to afford such attire. Luckily, Sam Houston State University has provided a way for students to dress for success.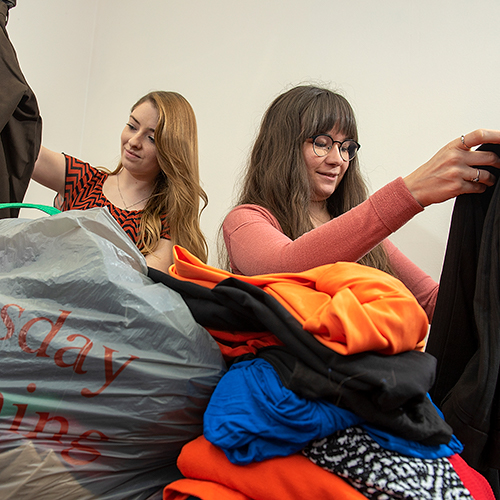 For Jensen Stallworth, senior at Sam Houston State University, affording professional attire became a problem. Therefore, she used the resources presented to her and created the SHSU Career Closet from the Reba Bock Fellowship.
"The Reba Bock Fellowship is granted to students who have an idea that will benefit either the campus or Walker County as a whole. I chose the Career Closet as my project because I have personal experience with not being able to afford professional attire when I needed it," Stallworth said.
The late Reba Bock was the first elected female official in Walker County and served as treasurer for sixteen years. During her time as an official she helped many students to attend SHSU by providing job opportunities, housing and clothing.
"We wanted to dedicate the closet to her because of all that she has done in Walker County and for past students," Stallworth said.
The purpose of the Reba Bock career closet is to have a resource on campus for students who need professional attire but may not have the money to purchase it at retail prices.
"We also hope to educate students on the differences between business casual and business professional dress, how to pair items to match one another, how to tie a tie properly, and how the attire should fit them," Stallworth said.
Donations for the career closet are now being accepted. All donations must be business attire, which include pant suits, skirt suits, slacks, button down shirts, blouses, ties, belts, and dresses. Financial gifts are also being accepted by joining the Friends of Career Services, and designating that the generous support should go towards the Career Closet specifically. Those interested in giving should contact Career Services at 936-294-1713.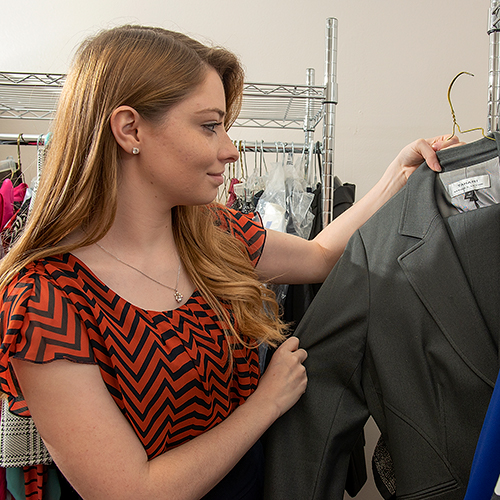 "We please ask that the donations be in good condition; no rips, tears, holes or stains, and within recent fashion, preferably the last five years," Stallworth said.
The closet will be located on the fourth floor of the College of Humanities and Social Sciences building and available to all full time SHSU students. A soft opening of the closet will take place during the fall semester and then an official opening in Spring 2019.
This project was met with enthusiasm by faculty and staff on campus.
"It takes a village to get a plan like this off the ground," said Ashly Smith, assistant professor in the College of Business Administration and faculty sponsor for the project. "We have worked with countless organizations and this has been very interdisciplinary across campus."
The career closet will benefit students in many ways. Not only will they receive professional attire, but they will also learn how to strive in the business world after college.
"Ultimately, we want our students to be well-versed in dressing professionally," Stallworth said. "We hope they will take advantage of the professional business opportunities across campus and in the workforce once they graduate."
The ultimate goal for the Reba Bock career closet is to professionalize students across campus and give them opportunities to succeed no matter their financial background.
"We understand that there are many students who do not have the money available to purchase the appropriate attire," Stallworth said. "We want to ensure that those students have the same opportunities to attend professional events and interviews regardless of their financial status."
- END -
This page maintained by SHSU's Communications Office:
Director of Content Communications: Emily Binetti
Communications Manager: Mikah Boyd
Telephone: 936.294.1837
Communications Specialist: Campbell Atkins
Telephone: 936.294.2638
Please send comments, corrections, news tips to Today@Sam.edu