College Of Health Sciences Recognized For ACE Courses
Dec. 8, 2018
SHSU Media Contact: Carla Clark
COHS was the featured college this year in the Academic Community Engagement Spotlight. COHS faculty and students presented academic posters of their involvement to improve the lives served by local nonprofit organizations. Visitors included SHSU President Dana G. Hoyt and Provost and Vice President of Academic Affairs, Dr. Richard Eglsaer.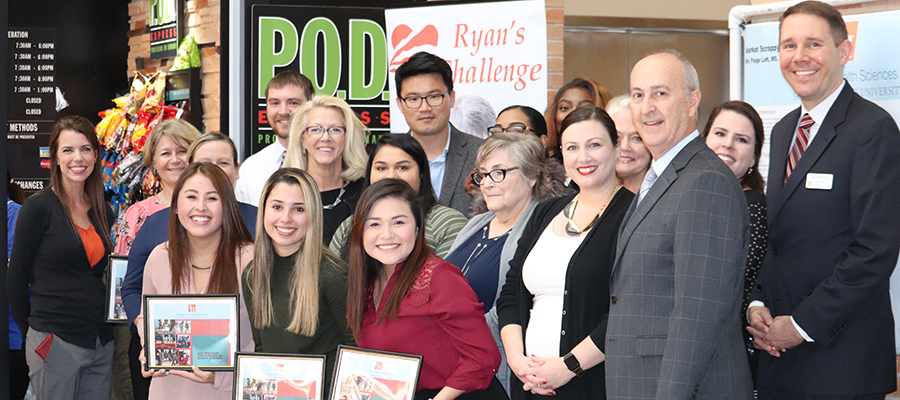 Academic Community Engagement (ACE) is a teaching method that combines community engagement with academic instruction. The ACE initiative allows students to use the skills and knowledge learned in the classroom to make a difference and enhance their community. Sam Houston State University's College of Health Sciences (COHS) was recently recognized for ACE classroom activities that greaten the outreach of local nonprofit organizations.
The COHS departments of Nursing, Family & Consumer Sciences, Population Health and Kinesiology were represented when several faculty members and students spotlighted their work Nov. 28, in the Lee Drain Building atrium.
"I have become more familiar with the university's vast involvement in our community through our ACE courses. It was certainly an honor to spotlight the ACE activities for the College of Health Sciences," Susie Stone, Population Health lecturer said. "ACE courses are especially beneficial to the students because they develop the capacity to become civic minded adults."
Stone also participated in the spotlight with her students from one of her ACE courses to provide "Health Promotion in a Bag," where students created interactive and educational activities addressing some of the public health concerns experienced by the homeless population living in shelters. The class donated hygiene products, food items and warm winter items for homeless individuals served by the Good Shepherd Mission. They also volunteered at the mission's thrift store. Student reflections represented on their academic poster presentations included "They are the same as us, they just do not have a home. I need to make sure I don't treat them any differently."
Clinical Assistant Professor for the School of Nursing, Linda James presented, "The More we Get Together." Students performed a community assessment, analyzed data and delivered a health lesson to address the problem and provided ways to intervene on the behalf of individuals and populations to improve health. Nonprofit partners included Alabama Coushatta Native American Tribe, Salvation Army – Conroe, TOMAGWA Medical Ministries, Interfaith Community Clinic, Faith Lutheran Academy, Cedarwood Apartments and SHSU.
Daphne Fulton, Population Health and Health graduate coordinator and students presented, "Collegiate Students and vEDS: Improving Patient Experiences and Outcomes through Community Engagement."
Fulton's grandson, Ryan was diagnosed with vEDS, one of 13 classifications of a certain type of connective tissue disorder. vEDS use the rarest and most severe of all of the types of Ehlers-Danlos disorders. vEDS is either inherited or a mutation in a gene. Ryan's condition was not inherited. The only way to diagnose vEDS is with genetic testing. Students were able to plan and implement a conference on campus for families in Texas impacted by the syndrome. Ryan's parents started a nonprofit organization, Ryan's Challenge, to bring awareness and to solicit funding for a future cure.
Population Health Assistant Professor Christine Cardinal's class was also involved with Ryan's Challenge presenting on "Health Law and Civic Engagement". Her students provided legal research so parents could understand legalize when trying to navigate healthcare.
"As a parent, it is a peace of mind to know that there are laws and modifications to the current laws that can make a difference for children like Ryan," student Marleny Teters said.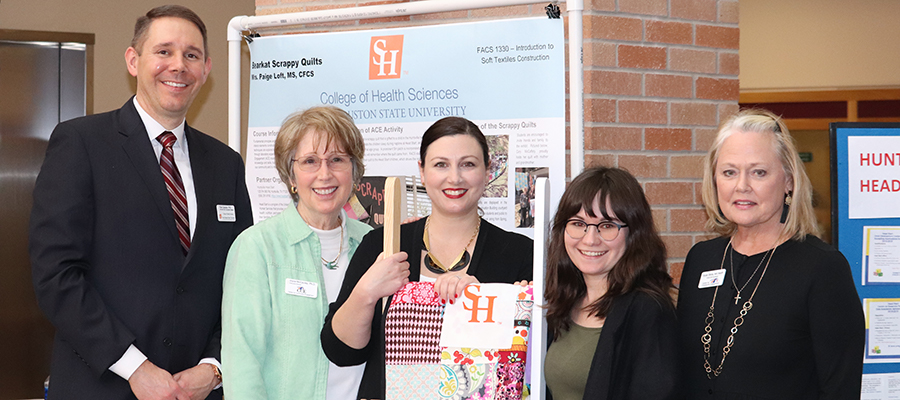 Pictured from left, COHS Associate Dean Dr. Ryan Zapalac, ACE Executive Director Dr. Joyce McCauley, Ms. Loft, ACE Program Coordinator Taylor Morrison and ACE Committee Member and Population Health Lecturer, Susie Stone.
Paige Loft who serves as an adjunct faculty member for Family & Consumer Sciences was previously a graduate student involved in "The Scrappy Quilt Project," a project that involves students volunteering for Willis Head Start. Not only are Fashion Merchandising students involved in creating quilts but get to present them to deserving children each year at the Head Start program. "To be part of the Scrappy Quilt project and the FACS department again has meant the world to me," Loft said.
Loft was chosen for the "Best Presentation" award which includes a paid entry into the Gulf-South Summit, a community leadership conference, scheduled for April 2019.
Jose Santiago and Min Kim of the Department of Kinesiology work with their ACE classes to use service learning in physical education and teacher education.
For Joyce McCauley of ACE, "SHSU values the rich partnerships that have developed over the years with local, national and international organizations. One visible sign is the college level showcase of the ACE initiatives that have been integrated into their academic curriculum. COHS had a wonderful display of mutually beneficial collaborations in which many social needs were met and SHSU student learning was enhanced."
- END -
This page maintained by SHSU's Communications Office:
Director of Content Communications: Emily Binetti
Communications Manager: Mikah Boyd
Telephone: 936.294.1837
Communications Specialist: Campbell Atkins
Telephone: 936.294.2638
Please send comments, corrections, news tips to Today@Sam.edu