2018 Sammypalooza Lineup Announced
Feb. 26, 2018
SHSU Media Contact: Emily Binetti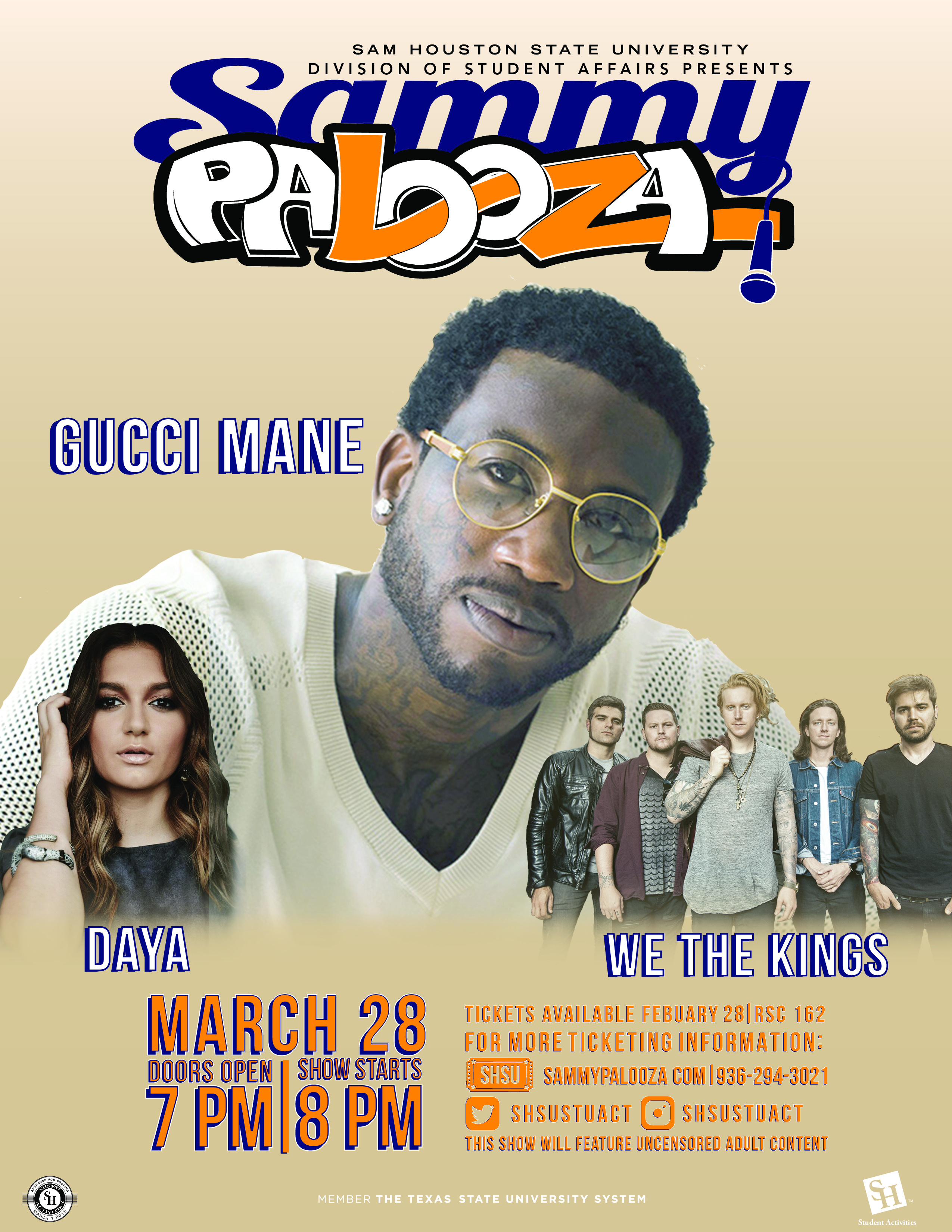 Story by Hannah Haney
The Division of Student Affairs has announced their 2018 Sammypalooza lineup and will welcome artists, Gucci Mane, Daya and We The Kings to Johnson Coliseum on Wednesday, March 28.
Sammypalooza has been a Sam Houston State University premier event since 2010 and has gained a reputation for booking headliners that rival some of the biggest event venues in Texas.
"The goal of Sammypalooza is to provide students with an opportunity to see big name artists here on our campus. Students usually have to travel a long distance to see concerts, so Sammypalooza provides an outlet for them to see a high-profile concert right here in Huntsville," Steven Begnaud assistant director for the Department of Student Activities, said.
The event will offer a diverse range of rock, pop and hip-hop performances.
"We let the students have a voice in our artist lineup and we do our best to make it happen," Begnaud said. "I think it is really important to offer a lineup that can have something for everyone."
This annual event is free to all students, faculty and staff and $20 for the outside public. The doors open at 7 p.m. where artist merchandise will be available for purchase. The show opener will begin at 8 p.m. Tickets will be available Wednesday, Feb. 28 at the recreational sports center, room 162 beginning at 9 a.m.
For more information, contact Student Affairs or visit Sammypalooza.com.
WE THE KINGS:

We The Kings is an American rock band from Bradenton, FL. They are, Hunter Thomsen (guitar), Coley O'Toole (auxiliary/background vocals), Travis Clark (guitar/vocals), Danny Duncan (drums) and Charles Trippy (bass). The bandmates formed their group while attending high school. Their album releases include Self-Titled (2007), which included the platinum single "Check Yes Juliet," Smile Kid (2010), Sunshine State Of Mind (2011), Somewhere Somehow (2013), and The Story of Tonight (2016).

DAYA:
Grace Martine Tandon, known as Daya is a nineteen-year-old American singer and songwriter from Pittsburgh, Pennsylvania. She released her debut full-length album, Sit Still, Look Pretty in 2016. Most recently winning her first ever GRAMMY Award (Best Dance Recording – "Don't Let Me Down" with The Chainsmokers), being the youngest honoree on Forbes' 30 Under 30 list and debuting at No. 5 on Billboard's "21 under 21" list. The track follows the success of "Sit Still, Look Pretty," which is platinum-certified, and spent 24 weeks on the Billboard Hot 100 chart. Her first single "Hide Away" is now double platinum-certified, garnering more than 262 million streams on Spotify, and notching Top 10 and Top 25 spots on Billboard's Pop Songs and Hot 100 charts.
GUCCI MANE:

Radric Delantic Davis, known as Gucci Mane, is an American rapper. In 2007, Gucci Mane founded 1017 Records. His album releases include Trap House (2005), Hard to Kill (2006), Trap-A-Thon (2007), Back to the Trap House (2007), Murder Was the Case (2009), The State vs. Radric Davis (2009), which became his first gold certified album, The Appeal: Georgia's Most Wanted (2010), The Return of Mr. Zone 6 (2011), Everybody Looking (2016), The Return of East Atlanta, Santa (2016), Mr. Davis (2017), El Gato: The Human Glacier (2017) and The Evil Genius (2018). Gucci Mane has released dozens of mixtapes and has worked with artists such as Drake, Lil Wayne, Omarion, Mariah Carey and Young Thug. His 2016 collaboration with Rae Sremmurd, titled "Black Beatles", provided Gucci Mane with his first number-one single on the US Billboard Hot 100 chart.
- END -
This page maintained by SHSU's Communications Office:
Director of Content Communications: Emily Binetti
Communications Manager: Mikah Boyd
Telephone: 936.294.1837
Communications Specialist: Campbell Atkins
Telephone: 936.294.2638
Please send comments, corrections, news tips to Today@Sam.edu