Student Activities To Debut Spring Welcome Week
Jan. 9, 2017
SHSU Media Contact: Jennifer Gauntt
The Sam Houston State University Department of Student Activities, in conjunction with several offices on campus, will start the new year off with new programming by welcoming students back to campus after more than a month away during the first, abridged Spring Welcome Week, Jan. 21-25.
Through the inaugural Welcome Week: Spring Edition, departments will have the opportunity to introduce, or re-introduce, students to the activities or resources available to them throughout the semester, according to Steven Begnaud, Student Activities program coordinator.
"We decided to do a Spring Welcome Week because even though new enrollment is not as high in the spring compared to the fall, there is still that population, and we feel the need to have programs available to them," Begnaud said.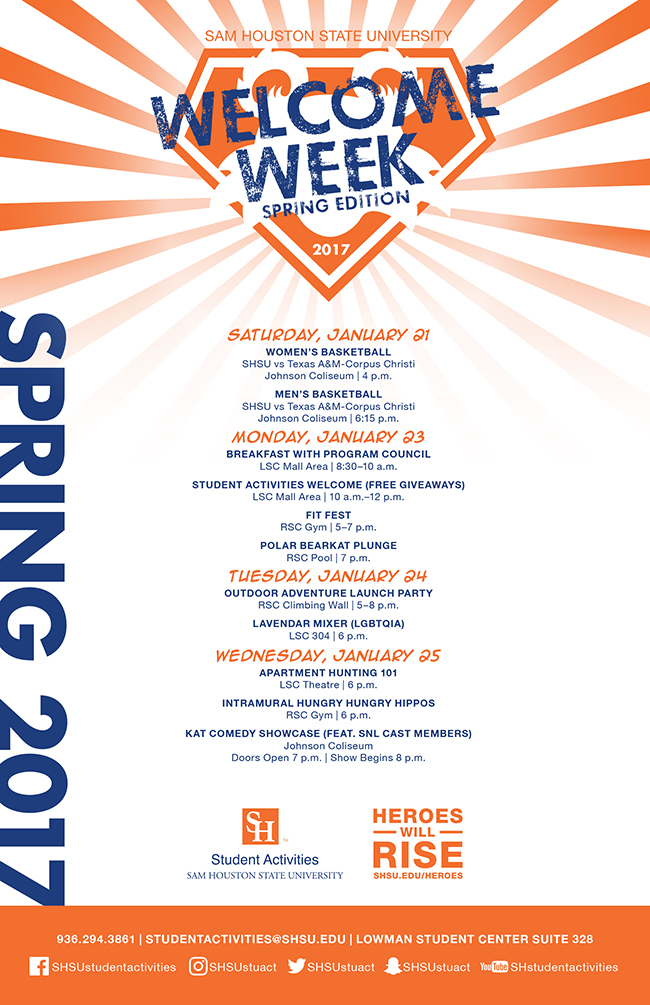 The week will tip off on Saturday (Jan. 21) with a basketball doubleheader vs. Texas A&M—Corpus Christi beginning with the women's team at 4 p.m. and the men's team at 6:15 p.m.
On Monday (Jan. 23), students can start off their first full week of classes with a donut breakfast, courtesy of the Program Council, from 8:30-10 a.m. in the Lowman Student Center Mall Area.
At 10 a.m., the official Student Activities Welcome event will offer free food and giveaways in the LSC Mall Area.
"Students can get information about who we are, what we do and how to get involved with our events," Begnaud said. "It is a great way to publicize our office and the services and programs we offer, as well as giving out free stuff."
At 5 p.m., students' New Year's resolutions to get in shape can take shape by sampling some of Recreational Sports's many group fitness classes at Fit Fest, from 5-7 p.m. in the Recreational Sports Center Gym.
Afterward, at 7 p.m., Kats can cool off at the RSC Pool with the Polar Bearkat Plunge. Like well-known polar plunges around the world, SHSU's Bearkat Plunge will allow students to take a dip in the chilly pool before its heaters are turned on and learn about upcoming pool programming.
On Tuesday (Jan. 24), students still looking for their "place" in Huntsville can learn the basics of area housing with the Student Money Management Center's "Apartment Hunting 101," beginning at 3:30 p.m. in the Student Affairs Annex Room 129.
During the session, the center will guide students in putting the pen to the paper to explore the costs of living on and off campus to determine if it is financially smarter to live in a residence hall or an apartment complex. Repeat sessions will be on Wednesday at 6 p.m. in the LSC Theater and Thursday at 3:30 p.m. in the Student Affairs Annex. Because free pizza will be offered on a first-come, first-served basis, students are encouraged to pre-register for the "Apartment Hunting 101" sessions to smmc@shsu.edu or 936.294.2600.
Later, during the Outdoor Adventure Launch Party, from 5-8 p.m., students can spend some time on the RSC Climbing Wall, enjoy snacks, test out the bouldering wall, and learn more about Rec Sports's upcoming outdoor adventure trips. The department also will have a drawing for a $25 discount on one of its many spring adventures.
Finally, at 6 p.m., LGBTQIA students can meet and mingle during the Lavender Mixer at 6 p.m. in LSC Room 304.
On Wednesday (Jan. 25), the week will round up with a "welcome" back to the late-1970s by offering an intramural version of the classic 1978 game "Hungry Hungry Hippos" at 6 p.m. in the RSC Gym.
"'Hungry Hungry Hippos' is a new activity for our Intramural Program that has been popular around the country," said Melissa Fadler, Rec Sports associate director for marketing and promotions. "Much like the classic board game, participants—or hippos— will be pushed and pulled on four-wheeled carts by their teammates to collect the most balls from the center of the 'court.' The team with the most at the end is the winner."
Finally, comedians from Saturday Night Live and CollegeHumor.com will usher in a semester of laughs during the Kat Comedy Showcase, beginning at 8 p.m. in the Johnson Coliseum. The program will include Pete Davidson, Aidy Bryant and Streeter Seidell.
"We want to end Spring Welcome Week with the Kat comedy Showcase, since we feel that event will garner the most attention university wide, and it is a great program to help students unwind a little bit before the semester takes off," Begnaud said.
Davidson is the youngest current SNL cast member and is in his second season of the Emmy award-winning show. He was named one of the "Top 10 Comics to Watch for 2014" by Variety Magazine and made headlines as one of the featured comedians on the 2015 Comedy Central Justin Bieber Roast. In addition, he has appeared in MTV's "Guy Code" and "Wild 'n Out" and had a cameo in the box-office hit "Trainwreck."
Bryant has been an SNL cast member since 2012 and has received an Emmy nomination for writing the digital short "(Do It On My) Twin Bed." Her credits also include producing and starring in the short film "Darby Forever," released as a Vimeo original; a recurring role on HBO's "Girls;" and appearing on "Broad City," "Documentary Now!" and "Horace and Pete."
Seidell is the executive editor of CollegeHumor.com, for which he has penned hundreds of articles, acted in many original videos, and co-authored the site's first book and TV show, "The CollegeHumor Guide to College" and MTV's "The CollegeHumor Show." The standup comedian performs regularly at clubs in New York and at colleges around the country.
He also has written for a number of national publications and has appeared as a "talking head" on numerous TV shows. He currently co-hosts and writes for MTV's "Pranked."
Doors open at 7 p.m. and tickets are currently available in Johnson Coliseum Office 235 or Recreational Sports Center Room 162 Monday through Friday from 10 a.m. to 6 p.m.
For more information on any of the Spring Welcome Week events, call the Department of Student Activities at 936.294.3861 or email studentactivities@shsu.edu.
- END -
This page maintained by SHSU's Communications Office:
Director of Content Communications: Emily Binetti
Communications Manager: Mikah Boyd
Telephone: 936.294.1837
Communications Specialist: Campbell Atkins
Telephone: 936.294.2638
Please send comments, corrections, news tips to Today@Sam.edu