Third Consecutive SHSU Student Chosen As Regent
July 27, 2017
SHSU Media Contact: Tyler Pointer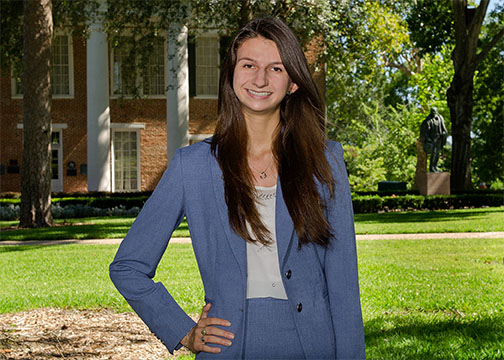 Being the voice of the people is no easy role for anyone to hold. Eleanor Roosevelt once said, "To handle yourself, use your head; to handle others, use your heart."
As the sixth student regent from Sam Houston State University, senior Kaitlyn Tyra has poured her heart into the role for the Texas State University System and its students.
Tyra is the third consecutive student chosen from SHSU and will attend all board meetings and be a voice for the students of all eight schools in the system for her one-year term as a student regent.
Her commitment to improving herself as a leader and student is what Tyra credits to being able to handle such a prestigious position.
"One of the things I have done at SHSU that I'm most proud of is serve as a LEAP (Center for Law, Engagement, And Politics) Ambassador," Tyra said. "The LEAP Ambassadors participate in over 40 events a semester, such as our annual 'heART of Huntsville' program and hosting the Texas Supreme Court on campus."
It is her time in balancing her service to programs like LEAP that Tyra believes contributed to her preparation for the role of student regent.
"With the privilege of participating in exciting events and engaging in unique learning opportunities comes the responsibility of preparation and planning for them," Tyra said. "Balancing classwork, a part time job and extracurricular activities have helped me learn how to effectively manage my time."
Tyra has already had the opportunity to meet with other student regents in early July for their annual Student Regent Leadership Forum.
"I got to attend the forum in Austin this summer," Tyra said. "The University of Texas System was nice enough to host the forum to connect current and former student regents in an effort to build a strong support network. We discussed the expectations and responsibilities of a student regent and acquired helpful resources to utilize throughout our terms on the Board of Regents."
As she is a full-time student and student regent, Tyra will have a busy schedule during this school year as she also serves as the president of the LEAP Ambassadors and is a member of the Pre-Law Society and Honors College.
"I am excited to grow in my role as a student regent," Tyra said. "I am confident that my previous commitments and activities on campus have helped me prepare for my new responsibilities."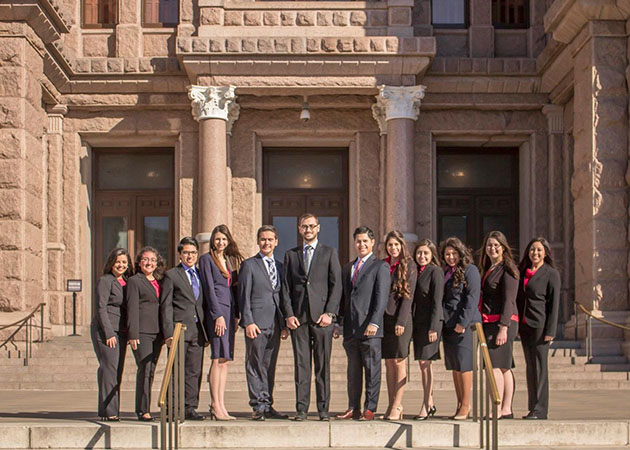 Tyra with fellow SHSU interns at the 85th Legislative Session in Austin earlier this year.
With Tyra's growing list of accomplishments, it is only natural that she has received some recognition for her hard work and dedication.
"I was able to share my story as a successful freshman for the First Year Experience slider on the SHSU homepage in 2015," Tyra said. "Additionally, I was selected to participate in Campus Women Lead, a program that aims to empower women to carry their campus successes and continue pursuing their passions in their careers after they complete their college education. I was also selected in the past to participate in New Leadership Texas, a weeklong women's leadership conference in Austin, and New Politics Forum Campaign Bootcamp, a three-day boot camp that trains college students in the art of running a political campaign."
Much like a leader should, Tyra believes that engaging with the community is important for growth, and she continues to have a passion for volunteering, even with her busy schedule.
"I am a member of the Walker County Republican Women and active volunteer for the Walker County Republican Party," Tyra said. "Additionally, I volunteer at the HEARTS Veterans Museum and the Wynne Home Arts Center for special events. Last year, I was a delegate to the Republican precinct, county and state conventions.
"Being a LEAP Ambassador, I participate in about 40 events every semester. One of my favorite programs is the annual Republican-Democrat charity football game, which brings the Huntsville community together. We have raised around $32,000 over the past decade, which has been split between the Huntsville YMCA and the John Holcombe Scholarship."
Mike Yawn, director for LEAP, affirms that Tyra is a perfect choice to be a student regent.
"Kaitlyn is a great student and great selection for TSUS Student Regent," Yawn said. "She's conscientious, intelligent and a hard worker. Since being at SHSU, she's made the most of her time and has even travelled to more than 20 states as a LEAP Ambassador."
Tyra believes that her continued commitment to bettering herself through service is what she brings to the group as a student regent.
"Recently, I interned during the 85th Legislative Session for Texas State Sen. Charles Schwertner," Tyra said. "My experience working in the legislature gave me new perspectives regarding how government views higher education. I will be able to combine my experience as a student, a community member, and a staff member in the legislature to provide a unique perspective to the Board of Regents."
- END -
This page maintained by SHSU's Communications Office:
Director of Content Communications: Emily Binetti
Communications Manager: Mikah Boyd
Telephone: 936.294.1837
Communications Specialist: Campbell Atkins
Telephone: 936.294.2638
Please send comments, corrections, news tips to Today@Sam.edu