LEAP To Host Texas Supreme Court Appearance
Feb. 27, 2017
SHSU Media Contact: Julia May
Story by Mike Yawn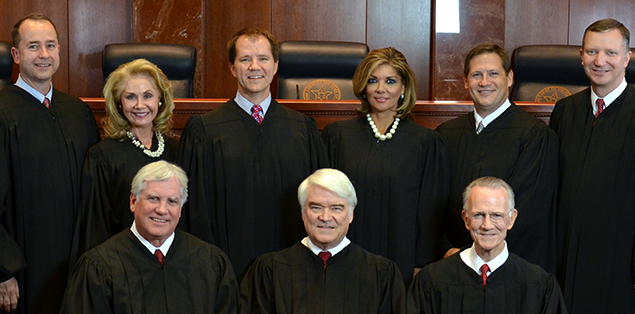 Members of the Texas Supreme Court will be on campus Thursday in the Gaertner Performing Arts Center to hear two cases.
Sam Houston State University's Center for Law, Engagement, And Politics is hosting the Texas Supreme Court on Thursday (March 2).
The Court will hear two cases—the first from 9:45 a.m. to 10:45 a.m. and the second from 11:05 a.m. to 12:05 p.m. Both cases will be heard in the Gaertner Performing Arts Center's Concert Hall.
This is the first time the Texas Supreme Court has visited Huntsville or SHSU, making the event a historic opportunity to see the state's highest court for civil appeals up close and in person. The first case, Community Health Systems Professional Services Corporation et al. v. Henry Andrew Hansen II, MD, addresses wrongful dismissal and contractual obligations. The second case, United Scaffolding, Inc. v. James Levine, addresses damages awarded from an on-the-job injury.
Mike Yawn, director of the LEAP Center, complimented the Court's staff adjusting the hearing schedule to fit well with classes.
"Each hearing fits within a normal Tuesday/Thursday class time," Yawn said, "making it perfect to bring classes to and provide a unique learning experience."
The effort to bring the Court to SHSU was collaborative, with faculty from psychology, political science, criminal justice, and business administration bringing their classes. The SHSU president's office handled much of the logistics, and Keith Coogler and his construction management classes created the bench at which the justices will sit during the hearings.
Although SHSU doesn't have a law school, approximately 300 students are actively engaged in pre-law activities with the hope of going to law school. The First-Year Experience Program offers a pre-law cohort for incoming pre-law students. In addition, the LEAP Center offers a mock LSAT every semester, bringing in Professor Val Ricks from the South Texas College of Law at Houston to teach a mock law class each spring; hosts the 10th Court of Appeals to hear four cases every year (this year on April 5); provides numerous law-school informational sessions; hosts a law-related speaker series; and sponsors the Pre-Law Society, the university's largest pre-law organization.
The offerings have paid off for the students who participate. Last year, SHSU ranked 111 of 2,774 schools in the nation in "law-school feeders," placing it in the top 3 percent of the universities in North America.
The public is asked to arrive at the Gaertner Performing Arts Center 30 to 45 minutes before arguments begin.
"People should arrive early to account for parking and security. You should leave all backpacks and bags secured in your vehicle or otherwise secured," Yawn said. Cellphones will be required to be turned off, and no flash photography will be permitted at any time.
For more information, please contact Mike Yawn at mike.yawn@shsu.edu or call 936.294.1456. For more information about prohibited items or entry procedures, visit shsu.edu/centers/leap/texas-supreme-court.
- END -
This page maintained by SHSU's Communications Office:
Director of Content Communications: Emily Binetti
Communications Manager: Mikah Boyd
Telephone: 936.294.1837
Communications Specialist: Campbell Atkins
Telephone: 936.294.2638
Please send comments, corrections, news tips to Today@Sam.edu