Spring Common Reader Events To Take Place This Week
March 27, 2017
SHSU Media Contact: Tricia Sims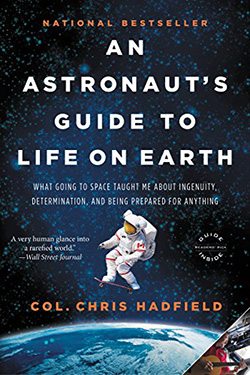 The 2016-17 Common Reader selection
Spring semester events for the 2016-17 Sam Houston State University Common Reader program begin today (March 27) and continue through Wednesday.
The Common Reader program provides first-year college students with their first collegiate academic experience before they even set foot in a university classroom.
"The overarching goal of the Common Reader Program is to provide a campus-wide common intellectual experience, leading to informed and educated perspectives about complex subjects," said Falasha Spruiell, program coordinator of special projects for Student Success Initiatives and the First-Year Experience.
This year's book is "An Astronaut's Guide to Life on Earth," by Canadian astronaut Col. Chris Hadfield.
Each year, the SHSU Common Reading Program assigns students a book to read over the summer. The book is then integrated into some of the classes they take through lectures, a film series, participation in discussion groups, and course assignments.
According to Spruiell, the spring events are a continuation from fall events for the Common Reader.
"The Office of Student Success Initiatives wanted to provide programming on a smaller scale during the spring 2017 semester for those who missed the opportunity to attend any events in the fall 2016 semester as well as capture the audience of the freshman spring 2017 admits," Spruiell said.
On Monday there will be two events, a lecture and Fine Arts Award Ceremony.
The lecture entitled "Why Do I Love the Smell of Ozone in the Morning" will be given by Associate Professor of Environmental Chemistry Tom Chasteen from 1-2 p.m. in the Lowman Student Center Theater. Chasteen will explore and explain the different roles of the molecules of ozone in the atmosphere depending on their altitude.
Later that day at 5 p.m. WASH Assistant Professor Valerie Powell will moderate the fine arts reception and awards ceremony in the LSC Art Gallery and will announce the winners of the WASH program contest.
The contest was open to all WASH program students enrolled at SHSU in the spring 2017 semester who have read "An Astronaut's Guide to Life on Earth." The highest prizewinner will receive $200. Awards will be announced at 5:30 p.m.
On Tuesday and Wednesday there will be WASH inflatopia event in LSC Mall Area 11 a.m to 2 p.m. on both days.
On Wednesday, the last event will be lecture entitled "Women in Stem (Emphasis on Women from NASA)" given by Assistant Professor in the Department of Curriculum and Instruction Lisa Brown from 2 p.m.-3:30 p.m. the LSC Theater.
Previously, Brown worked with NASA in the Aerospace Education Services Project where she was responsible for conducting workshops for teachers and administrators in schools, colleges and universities.
For more information, visit the Common Reader website.
- END -
This page maintained by SHSU's Communications Office:
Director of Content Communications: Emily Binetti
Communications Manager: Mikah Boyd
Telephone: 936.294.1837
Communications Specialist: Campbell Atkins
Telephone: 936.294.2638
Please send comments, corrections, news tips to Today@Sam.edu