Spencer To Bring Hocus Focus To Campus
Oct. 4, 2017
SHSU Media Contact: Lane Fortenberry
Kevin Spencer will bring his widely renowned program Hocus Focus to Sam Houston State University for a three-day event for students, staff, faculty and the community to enjoy and learn from.
Spencer is a teaching artist, researcher, speaker, consultant, award-winning film producer and faculty member in the Special Education program at Carlow University. He's a world-renowned illusionist, which is embedded in his program.
Hocus Focus is a child-centered, activity-based program that intertwines education with imagination to help students develop and improve their abilities in numerous critical areas.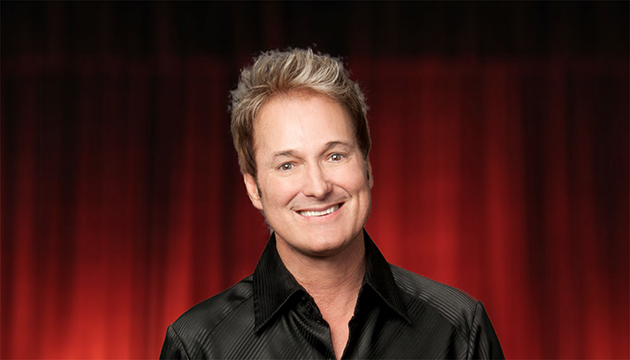 The program is a creative instructional tool to support the learning of students with varying degrees of educational challenges and abilities including autistic, cognitively delayed, emotionally disturbed and learning-disabled students.
The program is based on a new education framework called Phenomenon-Based Learning, which uses the student's own curiosity as the driver for learning.
Nancy Stockall, professor in the Language, Literacy and Special Populations Department, met Spencer at a conference and invited him to give a presentation at the university.
"It's important to have Kevin on campus so teacher-prep students can learn how this can work as physical therapy for kids with disabilities," Stockall said. "Those also going into physical therapy, nursing or any kind of work dealing with therapeutic services would also be able to use the techniques he teaches to help motivate clients to do the therapy.
"Physical therapy techniques, typically, are not very motivating, but they need to be done repeatedly," she said. "This helps get the motivation going, and once it is, clients are more likely to engage in the therapy."
Spencer will discuss his career, how he got started and demonstrate his tricks during the campus-wide presentation on Oct. 18 in the Lowman Student Center Theater from 9-10:30 a.m., which is open to all students, staff and faculty.
"He'll teach others how to do the tricks and then if they're teachers, they can teach their students and others how to do them," she said. "The children who have special needs or disabilities can go out in the larger community and teach them to their friends. The key here is it allows a person with a disability to have something to offer to a social group so they can enter it.
"It's an interesting way to get people with disabilities to become more included in social activities with people who don't have disabilities," she said. "It's kind of like the analogy with the kids who have a baseball bat, glove or ball always got to play in the baseball game. Now they will have something to contribute to the group that might be interesting to other people."
A small group interactive presentation for Project Sunshine buddies is scheduled on Oct. 18 from 4:30-7 p.m. in College of Education Room 279.
A small group interactive presentation is also scheduled for faculty development on Oct. 19 from 10:30 a.m. to noon in COE Room TBA.
The event is sponsored by the COE, Project Sunshine and the College of Health Sciences.
View an introductory video of Spencer and his work here.
For more information or to try and schedule Spencer in one of his open slots, contact Stockall at nxs016@shsu.edu.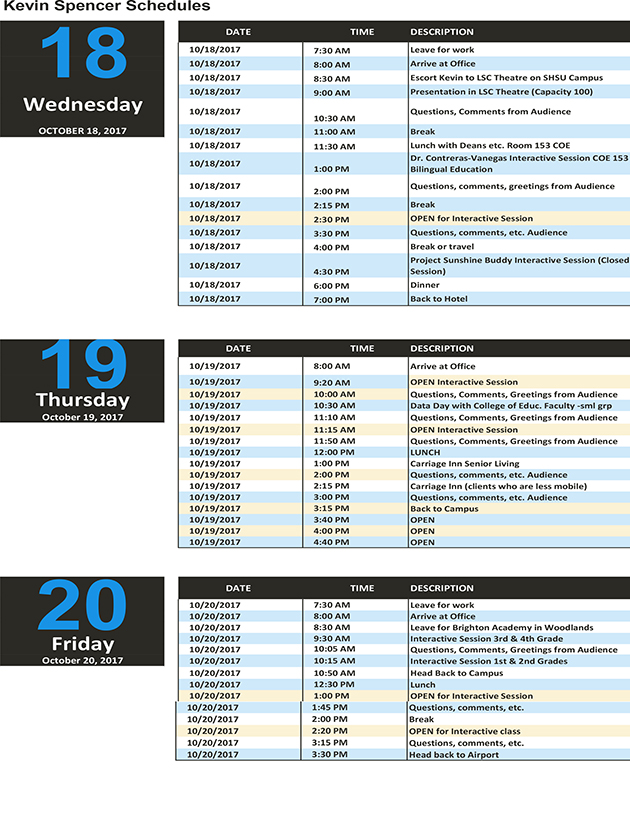 - END -
This page maintained by SHSU's Communications Office:
Associate Director, Communications: Emily Binetti
Telephone:936.294.4406
Communications Manager: Vacant
Telephone: 936.294.1837
Communications Writer: Campbell Atkins
Telephone: 936.294.2638
Thomason Building: Suite 102
Please send comments, corrections, news tips to Today@Sam.edu