SHSU Groups Join For Sexual Assault Awareness Events
March 23, 2017
SHSU Media Contact: Amanda Horn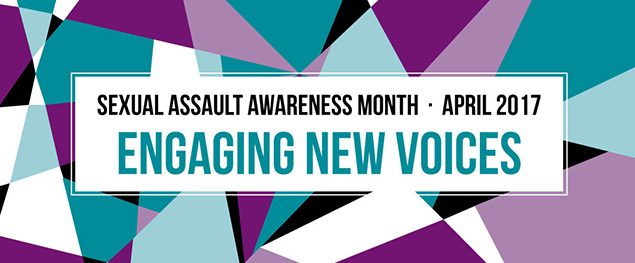 Sam Houston State University departments across campus are coming together to raise awareness of various issues in recognition of Sexual Assault Awareness Month during April.
SHSU's SAAM Committee has coordinated a number of events throughout the month to shed light on sexual assault in a variety of ways.
"These events have a bigger impact than people think that they do," said Georgi McNease, chair of the SAAM Committee. "I think what our committee does during this month is very important."
Events begin on April 2 with the Alpha Chi Omega Dodgeball Tournament from 9 a.m. to 3 p.m. in the Recreational Sports Center.
On April 3, "Walk a Mile in Her Shoes," an international march where male participants wear heels to raise awareness and educate the community on issues surrounding rape, sexual assault and gender violence will take place in the LSC Ballroom from 11 a.m. to 1 p.m. The SHSU Criminal Justice Graduate Student Organization is teaming up with local organizations to sponsor the event.
Hosted by the SHSU Terry Scholars, the "Not a Number" talent showcase will take place on April 4, at 6 p.m. in the LSC Theater, where SHSU students will bring awareness to sexual assault through songs, dances, poems, and other creative outlets.
"This event allows survivors of sexual assault to share their story in a different kind of way," said McNease.
Later on April 4, the Office of Equity and Inclusion and Not On My Campus AdvoKATS will sponsor "Let's Taco 'Bout Consent" at 6 p.m. in the LSC Ballroom. This event is to provide an insight into the true meaning of consent, effective intimate partner communication skills, and how to be an active bystander to someone in need.
The "Steal For Teal" baseball game between the SHSU Bearkats and Nicholls State will take place on April 8 at 3 p.m. in Don Sanders Stadium. Teal is the official color of Sexual Assault Awareness Month. The event is sponsored by SHSU Athletics and the SAAM Committee.
The SHSU Crime Victims' Institute and the Crime Victim Services Alliance will present the "Hunting Ground Documentary and Panel Discussion" on April 11, at 6 p.m. in the LSC Theater. The critically acclaimed documentary about sexual violence on college campuses will be followed by a discussion with local experts offering information on resources and prevention strategies.
"Title IX & Dine," sponsored by the Office of Equity and Inclusion on April 18, will provide an opportunity for an open discussion about Title IX, individual rights, requirements that colleges and universities must satisfy, and how federal regulations affect the SHSU community. This event, which will be held in the LSC Ballroom from 11:30 a.m. to 1 p.m. is free with RSVPs made by April 10 to TitleIX@shsu.edu or by calling 936.294.3080.
The SHSU Office of Health Promotion and Texas Department of Health will host "Get Yourself Tested" on April 19-20 in Multipurpose Room 3 of the Recreational Sports Center from 9 a.m. to 3 p.m. Students may have HIV/syphilis testing on site, as well as receive a voucher for free chlamydia/gonorrhea testing at the Student Health Center.
The Crime Victim Services Alliance in partnership with the SHSU Crime Victims' Institute, SAAFE House and Montgomery County Women's Center will be on hand in the Criminal Justice Center Lobby on April 24 from 10 a.m. to 2 p.m. with their Denim Day exhibit and resource table. National Denim Day will be observed on April 26.
"Denim Day is a call to action for all people to come together by wearing denim as a visible sign of protest against sexual violence," McNease said.
The origin of Denim Day came about from a ruling by the Italian Supreme Court in which a rape conviction was overturned because the justices felt that since the victim was wearing tight jeans, she must have helped her attacker remove her jeans, thereby implying consent. The following day, the women in the Italian parliament came to work wearing jeans in solidarity with the victim.
"This show of support has become a symbol of protest against erroneous and destructive attitudes about sexual assault," McNease said.
Also on April 26, at "Ignite the Night," the SHSU SAAM Committee and Community Partners will be teaming up to close out Sexual Assault Awareness Month. The event will start in the LSC Theater at 7 p.m. and will feature speakers and a survivor's story, followed by a march to the Walker County Courthouse. At the Courthouse, another short rally will take place at which city and county officials will read a proclamation.
Other campus activities include "What's the Scoop?" hosted by the Office of Equity and Inclusion and Not On My Campus AdvoKATS in the LSC Mall area on April 4, 11, 18 and 25 from 11 a.m. to 1 p.m., at which ice cream and event flyers will be handed out.
"Each event has its own purpose and tries to put an aim at how average, every day people can help prevent sexual assault," said McNease.
For a complete listing of activities and additional information, visit the SHSU Title IX website, call the Title IX Office at 936.294.3080, or contact McNease at gam024@shsu.edu.
- END -
This page maintained by SHSU's Communications Office:
Director of Content Communications: Emily Binetti
Communications Manager: Mikah Boyd
Telephone: 936.294.1837
Communications Specialist: Campbell Atkins
Telephone: 936.294.2638
Please send comments, corrections, news tips to Today@Sam.edu