Raven's Call To Pay Tribute To Departed Students, Faculty, Staff
March 30, 2017
SHSU Media Contact: Tyler Pointer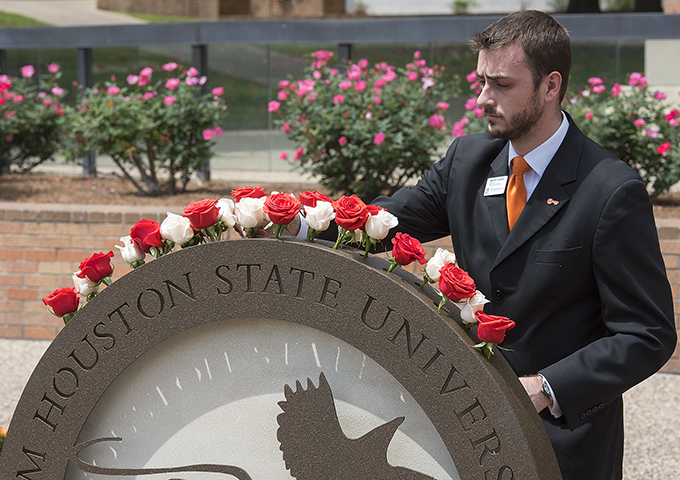 A flower is placed on top of the Raven's Call Memorial as each name is read during the ceremony to honor those who have shared a part of their life with the university. —Photo by Brian Blalock
Story by Tyler Pointer
Forty-nine years ago, Army 1st Lt. Jerry Lee Roe, a former student, ROTC member and mascot at Sam Houston State University, disappeared in action
Students
Christopher P. Barrow
Jamecia S. Bradley
Nolan A. Conley
Anthony C. Jones
Eme "Ziggy" Mboto
Alyssa A. Mills
Tabitha L. Vear
Honorary Student
Jerry L. Roe
Faculty/Staff
Mary A. Bell
Susan D. Holland
Alexis D. Valk
Retired Faculty/Staff
Jimmy H. Barker
Lorene G. Bradham
Ruth M. Cady
Mayfred H. Covington
Gene M. Eastman
Freddie M. Gordon
Mary E. Gutermuth
Sara A. Hart
Harvey L. Hivnor
Orville E. Jackson
Luther L. Laskie
Walker M. Mancil
Ralph O. Marshall
Ralph L. Mills
Richard H. Payne
Fred R. Sledge
James C. Stallings
Barbara J. Sydow
David C. Townsend
George Watkins
Gerald "Terry" Watson
Marian E. Witt
during the Vietnam War on Feb. 12, 1968.
Roe was a medical evacuation pilot and aircraft commander for "Dustoff 90" when he and his crew departed from Ban Mê Thuột, Vietnam on route to the Gia Nghĩa Special Forces Camp for an urgent medevac, when their vessel disappeared within the mountains.
Roe is classified as a POW/MIA to this day and will receive special honors during one of SHSU's most revered ceremonies, Raven's Call, as it marks 49 years since his disappearance.
Raven's Call is the annual campus ceremony hosted by the Orange Keys, the official student ambassadors for SHSU, that honors the lives of fallen students, faculty and staff who have died within the previous year. The ceremony this year is set for April 7 at noon at the Ron & Ruth Blatchley Bell Tower and is open for all to attend.
"We are honored to be able to host this event every year," said Courtney Shaw, vice president of Programming for the Orange Keys. "Raven's Call is such an important ceremony where we can show our appreciation for faculty, staff and students who have given up time to better our university. This ceremony has always been my favorite Sam Houston tradition and I cannot wait to see it continue for many years to come."
This year's ceremony will honor the lives of eight students and 25 faculty and staff and retired faculty and staff members.
Prior to the ceremony, SHSU's Music Nation will provide spoken word honoring student Eme "Ziggy" Mboto, an avid poet at SHSU, and the Tuba-Euphonium Ensemble from the SHSU Marching Band will play "Amazing Grace" during the ceremony in honor of student Anthony Jones, who was a member.
A flower will be placed on top of the Raven's Call Memorial as each name is read during the ceremony, to honor those who have shared a part of their life with the university.
A reception will take place prior to the ceremony in the Lowman Student Center Art Gallery for families, which also will display photos and biographies of the honorees. The gallery will be open for public view from April 3-7.
"This has become a new tradition at Sam," said Chelsea Smith, associate dean of students for Parent Relations & Special Programs. "I think it's really important to take the time to remember and celebrate these lives. We really encourage faculty to allow their students to come to the ceremony."
The first Raven's Call ceremony took place in April 2012 and has always aligned with the month of April, which establishes it moreso as a tradition. The Orange Keys work diligently in the months prior in order to provide honorees with the appropriate remembrance.
"Ensuring that Raven's Call is a success takes a lot of time from me and my fellow Orange Keys," Shaw said. "I am incredibly thankful that I work with such an amazing organization where everyone steps up to the plate in order to see that everything goes well. We also hope to have many students come and show their support for the family and friends who have lost loved ones."
Dean of Students John Yarabeck, who was instrumental in establishing the first Raven's Call, feels that SHSU needed such a ceremony to show respect to those Bearkats who have shared a part of their life with the university.
"It's important to commemorate all Bearkats, and unfortunately every year there are students, faculty and staff who have left us," Yarabeck said. "It's good to have a ceremony where we can remember others in the past who have fallen and that you have good memories of. I think it's great that the university rises up and celebrates the contributions of those Bearkats."
All students, faculty and staff are encouraged to take time out of their day to pay their respect, and Yarabeck believes that attendees can learn a lot from the ceremony.
"I think it gives them time to reflect," Yarabeck said. "It also gives us time to think about life in general. One hundred years from now, most of us will not be here and hopefully it will give you time to think about and say 'Why am I here? What is my purpose? What can I do to make a lasting and meaningful impression at Sam Houston?'"
For more information on Raven's Call, visit shsu.edu/dept/dean-of-students/ravens-call/.
- END -
This page maintained by SHSU's Communications Office:
Director of Content Communications: Emily Binetti
Communications Manager: Mikah Boyd
Telephone: 936.294.1837
Communications Specialist: Campbell Atkins
Telephone: 936.294.2638
Please send comments, corrections, news tips to Today@Sam.edu