More Parking, Different Routes To Greet SHSU Students
Aug. 18, 2017
SHSU Media Contact: Julia May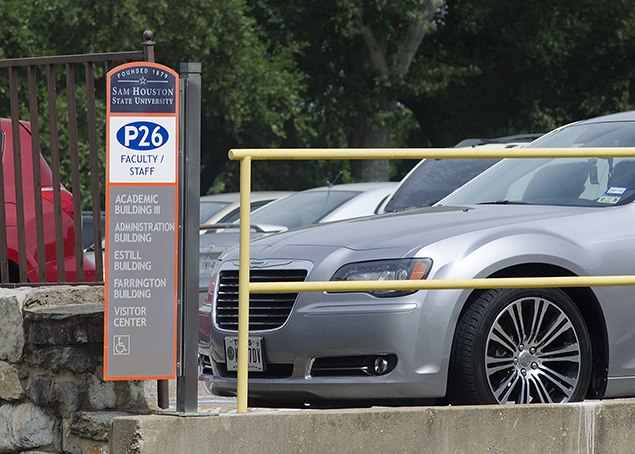 Students may have to walk a little farther to get to classes, but the good news is that additional parking spaces will be available when the semester begins.
As Sam Houston State University continues to grow, and aging utility infrastructure has reached its life expectancy, new construction, renovations and replacements have been a critical and necessary part of life at the university this summer.
Although some of the work is wrapping up, students will have to navigate a few obstacles in getting to class—at least for a few weeks into the semester.
In order to maintain air conditioning and other utilities across campus, a number of chilled water lines that run along streets and under parking lots have either been replaced or are in the process of being replaced.
Among the areas affected are Bowers Boulevard, between Bobby K. Marks Drive and Avenue I, and a section of Avenue I between the Biology Laboratory Building and White Hall. The streets are closed to both vehicular and pedestrian traffic, although alternate routes are available and will be marked.
Students moving into Randel, Vick and Spivey Houses and White Hall on Move-In Day this Saturday will be routed to locations near their buildings where they can drop off their furnishings, then park their vehicles in designated areas. Signage will show traffic flow, and university personnel will be on hand to answer questions and give directions.
Parking representatives from the SHSU Department of Public Safety will be at Sam Houston Village, Lone Star Hall and Piney Woods Hall on Saturday and Sunday for residents who have not had a chance to purchase their parking permits.
Two new parking lots will be open on the north side of campus this fall, providing more than 900 additional spaces. A newly paved parking lot with 127 spaces is at the site of the former Sunrise Apartments, and an overflow lot at the Old Batch Plant will have 800 spaces. A 10-ft. wide sidewalk approximately 120-ft. long will connect the lot with the main campus.
The addition of 96 spaces will be made available for the south side of campus after the start of the fall semester. The new lot is Z2-49 and is nearing completions. The lot can be accessed from Avenue J and connects to South Residential Lot 48.
Also coming on board are two pieces of technology that will benefit drivers.
Waze—a community-based app for drivers in the area to share real-time traffic and parking information—will be activated so that navigation around the university will be a bit easier, and an interactive Google map of campus will be available to identify accurate parking and transportation information to include construction and event closures. The Google map will allow a user to filter to a specific type of parking. Both Waze and Google Maps can be used with Apple IOS and Android devices.
Although, construction will be ongoing and re-routing may be necessary for short periods of time, the main roadways through campus should be open in a few weeks.
- END -
This page maintained by SHSU's Communications Office:
Director of Content Communications: Emily Binetti
Communications Manager: Mikah Boyd
Telephone: 936.294.1837
Communications Specialist: Campbell Atkins
Telephone: 936.294.2638
Please send comments, corrections, news tips to Today@Sam.edu