Resolution Approved For The Sam Houston Republic of Texas Presidential Library
Dec. 20, 2017
SHSU Media Contact: Emily Binetti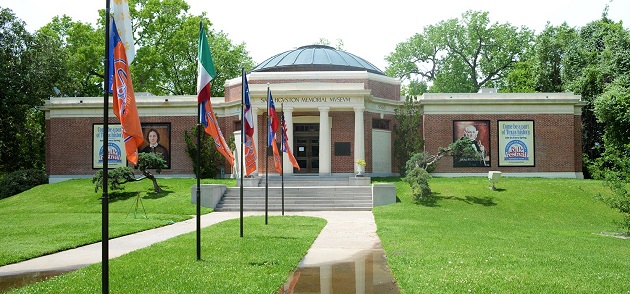 The 85th Legislature of the State of Texas approved a resolution introduced by Representative Ernest Bailes for the creation of the Sam Houston Republic of Texas Presidential Library at Sam Houston State University. This resolution honors Sam Houston's contributions in shaping the state as well as his serving as the first and third president of the Republic of Texas and recognizes the unique attributes of the Sam Houston Memorial Museum.
United States presidential libraries are not libraries in the usual sense. They integrate historically significant artifacts and documents associated with a president that are found in archives, museums and academic institutions into one central repository while providing the opportunity for scholars to research and study the historical significance of policies, governance and leadership.
The Sam Houston Memorial Museum already has many of the attributes of a successful presidential library, including a museum facility, exhibition and conference space, a theater and a collection of some 12,000 artifacts, such as manuscripts, books and furnishings related to Sam Houston's life and times. Unique by comparison to other presidential libraries, two of Sam Houston's homes are located on the grounds.
For many years, the museum has been successful in engaging K-12 students and the public in a historical learning experience. Recognizing the museum complex and its collections as a Republic of Texas presidential library, will facilitate scholarly research through expanded access to the museum's historically important documents and artifacts. Working with the academic community at Sam Houston State University, Mac Woodward, director of the Sam Houston Memorial Museum, will oversee plans to develop a digital library and programming for historians and distinguished scholars.
"Typically, when people hear 'presidential library' they visualize a shiny building. Our plan doesn't include a new facility, which can be limiting due to the costs of construction and operations," said Woodward. "This resolution provides the museum with the opportunity to provide greater educational services including a virtual, digital library that will serve as a central repository to share our vast historic content across the globe."
The Republic of Texas presidential library designation is also likely to help the museum to expand its collection, attracting further donations of academic papers and other historically important materials. Serving as a portal for "everything Sam Houston and more," the digital archive feature will enable the museum to contribute and connect to other historical digital platforms, expanding its services even further.
- END -
This page maintained by SHSU's Communications Office:
Director of Content Communications: Emily Binetti
Communications Manager: Mikah Boyd
Telephone: 936.294.1837
Communications Specialist: Campbell Atkins
Telephone: 936.294.2638
Please send comments, corrections, news tips to Today@Sam.edu