SHSU Update For Week Of March 26
March 23, 2017
SHSU Media Contact: Lane Fortenberry
Multiple Fairs Set For Graduate Admissions
Sam Houston State University's Office of Graduate Admissions will hold its annual Graduate Admissions Spring Fairs by colleges on March 28-30, April 4-5 and April 12-13.
Free food will be offered during the fairs, while supplies last, and door prizes will be given away. Names will be drawn for four $1,000 scholarships donated by Graduate Studies.
"Students can expect to receive information about all of the master's and doctoral programs that we have at Sam Houston," said Victoria White, admissions counselor. "Information will be provided by the departmental graduate program advisers.
"Our purpose is to be sure that the students at Sam Houston who are currently enrolled in undergraduate programs are informed of what the university has to offer at the graduate level."
Representatives from Financial Aid, Graduate Studies and Career Services will be available to talk to students about their roles in assisting graduate students.
The Criminal Justice Graduate Fair will be Tuesday (March 28) from 11 a.m. to 2 p.m. in the George J. Beto Criminal Justice Center Lobby.
The College of Science and Engineering Technology, College of Humanities and Social Sciences and College of Business Administration Graduate Fair will be Wednesday (March 29) from 11 a.m. to 2 p.m. in the Lowman Student Center Ballroom.
The College of Education Graduate Fair will be Thursday (March 30) from 11 a.m. to 2 p.m. in the Teacher Education Center 2nd Floor Conference Area.
The College of Health Sciences Graduate Fair will be April 4 from 11 a.m. to 2 p.m. in the Lee Drain Building Main Lobby.
The College of Fine Arts and Mass Communication Graduate Fair will be April 5 from 11 a.m. to 2 p.m. in the James and Nancy Gaertner Performing Arts Center Lobby.
The Virtual Graduate Fair will be April 12 from 5-7 p.m. via the SHSU Virtual Booth on College Week Live.
The SHSU-Woodlands Center Graduate Fair will be April 13 from 1-6 p.m. in The Woodlands Center West Commons.
For more information, visit their page.
Criminal Justice Expands International Program Initiatives
The Office of International Programs in Sam Houston State University's College of Criminal Justice is forging new relationships across the globe for research and practice in the criminal justice field.
One of its most recent endeavors is a multi-national research project examining multicultural societies and its effect on prisons in the U.S., Poland and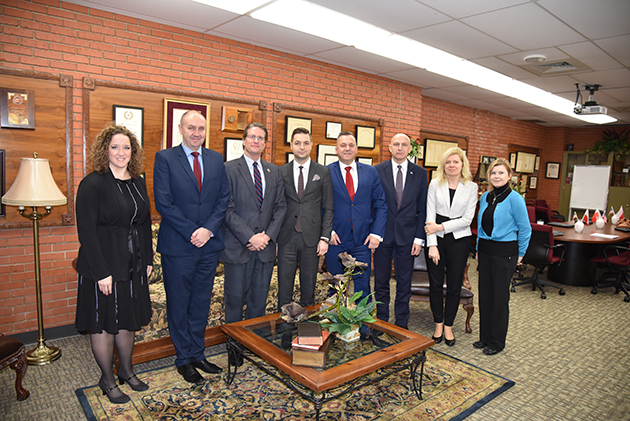 Germany. In addition to joint research with the Adam Mickiewicz University in Poland, the project includes several conferences as well as a graduate student exchange program.
"Many European nations have experienced an influx of immigrants from Eastern European countries and Africa in recent years," said Jurg Gerber, director of the college's international programs.
Gerber and criminal justice and criminology doctoral student Kate Angulski are working on the research project and already have produced two articles for Polish criminal justice journals on international prisoners in Texas and the U.S., as well as prisoners and work.
"The project is being led by Andrzej Szwarc, director of the German-Polish Research Institute of the University of Adam Mickiewicz University and the European University Viadriana in Frankfurt (Oder)," Gerber said. "The institute conducts scientific research programs and projects in the field of European integration, border regions and international and intercultural aspects from a comparative perspective."
Gerber and Angulski have joined Piotr Stepniak at AMU on a project to investigate prisons and will travel to Poland in April to present at conferences on multiculturalism.
Angulski will spend two weeks in Poland this spring for research, and she plans to apply for a Fulbright Scholarship to study corrections, international and comparative criminology, and drug polices for a year in the country.
In addition to his work in Poland, Gerber is serving as president of the Asian Association of Police Studies, an international association that advances scientific, practical and professional knowledge concerning policing and crime control.
Established in 2000, the worldwide association is involved in the evaluation and development of police systems and activities, legislation and the practice of criminal law as well as law enforcement, judicial and corrections system.
Sam Houston State University hosted the AAPS annual conference over the summer, which drew scholars and practitioners from China, Japan, Taiwan, South Korea, the U.S., and Thailand, including several Ph.D. students and graduates from SHSU. The two-day conference featured the latest research on policing issues in Asian communities and the U.S.
Art Students To Display Work In Annual Juried Exhibit
The Gaddis Geeslin Gallery in the Department of Art at Sam Houston State University will present the 18th Annual Juried Student Exhibit from March
27 through April 14.
Each year, the department offers students the opportunity to submit their work to a juried exhibition. Work from a variety of media and concepts will be represented in the exhibition.
This year's juror will be Nathaniel Donnett, a Houston based artist and writer who founded the website blog "Not That But This." Donnett has exhibited in Houston, New York and Washington among other cities. The juried group show will provide an overview of the work created by SHSU students.
An opening reception and award ceremony will be held Thursday (March 30) from 5-7 p.m. in the Gaddis Geeslin Gallery with light refreshments.
The gallery is open Monday-Friday from 10 a.m. to 5p.m. and Saturday noon – 5 p.m. All events are free and open to the public.
The gallery is located at 1028 21st Street in Huntsville. For more information, contact Max Manning, gallery technician, at mpm031@shsu.edu or 936.294.3102.
Three Student-Directed Plays To Be Presented
Sam Houston State University's Department of Theatre and Musical Theatre will present three student-directed plays that begin this weekend with additional showings next week.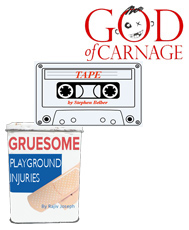 "God of Carnage," directed by Adolfo Becerra, senior theatre major, and written by Yasmina Reza, will take place on Friday (March 31) at 8 p.m. in the James and Nancy Gaertner Performing Arts Center.
In this comedy of manners, two sets of parents become increasingly more child-like when defending their kids' actions, which ultimately leads to chaos on stage.
"Tape," directed by Jordan Kearney, senior theatre major, and written by Stephen Belber, will be presented on Saturday (April 1) at 2 p.m. and April 5 and 8 at 8 p.m. in the University Theatre Center.
The play is a high-stakes, suspenseful drama that questions right, wrong and how we let our decisions as humans define who we are. Kearney directed the play to increase discussions on the issue of sexual assault.
"Gruesome Playground Injuries," directed by Joe Serpa Daniels, senior theatre major, and written by Rajiv Joseph, will be presented on Saturday (April 1), 4 and 7 at 8 p.m. in the University Theatre Center.
The two main characters, Doug and Kayleen, meet in elementary school in the nurse's office from two separate injuries. From then on, over the span of 30 years, the two manage to run into each other, each time with a different wound.
Tickets for the three plays are available through www.shsu.edu/boxoffice.
Outstanding Business Graduate Gives Students Tips
Wes Burke, a 2007 SHSU College of Business Administration graduate and recipient of the 2013 Outstanding Young Graduate Award given by the Department of Management and Marketing, returned to campus last week to present and moderate a business discussion for students.
Burke rose through the ranks of Target Corporation to become a human resource business partner before joining Alchemy Systems, where he is now a senior director.
"He has significantly and quickly advanced in his career by utilizing some best practices that he enthusiastically shared with our business students," said Associate Professor of Management Aneika Simmons, who arranged a luncheon for Burke to speak with the students.
Among the topics Burke discussed were transitioning from a student to a corporate employee, organization communication, leadership, relationship building, receiving constructive feedback, and time management.
"Mr. Burke is a millennial, and he shared the value of understanding the need to prepare, listen and then speak as a corporate employee," Simmons said. "For example, when interviewing, it's important to have specific experiences in mind, actions that were taken, and outcomes. Further, he advanced the notion of 'elevator talks,'" she said.
He also spoke about continual learning and said that 70 percent of what he learns is through personal experience, 20 percent is through mentorship, and 10 percent is through organizations and programs such as the Society for Human Resource Management and Continuing Professional Education.
He concluded his discussion by encouraging the students to follow their passion.
SMMC Event Set For March 29
The Student Money Management Center will help students discover the best solutions for repaying student loans on Wednesday (March 29) at its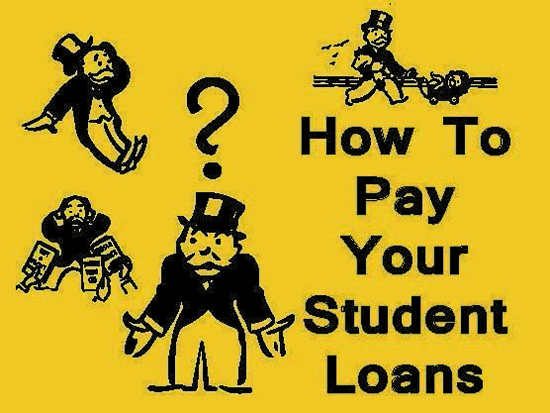 "How To Pay Back Your Student Loans" workshop, beginning at 6 p.m. in the Lowman Student Center.
During the session, Patsy Collins, director of SMMC, will discuss alternative payment options such as the various payment plans and loan forgiveness programs.
Collins will also work with students to determine how much interest has accrued on their student loans and estimate their monthly standard loan payment. She will also determine if they are qualified for a tuition rebate once they graduate and how to apply for the rebate.
Students who attend this workshop and two others will be entered into a drawing for a $400 scholarship.
Free pizza will be offered on a first-come, first-serve basis and registration is not required for this workshop.
For more information, call the SMMC at 936.294.2600.
Tickets Still Available For Sammypalooza
Sam Houston State University will welcome the Eli Young Band, Waka Flocka Flame and A$AP Ferg on Wednesday (March 29) for the spring Sammypalooza concert series. Doors open at 7 p.m. and the show is from 8-11 p.m.
Student tickets are available and can be obtained at Johnson Coliseum Box Office No. 2. Students are eligible to receive up to two free tickets with an active Bearkat OneCard.
Public tickets are $20 and also can be purchased at Johnson Coliseum Box Office No. 2 or by phone at 936.294.3021.
For more information visit Sammypalooza.com or facebook.com/SHSUSammypalooza.
Send Experts, Story Ideas Here
Are you an expert in a topic might be of interest to reporters? Or even a unique topic? Would you like to have your research interests highlighted or discuss your expertise with reporters seeking interviewees?
The university Communications Office is collecting information and story ideas for its ongoing projects, including the online SHSU Experts Guide, the SHSU home page and Today@Sam.
The SHSU Experts Guide was established as a resource for the media, who turn to university experts lists for potential interviewees for news stories. Faculty who are interested in being a part of the university's database of experts can submit their biographical and personal information, as well as their areas of expertise, through the Experts Guide Submission Form.
Other story ideas, both news and features on faculty or student research and accomplishments can be sent to today@sam.edu or jenniferg@shsu.edu. For news stories, please include the date, location and time of the event, as well as a brief description and a contact person.
All information, including news story ideas and update items for Today@Sam, should be sent a minimum of a week in advance of the event in order to make necessary contacts and write a story. Feature story ideas for the SHSU home page ("sliders") should be sent a minimum of two months in advance.
To see a full list of the Today@Sam submission guidelines, or to access submission forms for news and feature stories or hometown releases, visit the guidelines page.
For more information, call 936.294.1836.
- END -
This page maintained by SHSU's Communications Office:
Director of Content Communications: Emily Binetti
Communications Manager: Mikah Boyd
Telephone: 936.294.1837
Communications Specialist: Campbell Atkins
Telephone: 936.294.2638
Please send comments, corrections, news tips to Today@Sam.edu