SHSU Update For Week Of March 19
March 16, 2017
SHSU Media Contact: Lane Fortenberry
Gang Task Force To Give Real Talk w/CJ
On March 1, two members of the MS-13 gang were charged with murder in the death of a 14-year-old girl found lying in the road in southwest Houston. Prosecutors said that the girl was kidnapped, sexually assaulted and killed by members of the MS-13 gang as part of a satanic ritual.
This case is just one tragic piece of the gang activity in the region, which is combatted by the Houston Area Multi-Agency Gang Task Force.

Members of the team will participate in Real Talk w/CJ on Wednesday (March 22) at 2 p.m. in the Hazel B. Kerper Courtroom at Sam Houston State University. They specifically target the M-13 gang, also known as La Mara Salvatrucha, which is one of the largest criminal organizations in the world and has more than 6,000 members in 46 states in the country. It currently is estimated to have 30,000 members, mostly in El Salvador, Honduras, Guatemala and the U.S.
Jose D., a Houston police sergeant, who has been working on gang issues for 24 years, will participate. In addition to serving on the task force, he is a member of the Hostage Negotiation Team which responses to SWAT situations. After graduating from SHSU, he was an intelligence officer at the Wynne Unit, working on the gangs at the Texas Department of Criminal Justice
Jorge O., a veteran of the Houston Police Department who is assigned to the Major Offenders Task Force targeting Central American gangs, will also speak. He recently returned from a temporary assignment with the State Department in El Salvador, assisting with the investigations of 50 police officers murdered in the line of duty in that country over the last two years. During his career, he also worked for the robbery division and as an investigative first responder.
The task force includes the Houston Police Department; the Federal Bureau of Investigation; the Texas Department of Public Safety Criminal Intelligence Services; the Drug Enforcement Administration; the Bureau of Alcohol, Tobacco, Firearms and Explosives; Immigration and Customs Enforcement; the U.S. Marshals Service; the Harris County Sheriff's Office; and the High Intensity Drug Trafficking Initiatives.
Together with the U.S. Attorney and the Harris County District Attorney's Special Crimes Bureau, they pursue investigation and prosecution of state and federal cases involving gangs, including extortion, murder, racketeering, and many other crimes.
Beta Alpha Psi Places First, Third At Regional Competition
Sam Houston State University's chapter of Beta Alpha Psi, an international honor organization for financial information students and professionals, received first place in leadership development at the organization's regional competition, the Southwest Regional Meeting, on Feb. 24-25 in Dallas.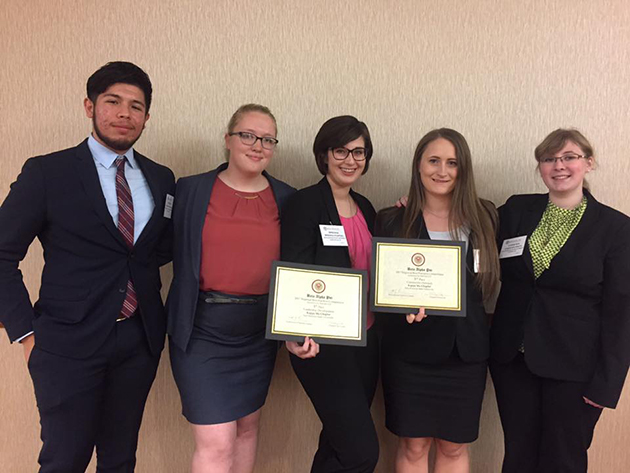 Beta Alpha Psi members Fernando Varela (left), Melissa Hancock-Jones, Brenna Pospisil, Alexis Allen, and Christen Smith with their award certificates at the regional competition. —Submitted Photo
The chapter also received third place in community outreach. They received $500 for placing first and $125 for placing third.
The meeting is an opportunity for students and professionals from the region to get together and network, share ideas and compete.
"The leadership development topic we competed was focused around answering how our chapter provided service this year to our off-campus communities, the impact we had and how we developed leaders through the service we provided," said Brenna Pospisil, vice president of community service for Kappa Mu, SHSU's Beta Alpha Psi chapter.
The project presentation was centered on their financial literacy presentation project with the Student Money Management Center and the director, Patsy Collins.
"Last semester, we started the project in an effort to give high school students and their families access to financial information that would help them further their educational pursuits," Pospisil said. "We wanted to help by giving them some of the tools necessary to be financially successful in college."
This summer, Beta Alpha Psi will use the leadership development project to compete at the national level, the Annual Meeting, in Anaheim, California on Aug. 3-5.
For more information about Beta Alpha Psi, visit their website.
SGA To Hold Auditions For Community Fest
Sam Houston State University's Student Government Association is currently planning the upcoming eighth annual community service project, Bearkat All Paws In (BAPI).
A new event, Community Fest, has been added this year.
After individuals or organizations conclude their community service for the day, there will be a celebration with activities, giveaways, food, music, and a chance to meet with members of the the community.
With this new event, the SGA will hold auditions for any students wishing to perform on stage at the festival. Auditions will be on Wednesday (March 22) from 5:30-9:30 p.m. and Friday (March 24) from 1-3 p.m. in the Lowman Student Center Ballroom.
Bands, orchestra and solo performers (vocal or instrumental) are welcome to audition for 13 slots.
If chosen for the Community Fest, performers will need to be available from noon-4 p.m. on April 22.
Samantha Afonso, SGA senator and co-host of the event, said the auditions will each last approximately 15 minutes, so that each person has enough time to set up.
"Performers are to bring their own instruments and any other items that they may need," Afonso said. "We are providing the microphones and a stage."
For further questions or to schedule an audition time, contact Afonso at sja030@shsu.edu or Logan Ellis, external affairs chief, at loganellis051@shsu.edu. The priority deadline for signing up for auditions is Tuesday (March 21). Walk-ins will still be accepted, but they will audition last.
CHSS To Host Dean's List Luncheon
Sam Houston State University's College of Humanities and Social Sciences will honor students from the college who made the dean's list in fall 2016 at a reception on Wednesday (March 22) from noon-2 p.m. in the Lowman Student Center Ballroom.
Students who made the dean's list should have received a personal invitation at the end of February.
Students who attend the dean's list luncheon will receive a certificate and swag from their respective departments.
CHSS advisory board members, department chairs and graduate advisors will also be present, so students will have an opportunity to visit, make contacts and discuss after-graduation plans.
SGA To Hold Biking Benefits Info Event
Sam Houston State University's Student Government Association will hold an informative tabling event for students to learn about the benefits of riding bikes on campus on Wednesday (March 22) from 10 a.m. to 1 p.m. in the Lowman Student Center Mall Area.
The goal of Bike Day is to encourage students to be healthier for themselves and the environment by using bikes as transportation.
SGA senators will be educating students on bike safety. Logan Ellis, external affairs chief, said the event will go over several bike safety concerns.
"I would love to address being safe on roads around Huntsville and how to use turn signals while riding a bike," Ellis said. "Also, perhaps we'll go over safety gear such as where to place reflectors for best safety."
Ellis also hopes to hear student feedback on whether this would be a good event for annual or biannual bike safety lessons.
If students stop by the SGA table, they can enter a raffle for three Camelbak backpacks. Students can enter the raffle if they do not have a bike with them, however, bringing a bike is encouraged, because students who bring their bike will have a chance to enter the raffle twice.
Refreshments will be provided on a first-come, first-served basis, which will include bottled water, Nature Valley oats and honey granola bars.
Program Council To Spread Happiness
Sam Houston State University's Program Council will "spread happiness" for the International Day of Happiness on Monday (March 20) from 11 a.m. to 12:30 p.m. in the Lowman Student Center Mall Area.
The student programmers will provide posters asking students what makes them happy and how they wish to see equality on campus. Once students have written on the posters, PC will laminate and post them on social media, as well as use them at future events.
In addition, students will be given thank you cards to show gratitude to those they appreciate, further spreading happiness to others.
Fresh fruit and takeaway items will be provided, while supplies last.
For more information, contact PC at 936.294.1763 or at PC@shsu.edu.
ARCANUM Ensemble To Perform Born In The 80s
The Sam Houston State University's School of Music will host the ARCANUM Ensemble on Wednesday (March 22) at 7:30 p.m. in the Gaertner Performing Arts Center Recital Hall.
The group is made up of two SHSU professors and two other guest artists, SHSU associate professor of voice Tony Boutté, SHSU assistant professor of Musicology Mario Aschauer and Colin St. Martin and Barrett Sills.
ARCANUM Ensemble will perform Born in the 80s: The Baroque Millennials, celebrating composers born during the decade of the 1680s.
"It was a very fertile period, welcoming the births of important musical figures like Bach, Handel, Telemann, and Rameau," Boutté said. "This concert will be filled with great music, performed by period instrument specialists. Come and join us as we celebrate the music of the 'Baroque Millennials.'"
Some of the pieces that will be performed include "Suite in A (Op. 35, no. 6)," composed by Joseph Bodin de Boismortier; "Concerto nach Italienischem Gusto (BWV 971)," composed by Johann Sebastian Bach; and "Solo in B minor for flute (TWV 41:h4)," composed by Georg Philipp Telemann.
Boutté said this concert will give the audience a chance to experience the bringing to life of music that was written 300 years ago.
"Aren't you curious what the Baroque Millennials were doing 300 years ago," Boutté said, "especially since they didn't have the iPhone? Or electricity? Or the web? Or many of today's modern distractions? Take a trip back to a time when the term 'unplugged' had yet to be used."
ARCANUM Ensemble is the first resident professional baroque ensemble to perform in Huntsville.
The group was formed in 2007 when Boutté and St. Martin were asked to put together a concert for the International Conference on the History of Alchemy and Chymistry.
According to Boutté, the first concert focused on music that was in some way connected with alchemy, chemistry or magic. One meaning for the term "arcanum" is a deep secret or mystery, which suited the theme of the event well and then the group was named.
For the Born in the 80s recital, Boutté will sing tenor, Aschauer will play harpsichord, St. Matin will play traverse, and Sills will play baroque cello.
Later this year, Centaur Records will release ARCANUM's new disc on the music of Boismortier, including some of the works heard the upcoming recital, according to Boutté.
Admission is free for the recital.
For more information, call the School of Music at 936.294.1360 or email music@shsu.edu.
Blevins To Give Colloquium Presentation
Jake Blevins, chair of the Department of English, will present "The Sublime Subject" on Wednesday (March 22) at 4 p.m. in College Of Humanities and Social Sciences Room 110.
Blevins will discuss the aspects of Western aesthetics, particularly as they relate to the understanding of beauty and the "sublime."
The talk's focus will be to look at the sublime as a responsive experience to artistic expression and how critics should approach the analysis of such an experience.
Visitor Center Changes Name To Visitor Services
With the evolution of Sam Houston State University's Visitor Center to better serve the growing population of SHSU visitors, prospective students, current students, and faculty and staff, the center has announced a name change.
The Visitor Center will now be known as Visitor Services. The department will still be located in the John R. Ragsdale Visitor and Alumni Center.
Visitor Services hosts the recruitment programs Saturdays@SAM, Jr. Bearkats, summer camps, conference groups, Scouts@SAM, ExCEL Preview Days, and the Mobile GoCenter.
For more information about Visitor Services, visit their page.
Send Experts, Story Ideas Here
Are you an expert in a topic might be of interest to reporters? Or even a unique topic? Would you like to have your research interests highlighted or discuss your expertise with reporters seeking interviewees?
The university Communications Office is collecting information and story ideas for its ongoing projects, including the online SHSU Experts Guide, the SHSU home page and Today@Sam.
The SHSU Experts Guide was established as a resource for the media, who turn to university experts lists for potential interviewees for news stories. Faculty who are interested in being a part of the university's database of experts can submit their biographical and personal information, as well as their areas of expertise, through the Experts Guide Submission Form.
Other story ideas, both news and features on faculty or student research and accomplishments can be sent to today@sam.edu or jenniferg@shsu.edu. For news stories, please include the date, location and time of the event, as well as a brief description and a contact person.
All information, including news story ideas and update items for Today@Sam, should be sent a minimum of a week in advance of the event in order to make necessary contacts and write a story. Feature story ideas for the SHSU home page ("sliders") should be sent a minimum of two months in advance.
To see a full list of the Today@Sam submission guidelines, or to access submission forms for news and feature stories or hometown releases, visit the guidelines page.
For more information, call 936.294.1836.
- END -
This page maintained by SHSU's Communications Office:
Director of Content Communications: Emily Binetti
Communications Manager: Mikah Boyd
Telephone: 936.294.1837
Communications Specialist: Campbell Atkins
Telephone: 936.294.2638
Please send comments, corrections, news tips to Today@Sam.edu