LEMIT Web App Helps Officers Respond To Environmental Crises
Nov. 15, 2017
SHSU Media Contact: Emily Binetti
The Law Enforcement Management Institute of Texas at Sam Houston State University has developed a web application for the International Association of Chiefs of Police (IACP) to help keep law enforcement officers safe when responding to an environmental crisis in the field.
The "Always Play it SAFE" application is designed to enhance the ability of law enforcement and public safety officials to respond safely to incidents of potential or suspected environmental crimes and hazardous materials. The application, which was developed in partnership with LEMIT, SHSU and Sunflower Systems, is available in the IACP website at http://www.theiacp.org/chemsafety/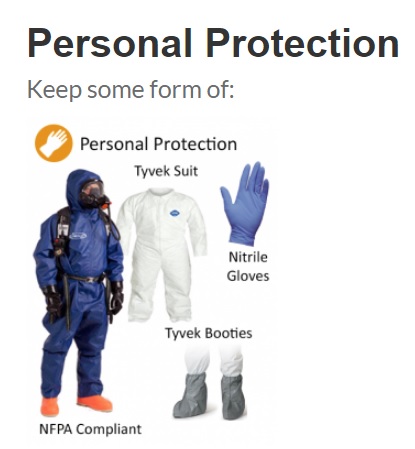 "It has been an honor to work alongside true experts in the field to help develop this much-needed tool for the first-response community," said Andrea Hoke, LEMIT project coordinator. "In this business, all too often an officer's personal safety is ignored to help protect those they serve. We hope this app will bring awareness to those officers."
The web application focuses on the health and safety of law enforcement officers and the dangers of exposure to chemical, biological, and radioactive materials. It provides information on how to protect and preserve evidence and the potential impact of environmental crisis on human health, the environment and wildlife.
Among the features of the application are categories providing easy access to information and best practices in the areas of emergency response, safety equipment, resource information and scene documentation.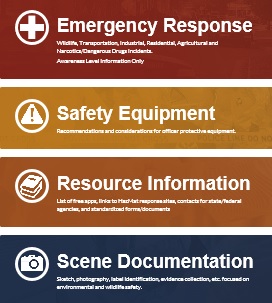 The emergency response option provides general information on responding to an environment emergency and identifies potential impacts on wildlife, transportation, industry, residents, agriculture, and from dangerous drugs.
The safety equipment feature offers recommendations and considerations on the use of protective equipment by law enforcement officers.
The resource information section provides a list of free applications, links to HazMat response sites, and contacts for state and federal agencies as well as standardized forms and documents used to respond to environmental emergencies.
Scene documentation features steps for responding to and documenting an environmental hazards scene, including sketches, photography, label identification, and evidence collection to minimize effects on people, the environment and wildlife.
The project is an outgrowth of Project EnCriPT (Environmental Crime Program Training) at LEMIT, a program to train civil and criminal enforcement professionals at the local, state and tribal level in responding to environmental issues. The project, which was funded by the Environmental Protection Agency, provides online and hands-on courses to law enforcement officer, investigators, sanitarians, and code enforcers.
- END -
This page maintained by SHSU's Communications Office:
Associate Director, Communications: Emily Binetti
Telephone:936.294.4406
Communications Manager: Vacant
Telephone: 936.294.1837
Communications Writer: Campbell Atkins
Telephone: 936.294.2638
Thomason Building: Suite 102
Please send comments, corrections, news tips to Today@Sam.edu