'Democracy Coach' Motivates SHSU Women
March 15, 2017
SHSU Media Contact: Julia May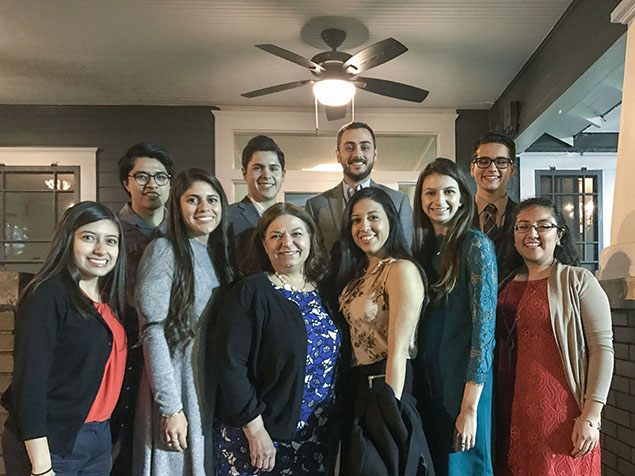 'Democracy Coach' Nancy Bocskor traveled to Austin to meet with SHSU Austin Interns while she was in Texas to lead a motivational workshop at SHSU for female undergraduate students. From left (front row) are: Karla Rosales, Alejandra Galvan, Bocskor, Christina Perez, Kaitlyn Tyra, and Beatriz Martinez. (Back row, L-R): Brian Aldaco, Mitchell Sanchez, Spencer Copeland, and Vincent Melore.
Story by Mike Yawn
"If you don't have a seat at the table, pull up your own chair," Nancy Bocskor said as she led a recent workshop for a group of Sam Houston State University female undergraduates.
"Her nickname is 'Democracy Coach,' and her mission is to prepare young women to work in public service, and, ultimately, to serve as elected political officials at the local, state or national level," said Mike Yawn, director of SHSUs Center for Law, Engagement and Politics and political science professor.
Bocskor has traveled throughout the United States and more than 25 countries to mentor, inspire, and encourage women to effect change in their communities, including college communities.
The LEAP Center brought her to SHSU's campus to deliver her enthusiastic message to several SHSU political science classes, with high-achieving young women, and with SHSU's Austin Interns.
"A whirlwind of energy, Bocskor brought her characteristically positive message to the students, even as she discussed challenges facing young people engaging in politics," Yawn said.
Jessica Mizell, a junior political science major, called Bocskor's message "an inspirational call to public service." Mizell is now interested in taking a gap year before enrolling in law school to work in local government and make a difference.
"It was a wonderful talk, and she actually provided specific tips for success," Mizell said.
One of Bocskor's observations she shared with political science students was the fact there are 513,000 elected officials in the United States. According to Bocskor, that's 513,000 opportunities to win office, to implement constructive policies, and to make a difference.
The idea of "making a difference" resonated with Cassie Blevins, a freshman, who has yet to decide on a major, but is discovering an interest in politics.
"The talk motivated me and has spurred me to look to a political route," Blevins said. "Bocskor has an amazing story, and she even followed up with me, responding by email to several questions I had."
Bocskor topped off her visit to SHSU with a brief trip to Austin, where she met with Austin Interns and LEAP Ambassadors during a 24-hour period. "There are some amazing students at SHSU," Bocskor said, "and it's a joy to visit with them and see them succeed."
During the past 10 years, Bocskor has been an integral part of SHSU students' success. Several SHSU alumni have interned with her and, more recently, Bocskor encouraged two Bearkats to apply for the prestigious "Running Start Star Fellowships."
Only seven students are selected as fellows and for the first time in the program's 10-year history, two students were selected from the same school: SHSU. Jazmin Perez and Megan Chapa are now interning on Capitol Hill with female congresswomen.
"It's an example of the students pulling up their own chair and winning a seat at the table," Yawn said. "And it provides models of success that can be used by current Bearkats for participation, collaboration, and leadership in the future."
- END -
This page maintained by SHSU's Communications Office:
Director of Content Communications: Emily Binetti
Communications Manager: Mikah Boyd
Telephone: 936.294.1837
Communications Specialist: Campbell Atkins
Telephone: 936.294.2638
Please send comments, corrections, news tips to Today@Sam.edu