Education Honor Society Serves As Model
June 20, 2017
SHSU Media Contact: Dawine Bergeron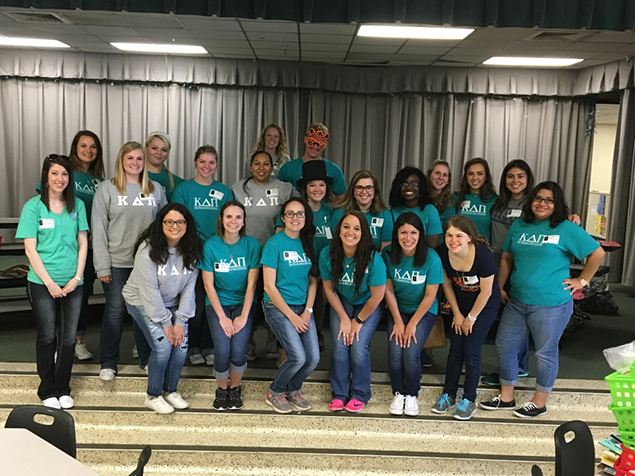 Members of SHSU's chapter of Kappa Delta Pi International Honor Society in Education have been recognized for their service projects, which include making books come alive for second graders and providing coats for children in the Head Start program.
One Sam Houston State University student organization has taken the university's motto, 'The measure of a Life is its Service," to heart so much that chapters at other universities across the nation are following its example.
"The SHSU motto fits very well into what the organization believes because we're all here to serve students whether they're secondary, elementary, second language learners, or special education," said Donna Cox, associate professor in the university's language, literacy and special populations department and faculty adviser of Kappa Delta Pi.
SHSU's Delta Theta Chapter of Kappa Delta Pi honor society in education has been part of the university for 80 years.
Some famous members of the honor society are Albert Einstein, Eleanor Roosevelt and John Dewey.
To be invited into the organization, students must first be admitted into the teacher education program and state that their desire is to continue in education.
KDP has a long tradition in the history of SHSU, with many faculty and staff who are members.
"It's not just a student organization but also a professional organization. When they become a KDP member, it's another step to being a professional educator. They receive the same publications a classroom teacher would receive," Cox said. "It doesn't only benefit you at the undergraduate level, but can go with you throughout your career."
When choosing which service projects to do, the organization looks to the needs of the community.
"We have to be a little selective in what we choose because a lot of our students are already involved in so many service projects. We fluctuate between from 100-200 members at any given time, so trying to keep up with who participated in what can be a little overwhelming," Cox said.
"That's why we usually restrict our projects to one per semester, but sometimes the opportunity presents itself to do more, and it's a really nice fit for us. There are also other SHSU organizations that do service projects and will ask us to join them, and we'll consider that, too," she said.
Two big projects that the organization does every year are "Literacy Alive!" and "Change for a Change in the Weather."
For the "Literacy Alive" project, KDP donates three books to a second grade class at a local elementary school and conducts a reading and art activity with the class.
"'Literacy Alive!' is a project in which the honor society participates as a whole and can take various forms. The one we do is based on a certain book, and one of the members dresses up as a character in the book and acts it out as the other member reads it aloud. All of the activities that we do for the next hour go along with the book," Cox said.
Through this service project, more than 2,000 books have been given to children in the Huntsville area over the past nine years.
The "Change for a Change in the Weather" project originated with the SHSU chapter.
The organization collects loose change during the fall semester and in winter, members use the money to buy coats for children attending the Head Start program in Huntsville. Through this project, approximately 80 coats have been donated.
The project made such an impact that other KDP chapters throughout the nation began to include the project as one of their service activities.
"The regional director of KDP was so excited that she shared our experience with other directors across the nation and now, chapters at other universities are doing the same thing," Cox said. "To me that's really rewarding that something that originated here at SHSU now has an impact on children in other Head Start programs throughout the country who need coats."
- END -
This page maintained by SHSU's Communications Office:
Director of Content Communications: Emily Binetti
Communications Manager: Mikah Boyd
Telephone: 936.294.1837
Communications Specialist: Campbell Atkins
Telephone: 936.294.2638
Please send comments, corrections, news tips to Today@Sam.edu