SHSU Update For Week Of July 2
June 30, 2017
SHSU Media Contact: Lane Fortenberry
IT Associate Director Named To Blackboard MVP Program
Blackboard Inc. has announced the newest members of its Blackboard MVP Program, which consist of faculty members, administrators, educators and instructional designers who lead the way in the education technology community.
Jacob Spradlin, associate director of Instructional Technology Support Services at Sam Houston State University, was selected to participate in the program.
Members are selected through a competitive application process and possess the following qualifications: knowledgeable, engaged, accessible and collaborative.
The group will receive professional training and an invitation to private product briefings and roadmap sessions with Blackboard executives.
Members will also share expertise by assisting users on the Blackboard community site, personal blogs, Blackboard blogs, social media, Tweetups, and during virtual office hours.
"I am proud to welcome our newest MVPs and recognize their commitment to sharing knowledge and best practices around educational technology with the larger education community," said Bill Ballhaus, chairman, CEO and president of Blackboard. "Blackboard MVPs are truly helping improve the learning experience and addressing important challenges in education."
Director To Speak At Project Management Symposium
Linda McIntosh, director for project management at IT@Sam for Sam Houston State University, has been invited to speak at the Project Management Institute's PMO Symposium in Houston in November.
McIntosh is a member of PMI and is a certified project management professional. She has over 20 years of experience in the corporate world. She received her bachelor's and master's from Marymount University and doctorate from Walden University.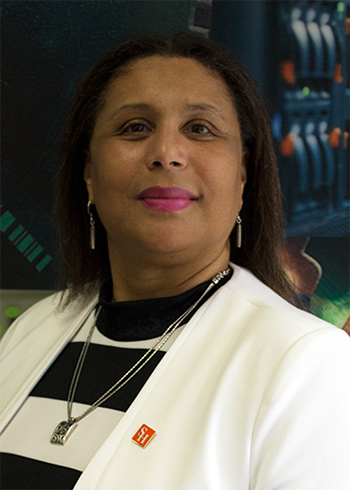 "The PMI is a globally recognized institute, and is recognized by the federal government under the Program Management Improvement and Accountability Act of 2015 as a career path," she said.
Becoming PMP certified is coveted and is hard to achieve, according to McIntosh.
"You're able to take a particular process, a global standardized process, and apply it to any industry you go to," she said. "You adapt according to that culture environment. You feel part of a highly-recognized group."
She submitted a proposal, along with an outline, abstract and biography, and was accepted. The title of her workshop presentation is, "Agile Transformation: Real World Innovative Adaptation."
"It's a reference to a particular project that was delivered for another company, which was Walmart," she said. "The outline is, 'Imagine you work for the largest global retail company in the world and you are asked to deliver, in 95 days, a program that normally takes 15 months. Then imagine you have new federal laws to include and additional company strategic adjectives to meet that will affect 1.4 million people. What would you do?'"
McIntosh and the Walmart associate leads won an award in innovation at the senior vice president level and were nominated at the global level. Normally, only four projects or programs are nominated at the global level. Pictures of the awards will be presented in McIntosh's PMO Symposium Workshop.
McIntosh said having the opportunity to speak at the symposium validates her journey.
"Because I've been doing this for so long in multiple industries in multiple states, it's an aspiration I've been wanting," she said. "A lot of people have told me, 'You should be a speaker. You should tell your story. You should talk about your experiences so other people can hear it. You should do this so you can give back.'
"One of the reasons I came to Sam Houston is because I wanted to help bring about some kind of effect or social change to students to help them learn," she said. "It's self-fulfillment, but at the same time, I'm giving back and sharing."
Doctoral Student Contributes To Book
IGI Global has released "Intercultural Responsiveness in the Second Language Learning Classroom," a reference source for the latest research on the importance of multicultural professional development for the progression of educating diverse student populations.
Angela Powell, doctoral student in the counselor education program at Sam Houston State University, wrote the fourth chapter, "Cultural Bias, Self-Identity, and Self-Efficacy."
The goal of the chapter, according to the abstract, is to provide an overview, promote awareness for cultural competence, and to illustrate various forms of deficiencies in multicultural education among educators in the United States. When serving as an educator, it is imperative to accept the responsibility of ensuring equal opportunity for all students.
Educators should engage in multicultural training and encourage culturally diverse and appropriate exchanges among all students. This will result in more confident students who would be more likely to feel connected, accepted, and esteemed; thus, giving students a foundation to develop motivation to learn.
IGI Global is an international academic publisher of books, journals, encyclopedias, teaching cases, proceedings, and databases focusing on the areas of education, social science, library science, healthcare, business, environmental science, public administration, computer science, and engineering.
For more information about the book, visit the site.
Residence Life Hosts Two Donation Events
Sam Houston State University's Department of Residence Life hosted two donation events toward the end of the spring semester, one being a first-time event.
Residence Life, along with Recreational Sports, hosted a textile drive during Earth Week for unwanted bedding and clothes. Bins, provided by the American Textile Recycling Service, were placed outside of Recreational Sports and three residence halls for donations.
"At the end of spring, the idea is that students aren't throwing out clothing or bedding that they don't want to take home," said Kyle Ashton, assistant director for hall life and community development at SHSU. "ATRS drops off the bins, monitors them and weighs them at the end.
"The donations go to the company and they do a variety of things," he said. "They get put into a system or distributed to people. Since they are also a recycling company, if there's bedding or clothing that isn't usable again, they shred it up and recycle it."
The other donation event was also held at the end of the spring semester.
Food donation boxes were placed in each of the halls and houses to encourage students to donate their unused, nonperishable food and liquids, rather than throw it away.
Flyers were distributed and emails were sent to students to let them know about the donation boxes.
Residence Life collected over 3,000 pounds of food and was donated to the SHSU Food Pantry for distribution.
"Our plan is to do it from now on every spring," he said. "It was a big success and more than we anticipated. It was more than the pantry anticipated, too. It filled up the whole room, which was awesome."
Mullings Selected As Spotlight On Staff
Sam Houston State University's Staff Council's Spotlight on Staff award has been given to Tim Mullings, technology specialist.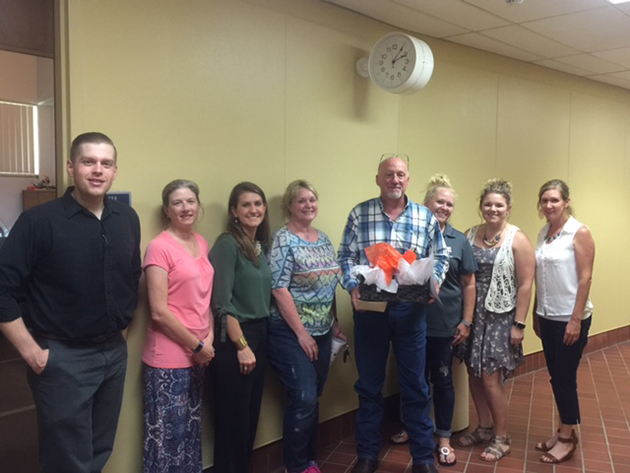 Mullings is married and has one daughter, Kinsey. He enjoys the ranch life with horse riding and cattle.
He is also an avid bird and deer hunter. In his spare time, he helps his uncle run his cattle ranch.
Mullings has been with SHSU for almost seven years, working in the College of Criminal Justice in the information technology department. He has 34 years of IT related experience, with past experiences including IBM in Austin and all levels of manufacturing from assembly to testing and engineering.
He future plans are to better streamline processes so the department can better accommodate customers staff and faculty members.
His motivation comes from his father, which he says has always been the hardest working person he's known. His father always tells him, "Any job worth doing is worth giving 100 percent to, and always leave things better than the way you found them."
SHSU Food Pantry Distribution Set For July 14
Students in need of food can pre-complete a food pantry request form online and attend the SHSU Food Pantry distribution on July 14 from 10 a.m. to 4 p.m. in Academic Building III Room 113.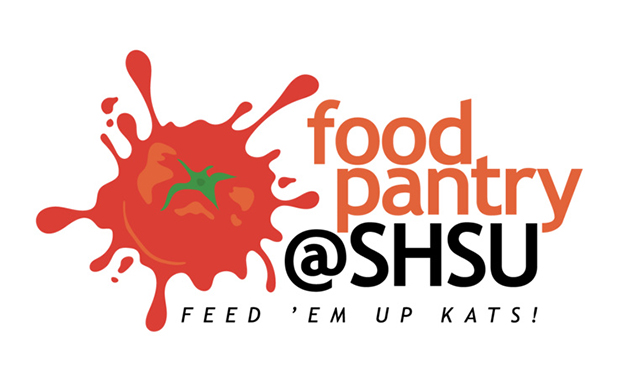 Requests must be submitted by 11:59 p.m. on the day before the distribution. Walk-in requests are also accepted, but requests are filled on a first-come, first-served basis.
Students should bring bags to carry food in and their Sam ID. The service is free of charge.
Food requests are confidential.
"The purpose of the SHSU Food Pantry is to support students who struggle with food insecurity, to encourage an educational understanding of food insecurity and to provide a space for students to volunteer and network with their peers," according to the SHSU Food Pantry statement.
For more information and to sign up, visit the event page.
Send Experts, Story Ideas Here
Are you an expert in a topic might be of interest to reporters? Or even a unique topic? Would you like to have your research interests highlighted or discuss your expertise with reporters seeking interviewees?
The university Communications Office is collecting information and story ideas for its ongoing projects, including the online SHSU Experts Guide, the SHSU home page and Today@Sam.
The SHSU Experts Guide was established as a resource for the media, who turn to university experts lists for potential interviewees for news stories. Faculty who are interested in being a part of the university's database of experts can submit their biographical and personal information, as well as their areas of expertise, through the Experts Guide Submission Form.
Other story ideas, both news and features on faculty or student research and accomplishments can be sent to today@sam.edu. For news stories, please include the date, location and time of the event, as well as a brief description and a contact person.
All information, including news story ideas and update items for Today@Sam, should be sent a minimum of a week in advance of the event in order to make necessary contacts and write a story. Feature story ideas for the SHSU home page ("sliders") should be sent a minimum of two months in advance.
To see a full list of the Today@Sam submission guidelines, or to access submission forms for news and feature stories or hometown releases, visit the guidelines page.
For more information, call 936.294.1836.
- END -
This page maintained by SHSU's Communications Office:
Director of Content Communications: Emily Binetti
Communications Manager: Mikah Boyd
Telephone: 936.294.1837
Communications Specialist: Campbell Atkins
Telephone: 936.294.2638
Please send comments, corrections, news tips to Today@Sam.edu