SHSU Update For Week Of Jan. 22
Jan. 20, 2017
SHSU Media Contact: Lane Fortenberry
Reiter To Discuss Solitary Confinement Research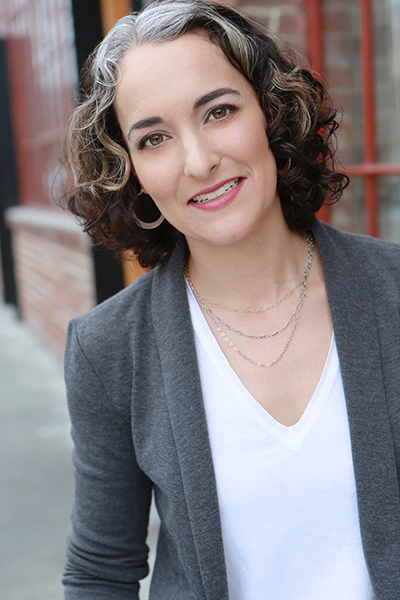 Keramet Reiter—an assistant professor of criminology, law and society, and law at the University of California, Irvine—will discuss her new book "23/7: Pelican Bay Prison and the Rise of Long-Term Solitary Confinement" on Feb. 6 at 9 a.m. in the Hazel B. Kerper Courtroom.
Pelican Bay Prison, in California, was designed as one of the first "supermax" facilities in response to a perceived risk of black radicalism in the 1970s. Extreme conditions sparked statewide hunger strikes in 2011 and 2013 involving up to 30,000 inmates, which led to a rise in the use of solitary confinement.
Prisoners in solitary spend 23 hours a day in featureless cells, with no visitors or human contact. Originally designed to be brief and exceptional, solitary confinement has become a long-term and common practice throughout the United States.
Using stories of gang bosses, small-time parolees and others at Pelican Bay, Reiter describes the manner in which prisoners are chosen for solitary confinement, held for years and routinely released directly to the streets. She also investigates the social costs and mental havoc left behind by years of isolation.
Reiter's book is the compilation of 15 years of research in and about prisons. She studies prisons, prisoners' rights, and the impact of prison and punishment policy on individuals, communities and legal systems. She uses a variety of methods in her work, including interviewing, archival and legal analysis and quantitative data analysis in order to understand both the history and impact of criminal justice policies.
Reiter has worked as an associate at Human Rights Watch, a nonprofit, nongovernmental human rights organization that operates across the globe, and has testified about the impacts of solitary confinement before state and federal legislators.
The talk is open to the public.
For more information, visit the event page.
Students Sought For 'Three Minute Thesis' Contest
Graduate students interested in showcasing their research, while competing for cash prizes, have until Feb. 3 to register for the Office of Graduate Studies' "Three Minute Thesis" event.
The preliminary rounds of the 3MT research showcase are set for Feb. 28 at Sam Houston State University and March 8 at The Woodlands Center.
All graduate students working on any major research project are eligible to compete.
3MT allows participants to present their findings in no more than three minutes. The event offers students the opportunity to showcase months of research and the importance of it to the university, community and potential employers. It also helps students develop verbal communication skills.
Students must present in one of the two preliminary rounds in order to advance. The top scored students from each round will move on to finals, which is on April 4 at 6:30 p.m. in Academic Building IV.
The grand champion of the 3MT will receive a cash prize of $1,000. The runner up will receive $750 and the people's choice award recipient will receive $500.
There will be a 3MT kickoff social and practice session prior to the preliminary rounds. Information for the session will be sent to all registered students once registration closes.
For more information and to register, visit the 3MT page.
Center Offers Help For Students Searching For Housing
Students still looking for their "place" in Huntsville can learn the basics of area housing on Tuesday (Jan. 24) with the Student Money Management Center's "Apartment Hunting 101," beginning at 3:30 p.m. in the Student Affairs Annex Room 129.
During the session, the center will guide students in putting the pen to paper to explore the costs of living on and off campus to determine if it is financially smarter to live in a residence hall or an apartment complex.
Repeat sessions will be on Wednesday (Jan. 25) at 6 p.m. in the LSC Theater and Thursday (Jan. 26) at 3:30 p.m. in the Student Affairs Annex.
To view a list of student apartments, click here.
Because free pizza will be offered on a first-come, first-served basis, students are encouraged to pre-register for the "Apartment Hunting 101" sessions to smmc@shsu.edu or 936.294.2600
SHSU Students To Compete In Challenge Bowl
Student teams from four Texas universities, including Sam Houston State University, will test their knowledge in the American History and Western Civilization Challenge Bowl Friday and Saturday (Jan. 27-28) at the Double Tree by Hilton Hotel on Greenway Plaza in Houston.
Three-person teams from SHSU, Texas State University, Houston Baptist University, and Texas Southern University will answer questions and compete for prize money totaling $12,000. Members of the winning team will each receive $2,000.
William Bailey, Scarlet Bolivar, Chase Miller, and alternate Zane Pion will represent SHSU at the event.
The American Heritage Education Foundation, a nonprofit educational dedicated to the understanding and teaching of America's factual and philosophical heritage, developed the Challenge Bowl. The event is the first of annual competitions planned and is modeled after early radio and television college quiz shows.
The focus of the challenge is "American Liberty and Principles of Western Civilization."
The semifinal competition will be Jan. 27 at 5 p.m. and 7 p.m., and finals are on Jan. 28 at 3 p.m. A lunch for participants will be held before finals at 11:30 a.m.
For more information visit www.americanheritage.org or call 713.627.2698.
Nominations Sought For 'Kudos, Thanks Award'
The SHSU Division of Student Affairs is seeking nominations to recognize university faculty and staff who have "gone the extra mile" and exhibit outstanding service to others.
The "Kudos and Thanks," or K.A.T., Award recipient will be selected from written nominations on official forms that can be found in designated ballot collection boxes across campus. Each semester, an employee who exhibits outstanding service to others will be selected to receive the award.
"There are many times our faculty and staff do great things for our students," said Frank Parker, vice president of Student Affairs. "This award is a way of saying 'thank you' for making Sam Houston State University a better place to be.'"
Nominations should include specific examples identifying situations or incidents that demonstrate how the person nominated has served others in the university community with special distinction.
All nominations must be completed on the official nomination form or online. Check the Kudos and Thanks website for more details or to find the nearest ballot collection box to submit a nomination form.
College To Host Meetings For Research Symposium
Every year, the Sam Houston State University Elliott T. Bowers Honors College Ambassadors host the undergraduate research symposium on campus as a way for students to present their current, ongoing or completed research.
Students interested in participating in the 2017 event can attend one of two informational sessions regarding the symposium on Feb. 7 at 3:30 p.m. and Feb. 8 at 3 p.m. in Lowman Student Center Room 308.
The symposium welcomes undergraduate research in all disciplines, as well as interdisciplinary research. Participants may present in individual or panel oral-media sessions, or in individual or group research poster sessions.
Associate professor of English Tracy Bilsing said the benefits of attending the URS include the opportunity for students to earn scholarships, experience in presenting and working with faculty in a professional environment, feedback on research, résumé experience, and more.
Participants are required to have a faculty sponsor, write an abstract and to register through the Honors College website by March 15. The URS is on April 29.
For more information, contact Bilsing at 936.294.1996 or visit the URS page.
Christopher Adkins To Perform At Guest Artist Recital
Sam Houston State University's School of Music will host guest artist Christopher Adkins on Tuesday (Jan. 24) in the James and Nancy Gaertner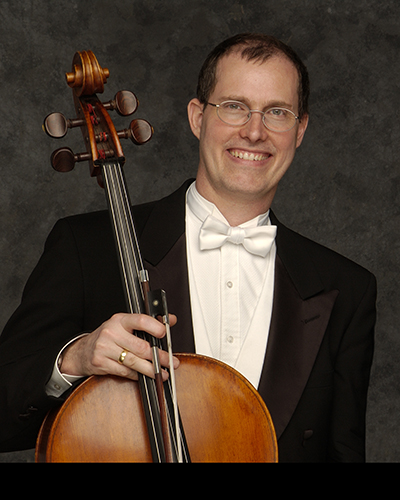 Performing Arts Center Concert Hall. Originally from Dallas, Adkins is currently the principal cellist of the Dallas Symphony.
According to Daniel Saenz, SHSU assistant professor of cello, the performance will feature classical pieces of music dating back to the 16th century and modern pieces from the 20th century.
"Adkins will play music by Bach and Shostakovich in the first half, and the concert concludes with a set of pieces that conjures up a fairy tale mood," Saenz said.
The performance will begin at 7:30 p.m. Admission is free.
Additionally to the concert, Adkins will also present a cello masterclass in the GPAC Concert Hall earlier that day from 3:30-5:30 p.m.
Adkins received his musical training at the University of North Texas and Yale University. After Adkins finished his master's degree, he became the principal cellist with the Denver Symphony and then the Milwaukee Symphony.
He returned to Dallas in 1987 to take the position at the Dallas Symphony. In addition to working in the Dallas Symphony, Adkins also teaches at Southern Methodist University and the University of North Texas.
Pianist Jacob Clark will accompany Adkins. Clark received his Bachelor of Music, Master of Music and doctoral degree in piano performance at the University of Texas at Austin.
Clark has been highly awarded throughout his career, including being the prizewinner of the Bradshaw and Buono International Piano Competition and the Mid-Texas Symphony Concerto Competition. Along with actively preforming, Clark is an assistant professor of piano at Lamar University.
Boutté To Premiere 'Texas Man' At Faculty Recital
Tony Boutté, the founder and artistic director of New American Voices and an associate professor of voice at Sam Houston State University, will perform on Friday (Jan. 27) at 7:30 p.m. in the James and Nancy Gaertner Performing Arts Center Recital Hall.
During the performance, Boutté will present the world premiere of a special Texas-themed piece called "Texas Man." Boutté will be singing the piece with other music faculty members Scott Plugge, Eleanor Parker, Seth McAdow, and Aaron Martinez, all on saxophone.
"'Texas Man' is a new composition for tenor and saxophone quartet, inspired by headlines featuring the text 'Texas Man,'" Boutté said.
The piece is composed of four sections that explain a part of the Texas culture.
"Each of the four movements tells a story about a quintessential Texas moment," Boutté said, "from the 'Don't Mess with Texas' litter campaign to the 'Grassy Knoll,' representing JFK's assassination, and then more, from 'Campus Carry' to 'Texas Man rides horse into Taco Bell.' It's an entertaining and inspirational journey through a few of the things that makes Texas what it is."
The other pieces performed during the concert will include a collection from "Cat Tales," "A Child's Garden of Verses" and music from a scene in the movie "Alice Through the Looking-Glass."
The concert will have free admission.
New American Voices was founded in summer 2014 as an initiative devoted to fostering collaboration between singer and composer.
"As artistic director, I am driven by a desire to connect singer and composer in a way that promotes deeply personal and innovative work," Boutté said. "Collaboration is a key component of the New American Voices vision."
Over the last three years, the group has performed in both New York City and Miami.
"This season, New American Voices is branching out into Texas, with initiatives at UT-Austin, SMU and right here at Sam Houston State University," Boutté said.
Tickets Still Available For Comedy Showcase
Live from New York, it's Pete Davidson, Streeter Seidell and Aidy Bryant, who will be performing at Sam Houston State University's Bernard G.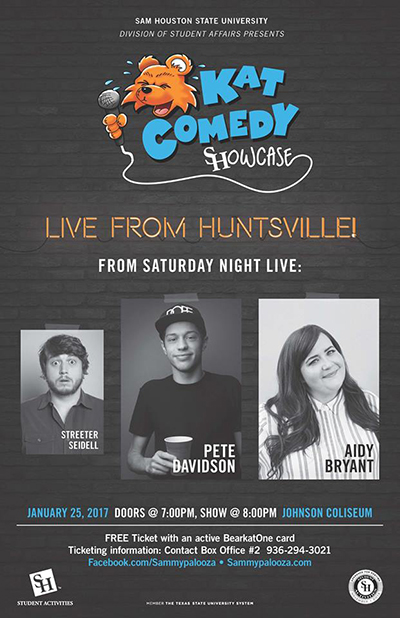 Johnson Coliseum on Wednesday (Jan. 25).
The annual Kat Comedy Showcase, featuring the three Saturday Night Live performers, will begin at 8 p.m., with doors opening at 7 p.m.
SHSU students can receive two free tickets with an active BearkatOne Card, and general admission tickets still are available to the public for $20. Tickets can be obtained in Johnson Coliseum Office 235 or Recreational Sports Center Room 162 Monday through Friday from 10 a.m. to 6 p.m.
One of Variety Magazine's "Top 10 Comics to Watch for 2014," Davidson is the youngest current SNL cast member and is in his second season of the Emmy award-winning show. He has appeared in MTV's "Guy Code" and "Wild 'n Out" and had a cameo in the film "Trainwreck."
Bryant has been an SNL cast member since 2012 and has received an Emmy nomination for writing the digital short "(Do It On My) Twin Bed." Her credits also include the Vimeo original short film "Darby Forever;" a recurring role on HBO's "Girls;" and appearing on "Broad City," "Documentary Now!" and "Horace and Pete."
Seidell is the executive editor of CollegeHumor.com, for which he has penned hundreds of articles, acted in many original videos, and co-authored the site's first book and TV show. In addition to writing for national publications and appearing as a "talking head" on numerous TV shows, he currently co-hosts and writes for MTV's "Pranked."
For more information, contact the Coliseum Box Office at 936.294.3021 or visit sammypalooza.com.
Send Experts, Story Ideas Here
Are you an expert in a topic might be of interest to reporters? Or even a unique topic? Would you like to have your research interests highlighted or discuss your expertise with reporters seeking interviewees?
The university Communications Office is collecting information and story ideas for its ongoing projects, including the online SHSU Experts Guide, the SHSU home page and Today@Sam.
The SHSU Experts Guide was established as a resource for the media, who turn to university experts lists for potential interviewees for news stories. Faculty who are interested in being a part of the university's database of experts can submit their biographical and personal information, as well as their areas of expertise, through the Experts Guide Submission Form.
Other story ideas, both news and features on faculty or student research and accomplishments can be sent to today@sam.edu or jenniferg@shsu.edu. For news stories, please include the date, location and time of the event, as well as a brief description and a contact person.
All information, including news story ideas and update items for Today@Sam, should be sent a minimum of a week in advance of the event in order to make necessary contacts and write a story. Feature story ideas for the SHSU home page ("sliders") should be sent a minimum of two months in advance.
To see a full list of the Today@Sam submission guidelines, or to access submission forms for news and feature stories or hometown releases, visit the guidelines page.
For more information, call 936.294.1836.
- END -
This page maintained by SHSU's Communications Office:
Associate Director, Communications: Emily Binetti
Telephone:936.294.4406
Communications Manager: Mikah Boyd
Telephone: 936.294.1837
Communications Writer: Campbell Atkins
Telephone: 936.294.2638
Thomason Building: Suite 102
Please send comments, corrections, news tips to Today@Sam.edu