SHSU To Host Geography Annual Meeting For First Time
Oct. 19, 2017
SHSU Media Contact: Lane Fortenberry
For the first time, Sam Houston State University will host the Southwest Division of the American Association of Geographers (SWAAG) annual meeting from Oct. 25-28.
The conference will be held at the Katy and E. Don Walker, Sr. Education Center.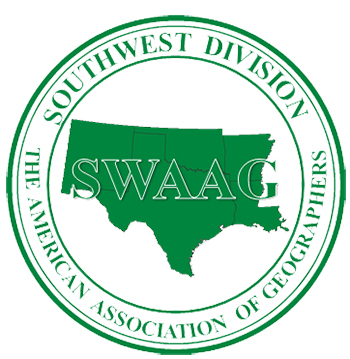 SHSU's own Jeff Littlejohn, associate professor of history, is tapped as one of the keynote speakers, along with Derek Alderman, professor at the University of Tennessee and president of AAG.
"It started at the 2013 SWAAG Meeting that was held at Stephen F. Austin State University," said Don Albert, professor of geography at SHSU and editor-in-chief, "International Journal of Applied Geospatial Research." "One of my colleagues, Jim Tiller, said wouldn't it be great if we could get this conference to visit Huntsville. That day, I went into the business meeting of SWAAG and made a case for Huntsville and the reasons why we would be a good venue."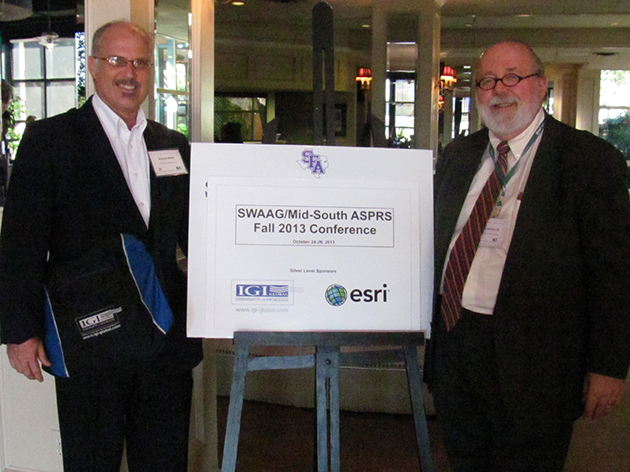 Don Albert (left) and Darrel McDonald, host, at the 2013 SWAAG conference at Stephen F. Austin State University. —Submitted Photo
SWAAG represents AAG members in Arkansas, Louisiana, New Mexico, Oklahoma and Texas. Since 1949, the group has existed to further professional investigations in geography, encourage the application of geographic findings in education, government and business, and improve and elevate the public image of geography.
Along with the two conference days on Oct. 26 and 27, the meeting will also include luncheons, socials, field trips, the World Geography Bowl, which is a friendly academic competition, student paper and poster competitions and a Texas Map Society Meeting.
The field trips include a campus tour, trip to the Sam Houston Memorial Museum and a program on Huntsville's prisons.
"We've been a relatively small department right until recent years, but we've started to add numbers," Albert said. "We're actually a combined geography and geology department. In the past, we have not been research focused. As the university continues to increase in size and stature, we've been getting more faculty involved in grants and research.
"This is the kind of organization that facilitates that," he said. "This is the very first time we've hosted this. It puts us on the map in terms of geography in the southwest. If you look at the people participating, they're coming from a lot of major schools. We're able to now host this mainly because we've been more active with research."
Sponsors of the conference include the South Korea National Geographic Information Institute, Oklahoma State University, Texas State Geography, New Mexico State University Department of Geography, University of Oklahoma Department of Geography, SHSU Department of Geography and Geology, IGI Global, The City of Huntsville, and Texas Map Society.
"It was a personal goal," he said. "I'm very research-oriented and I like to network and organize things. It fulfills my interest and uses my skills. I've been a long-standing member of SWAAG and have presented at their conferences in the past, but only as a participant, and not as an organizer, like this year. I wanted to do something involving a geographic organization and this is a way that I can contribute to an organization by hosting it. We're really excited about this."
Participation is not restricted to just AAG members. To view the schedule and registration details, visit http://www.sw-aag.org/2017-meeting.html.
- END -
This page maintained by SHSU's Communications Office:
Associate Director, Communications: Emily Binetti
Telephone:936.294.4406
Communications Manager: Vacant
Telephone: 936.294.1837
Communications Writer: Campbell Atkins
Telephone: 936.294.2638
Thomason Building: Suite 102
Please send comments, corrections, news tips to Today@Sam.edu